Macro View
Our central belief is that in a low interest-rate world, retirees are experiencing dwindling incomes from their risk-free assets (e.g. government bonds and cash equivalents). With ultra easy monetary policy the Federal Reserve will continue to pick the pockets of savers by keeping rates low. We do not foresee interest rates at the short end of the curve rising any time soon as the debt burdens of sovereign governments as well as consumers are simply too high.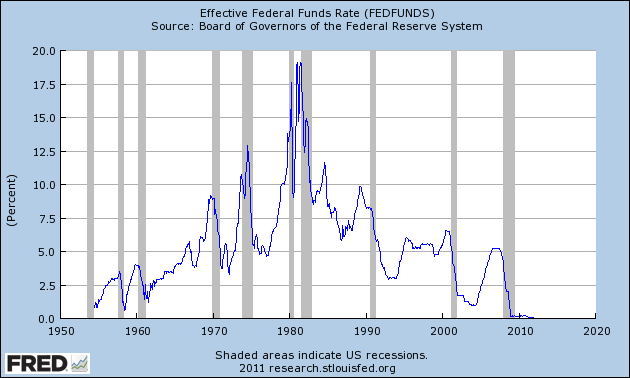 Click to enlarge
click to enlarge
Searching For Yield
As highlighted in the recent Barron's cover story, even in the current interest rate environment, corporations remain relatively stingy with dividends.
At a time when investors are clamoring for income, U.S. corporations remain too stingy with dividends.The benchmark Standard & Poor's 500 index has a dividend yield of just 2%, one of the lowest of any major global market. European stocks yield an average of nearly 5%, and even the historically low-yielding Japanese stock market pays 2.5%. American companies have the wherewithal to raise dividends because profits are at record levels and the payout ratio-the percentage of profits paid out in dividends-is near an all-time low at 28%. It has averaged 40% over the past 20 years.
The article highlights a list of 10 dividend stocks that offer investors bond-like yields over 4%. In addition, these stocks have relatively low payout ratios so the dividends should be sustainable.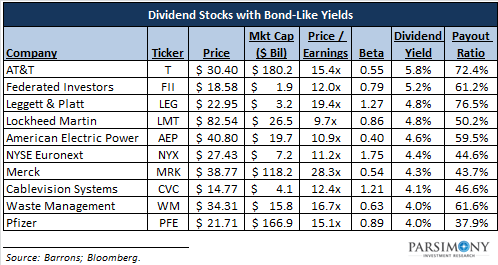 Click to enlarge
While all these stocks should be relatively stable, we tend to favor stocks with low betas (less than 1.0) since they tend to hold up better in a market downturn. Legget & Platt (NYSE:LEG), NYSE Euronext (NYSE:NYX), and Cablevision (NYSE:CVC) have the highest betas of the stocks on the list. As such, these 3 stocks would be lower on our buy list.
AT&T (NYSE:T) and Federated Investors (NYSE:FII) have the highest yields of the stocks on the list (both over 5%).
Tactical Strategy
Due to the current market rally (which we believe will be short lived), investors should consider waiting for a pullback in these stocks to enter a new position or to add to an existing position.
Most of the stocks above are currently in a positive uptrend. As such, investors should be looking for near-term areas of support as potential entry points. Below are a couple of examples: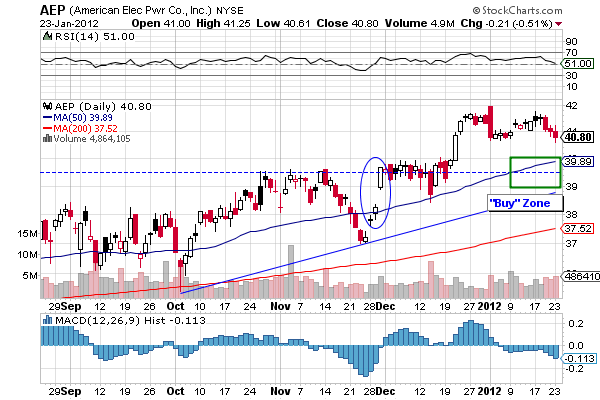 Click to enlarge
American Electric Power Company (AEP) recently broke back above its 50-day moving average (~$39.00) and that level should now become near-term support. The 200-day moving average ($37.52) and the recent December low (~$38.50) will likely provide additional support. Buy Zone: $39.00-$40.00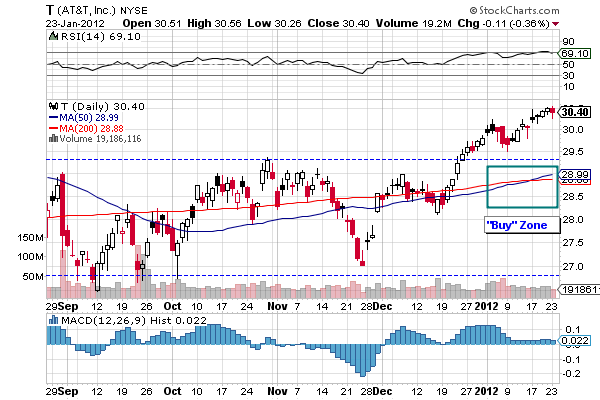 Click to enlarge
While AT&T has been range bound the past few months, the stock recently traded back above $30 for the first time since July. We think that AT&T will continue its long term uptrend and we would be a buyer on any dips. The 50-day and 200-day moving averages are converging around the $29.00 level and we think that the stock will get very strong support here. Buy Zone is $28.25-$29.25.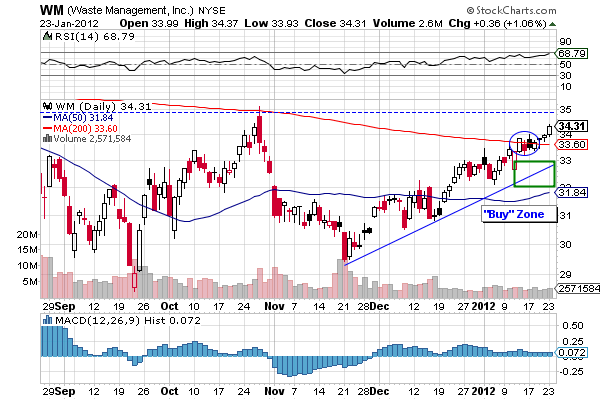 Click to enlarge
Waste Management (NYSE:WM) has rallied nicely from its November low and the stock recently broke above its 200-day moving average (~$33.50) We expect the strength in the stock to continue and we would be a buyer on any meaningful pullback. Buy Zone: $32.00-$33.00