In just the past month Ford (F) has had 13 days of increase prices and is up almost 15.34%. Why all the interest?
Look at the price action of Ford over the last month in this hourly trading graph provided by Barchart:
click to enlarge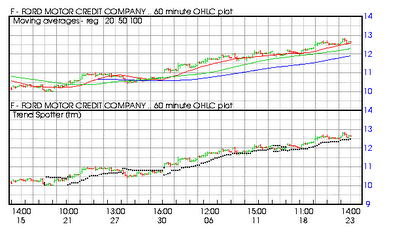 Ford Motor Company primarily develops, manufactures, distributes, and services vehicles and parts worldwide. It operates in two sectors, Automotive and Financial Services. The Automotive sector offers vehicles primarily under the Ford and Lincoln brand names. This sector markets cars, trucks, and parts through retail dealers in North America, and through distributors and dealers outside of North America. It also sells cars and trucks to dealers for sale to fleet customers, including daily rental car companies, commercial fleet customers, leasing companies, and governments. In addition, this sector provides retail customers with a range of after-sale vehicle services and products in the areas, such as maintenance and light repair, heavy repair, collision repair, vehicle accessories, and extended service contracts under the Ford Service, Lincoln Service, Ford Custom Accessories, Ford Extended Service Plan, and Motorcraft brand names.
The Financial Services sector offers various automotive financing products to and through automotive dealers. It offers retail financing, which includes retail installment contracts for new and used vehicles; direct financing leases; wholesale financing products that comprise loans to dealers to finance the purchase of vehicle inventory; loans to dealers to finance working capital, purchase real estate dealership, and/or make improvements to dealership facilities; and other financing products, as well as provides insurance services. Ford Motor Company was founded in 1903 and is based in Dearborn, Michigan. (Yahoo Finance profile)
Factors to consider:
Barchart technical indicators:
96% Barchart technical buy signal
Trend Spotter buy signal
Above its 20, 50 and 100 day moving averages
13 new highs and up 15.34% in just the last month
Relative Strength Index 74.36%
Barchart computes a technical support level at 12.38
Recently traded at 12.62 with a 50 day moving average of 10.96
Fundamental factors:
14 Wall Street brokerage firms have assigned 18 analysts to follow Ford's numbers
Analysts note revenue has been increasing and predict revenue will increase again by15.30% this year and another 3.40% next year
Although the company is expected to remain profitable, earnings are expected to decrease by 2.10% this year and another 16.60%. However earnings are estimated to have an annual compounded growth rate of 9.70% over the next 5 years
These consensus numbers resulted in analysts issuing 5 strong buy, 8 buy, 5 hold and no under perform or sell recommendations to their clients
They expect to see 15 new models and 4 new plants to be built
Although most of the revenue and profits presently come from North America, the company is banking on expansions in Europe, China, India and Thailand to bear fruit in the coming decade
As a profitable company it is a relative bargain with a 6.21 P/E ratio in a market with a 14.8 P/E ratio
If it all comes together analysts look for an annual price growth rate of 20% - 25% over the next 5 years
General Investor interest:
I use the readers of Motley Fool as a barometer of the individual investors' opinion and 11,580 readers have given an opinion on this stock
They voted 79% that the stock will beat the market
The more experienced All Stars are more optimistic with an 81% vote for the same result
Financial reports are mixed with 76% of the reports favoring the stock. Although Zacks recently downgraded their reports, Chris Davis, Wayne Rogers and Jim Cramer have not changed their positive opinion
I think it is important to compare a stock to its nearest competitors over the past year. Although all show a little upward trend recently, Ford is still down 29%, General Motors (GM) down 35%, Toyota (TM) down 15% and Honda (HMC) down 17% for the past year: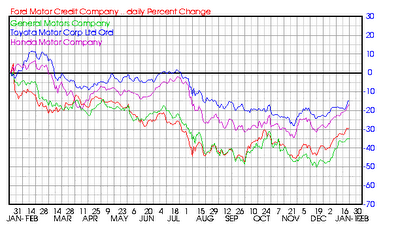 Summary: Ford is a closely watched stock with a very high volume. Recently short interest has increased and now exceeds 3 days volume. If you decide to enter at this price please use the lower 14 day turtle channel or the 50 day moving average as your stop loss: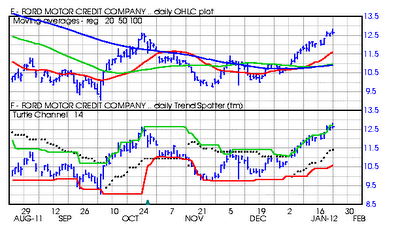 In any event watch the stock closely and if you're interested follow this story link to information on how to listen in on the upcoming earnings release and get the latest information from the company's website: