Sometimes when researching investment ideas you come across a stock whose valuation makes you do a double take. I recently came across this scenario when I found an equity that yields over 10%, insiders are buying it and it has increasing technical strength.
Och-Ziff Capital Management (NYSE:OZM) - "Och-Ziff Capital Management Group LLC is a publicly owned investment manager. The firm provides investment advisory services for its clients. It invests in equity markets across the world. The firm markets its investments in alternative markets across the world. It employs quantitative and qualitative analysis to make its investments. The firm also manages a buyout fund, Och-Ziff Energy Fund" (Business Description from Yahoo Finance).
(Click chart to expand)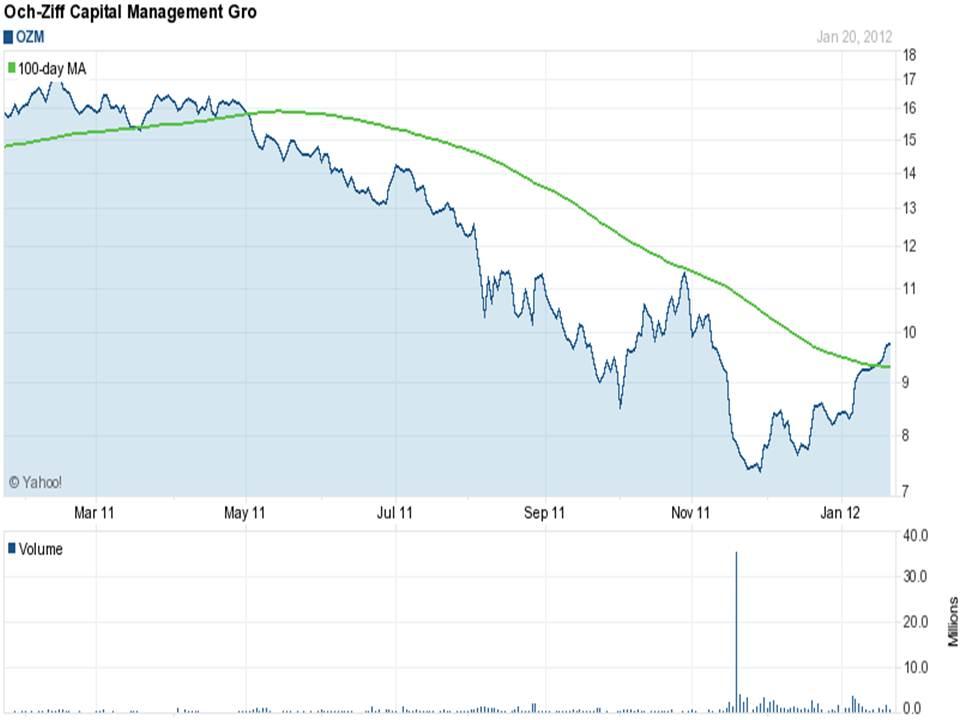 Click to enlarge
6 Reasons to pick up OZM at under $10 a share:
The stock is yielding more than 10%. The equity does not show up in a lot of screeners as it provides 4 irregular dividend amounts per year.
The stock looks like it has bottomed, is showing technical strength and just crossed its 100-day moving average (See Chart)
Insiders are gobbling up shares recently. Several officers bought more than 700,000 shares in December.
After a challenging FY2011, the company is projected to more than double EPS in FY2012 to $1.19 a share.
Credit Suisse has a $13 price target on Och - Ziff and Ticonderoga initiated the stock as a "Buy" in late November.
OZM is cheap at less than 1 times revenue and under 3 times operating cash flow.
Disclosure: I am long OZM.