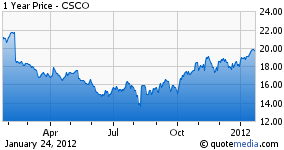 Recently, I made an admission that many of you probably have already known, which is for several years I have been emotionally attached to both Cisco (NASDAQ:CSCO) and Microsoft (NASDAQ:MSFT). Over time, it has evolved into a love/hate relationship to the extent where I have requested the immediate dismissal of the CEO of both companies and when that didn't work, I then demanded to be compensated if I were to remain a shareholder. But often, clearer heads prevail and things eventually get back to normal. And "normal," however you chose to define it, is where both companies are today.
As far as I'm concerned Microsoft and Cisco will always be linked. In most enterprises, you will most likely find one of either brand serving the corporation's back-end, front-end or backbone. They are both market leaders yet have been grossly irrelevant for quite some time and mired in leadership disappointments. Though they were both once high fliers of the late 90s, both stocks have been relatively dormant for the past decade. But times are starting to change. On Monday, I reminded investors that the rumors of Microsoft's death have been exaggerated. In this article, let's investigate Cisco's recent resurrection.
First, when I look at Cisco, I see a $30 stock just waiting to happen. While this sentiment has a lot to do with the sudden resurgence in the technology sector overall, the true source of the feeling has to do with how Cisco has positioned itself well to capitalize on what is now seen as increasing technology expenditures. This is in stark contrast from its previous status of last year when it allowed firms such as Juniper (NYSE:JNPR), F5 (NASDAQ:FFIV) and Hewlett Packard (NYSE:HPQ) to encroach on its market share because it was so out of focus. However, focus is one thing the company is now demonstrating to have by its last earnings announcement.
In its Q1 fiscal 2012 earnings report, excluding some costs, profit climbed to 43 cents a share in the quarter ending October 29. Analysts on average had predicted 39 cents, according to Bloomberg data. Cisco also topped projections with its second-quarter forecast. First-quarter net income fell to $1.78 billion, or 33 cents a share, from $1.93 billion, or 34 cents, a year earlier. Sales rose 4.7% to $11.3 billion in the period, compared with an estimate of $11 billion. Cisco's gross margin narrowed to 62.4% last quarter, excluding some costs that beat the average estimate of 61.3%.
The slight drop in margins have allowed even lesser known companies such as Brocade (NASDAQ:BRCD) and even once proud titans such as Lucent (ALU) to make headway in its territory, both of which have strategically targeted Cisco's core business as means of growth. But it is not likely to have much (if any) impact. Considering Cisco is projecting that sales will grow 8% in the current quarter, this figure equates to $11.14 billion to $11.24 billion, beating the $11.13 billion predicted by analysts. Earnings will be 42 cents to 44 cents a share, excluding some costs. The average estimate was 42 cents.
How Do You Value Cisco?
This is where many investors continue to struggle. But if you consider the company's current cash position, its ostensible debt coupled with sales metrics that are significantly higher than it was 13 years ago, it makes little sense to me how the market can justify such a low valuation for this company - even with its recent climb to just under $20. Admittedly, I have been highly critical of the company's management and its once perceived lack of direction, but purely from a fundamental perspective, the stock remains drastically undervalued.
It has a book value per share of $8.24. It posts cash per share value of $7.28 and a forward P/E ratio of 10. If Cisco can wisely reinvest its capital to create more innovative ways to compete, I feel investors will be even more rewarded for their continued patience. Its current valuation presents (still) opportunities for those who are looking for value and are willing to set realistic horizons.
It continues to be a major challenge to not value Cisco, by any measure. Its equipment still powers more than half the Internet and that has been during three recent years of a recession. Also consider that in a research report, Shaw Wu at Sterne Agee said he had separately analyzed the value of Cisco's major segments: Routers, switches and a variety of "new products" and services. Adding them back together he arrived at a value of $27 to $28 per share, even when discounting the price-to-earnings ratio compared to its competitors.
"We believe the (Cisco) story is getting better and we'd rather be a buyer at these depressed levels than wait for obvious evidence of improvement. By then it may be too late," Wu wrote.
Summary
For Cisco, I continue to think that the downside risk is very limited with respect to the cash and other strong fundamentals of the company. Couple this with the fact that technology is once again a safe place to invest as indicated by the early robust performances of the S&P 500's tech sector. If you want to break in down a bit further, in networking it continues to be Cisco and everyone else. It is clear that this tech giant has been both resurrected and rejuvenated and now is setting its sights on $30. Cisco is a buy.