All eyes can be expected to move immediatly after the closing bell to focus on Netflix's (NASDAQ:NFLX) scheduled release of last fiscal quarter's results on Wednesday, January 25, 2012. Let's take a look at how Netflix has done in recent quarters.
Netflix, Inc. provides subscription based Internet services for TV shows and movies in the United States and internationally. The company was founded in 1997 and is headquartered in Los Gatos, California. NFLX trades an average of 9.7 million shares per day. At this point, if you don't know what Netflix does, you may still be using a rotary phone.
52 Week High: $304.79
52 Week Low: $62.37
Book Value: $7.40
Float Short: 16.94%
On average, 28 analysts are expecting a drop of $-0.61 in earnings per share compared to last quarter's results of $1.16. Investors will be looking to top $0.55 per share, based on the estimated mean earnings. Analyst estimates range between $0.40 and $0.70 per share.
One top analyst with Netflix is not one of the 28 official analysts, but maybe he should be. Fellow Seeking Alpha contributor, author, wine expert, and option newsletter publisher Rocco Pendola started calling Netflix a major short since sometime around this summer. You can read his articles here.
Mr. Pendola and I have not seen eye to eye the whole way with Netflix. I agreed with him this summer (and even called Netflix a short before he did), but we disagreed when Netflix fell below $140 and I believed the stock would stabilize before it did. While I did make some gains selling puts, it clearly was dangerous waters to be rafting in. In the end, Mr. Pendola called Netflix better than I did with his continued short bias.
Netflix has since bounced off a base-building support area and also filled the last gap down yesterday. I believe Netflix remains a long term bullish play, somewhat like many of the successful (although very few) dot-coms of the 1990s. Netflix is a leader and has many possible revenue streams that can be explored. I beleive it is just a matter of time before they offer pay per view and other type of content that may cause a stir, but will also add to the bottom line.
NFLX has a tough and narrow passage to navigate through, but we can all agree people are going to continue to watch movies for some time to come. With the local video store all but gone and only so many movies can be stuffed inside a red metal box, red envelopes with DVDs will be around for some time. Even if HBO says streaming is not the future (it is wrong), streaming will continue to grow, and Netflix is the clear leader.
If CEO Reed Hastings left Texas long enough to see the rest of the country would not cancel their Netflix account if more adult orientated content became available and would actually pay a premium (or more would subscribe) it may help investors a great deal. Selling value added products always helps the bottom line, and one has to wonder why Netflix refuses to provide much more than a simple and cheap one-size-fits-all.
If Mr. Hastings does manage to get out of Texas it may be wise to go North to Ontario, Canada and see how his friends at Research In Motion (RIM) are doing after taking on Apple (NASDAQ:AAPL) and Google (NASDAQ:GOOG). RIM decided a couple of years ago they knew what the market wanted more than the market knew. We can all see how that worked out. This is still Netflix's game to lose, in my opinion, but they better position the company in a different place than a fight to the bottom with prices, or investors will be the biggest losers.
Revenue year-over-year has increased to $2.16 billion for 2010 vs. $1.67 billion for 2009. The bottom line has rising earnings year-over-year of $160.85 million for 2010 vs. $115.86 million for 2009.The company's earnings before interest and taxes are rising, with an EBIT year-over-year of $283.64 million for 2010 vs. $191.94 million for 2009. Rising revenue along with rising earnings is a very good sign, and what we want to see with our companies. Be sure to check the margins to make sure that the bottom line is keeping up with the top line.
Here is a look at the fiscal year revenue: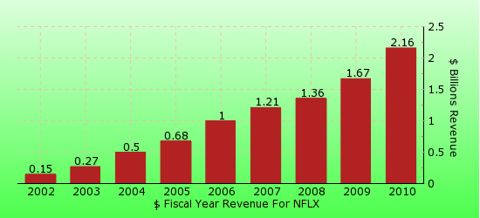 Click to enlarge
Gross reported revenue compared to the mean estimate (rounded):
| | | | | |
| --- | --- | --- | --- | --- |
| Fiscal Quarter Ending Month-Year | Revenue Estimates | Actual | $ Difference | Difference % |
| Sep-11 | $ 811.59 M | $ 821.84 M | $ 10.25 M | 1.26% |
| Jun-11 | $ 791.48 M | $ 788.61 M | $ -2.87 M | -0.36% |
| Mar-11 | $ 705.78 M | $ 718.55 M | $ 12.77 M | 1.81% |
| Dec-10 | $ 597.51 M | $ 595.92 M | $ -1.59 M | -0.27% |
| Sep-10 | $ 550.92 M | $ 553.22 M | $ 2.30 M | 0.42% |
M = millions, B = billions.
Differences are rounded.
Some one-time items are often excluded in reported EPS.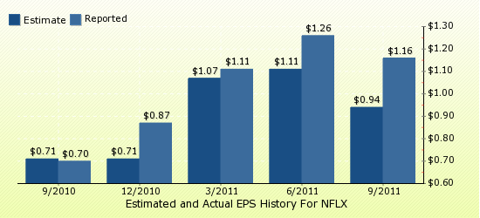 Click to enlarge
Reported earnings per share compared to the mean estimate. Differences are rounded.
The total short interest number of shares for NFLX:



Click to enlarge
The number of days to cover short interest based on average daily trading volume for NFLX:



Click to enlarge
I use a proprietary blend of technical analysis, financial crowd behavior, and fundamentals in my short-term trades, and while not totally the same in longer swing trades to investments, the concepts used are similar. You may want to use this article as a starting point of your own research with your financial planner. I use Seeking Alpha, Edgar Online, and Yahoo Finance for most of my data. I use the confirmed symbols from earnings.com that I believe to be of the most interest.
Disclosure: I have no positions in any stocks mentioned, and no plans to initiate any positions within the next 72 hours.