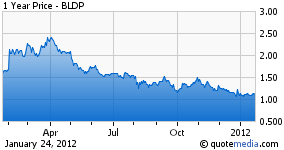 Of things Americans may be skeptical of, soccer and alternative energy probably make the list, though rarely in linked form. Ballard Power's (NASDAQ:BLDP) involvement in the 2014 FIFA World Cup in Brazil may bring attention to both the sport and the alternative fuel's prospects in transit on a global scale. In December 2011, Ballard inked a deal to send 25 fuel cell modules to Sao Paulo to power buses in preparation from the country's hosting of both the World Cup and the 2016 Olympics as part of the UNDP-EMTU. Shares rose over 4% on the news but have since seen a stalemate, hovering just over a dollar.
What in December may have looked like a rosy picture does have some rougher edges now in January. While 2012 has seen Ballard confirm the shipment of three fuel cell modules to Brazil's Tutto Transporti, other orders have been delayed into 2012, according to a recent conference call. BLDP was looking to be on track for EBITDA break-even for 2011, but in light of this, the milestone may be pushed into 2012 or beyond. The company will announce its earnings later in February, but continues to look to be on pace for profitability within the coming years.
While Ballard is getting a toe-hold in mass transit through its fuel cell buses in high profile mass transport, its technologies also have other applications. A report recently released by the U.S. Defense Logistics Agency indicates that the Department of Defense would best benefit from near term implementation of hydrogen fuel cell technology. BLDP is gaining momentum in testing its technology in the mining arena as well. Anglo American Platinum is set to test Ballard fuel cell technology in its mining locomotives this spring in Johannesburg.
Given that Europe is a large market for the fuel cell industry, there has been some concern over the stability of sales in these markets. The Canadian company does maintain some high profile partnerships outside of Europe. Toyota (NYSE:TM) appears to be testing the waters with Ballard's technologies and incorporated a one-megawatt fuel cell generator in its marketing and sales headquarters in Torrance, California in 2011.
A more integral section of BLDP's business is in its partnership with Plug Power (NASDAQ:PLUG). Ballard supplies its fuel cell stacks to PLUG. PLUG in turn supplies Wal-Mart (NYSE:WMT), Coca Cola (NYSE:KO), BMW (BMW.DE), Sysco (NYSE:SYY), Kroger (NYSE:KR) and FedEx (NYSE:FDX) with its GenDrive systems which contain the Ballard stacks. These high profile companies may lead the way in showing North American businesses can benefit from incorporating the efficient, more affordable alternative energy that Ballard can supply.
Ballard is currently sitting near its 52-week low. Taking a position now in a fuel cell company that is on the verge of profitability may be a lucrative move, though certainly speculative. The news of delayed revenues and the nature of the sector would be enough to keep many away. With the right exposure and shift toward cleaner energy which we've been told is eminent for years, Ballard and its shareholders may be poised to benefit.
Disclosure: I have no positions in any stocks mentioned, and no plans to initiate any positions within the next 72 hours.