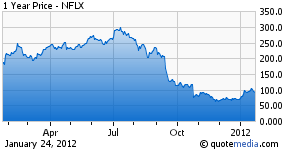 While most people would not mention former Apple (NASDAQ:AAPL) CEO Steve Jobs' name in the same breath (gasp) as Netflix (NASDAQ:NFLX) CEO Reed Hastings, you have to give the latter some credit for changing the way we live. The things Jobs did at Apple live in a whole 'nother universe. In fact, you can argue that he changed the way a majority of people in much of the world do any number of things, even if they do not own an Apple product. Jobs' wide- and far-reaching impact lives on.
We feel Hastings' force on a much smaller scale. As bearish as I am on the guy's company and sour on the way he runs it, I would be a liar if I said I was not impressed with the story of how he founded the now-ubiquitous red envelopes:
I got the idea for Netflix after my company was acquired. I had a big late fee for "Apollo 13." It was six weeks late and I owed the video store $40. I had misplaced the cassette. It was all my fault. I didn't want to tell my wife about it. And I said to myself, "I'm going to compromise the integrity of my marriage over a late fee?" Later, on my way to the gym, I realized they had a much better business model. You could pay $30 or $40 a month and work out as little or as much as you wanted.
It's sort of like getting a college degree, particularly when you come from a working class family. That's something, no matter what happens, "they" cannot take away from you.
The best idea I ever came up with that had me convinced I could become a millionaire was putting chocolate chips in my Corn Flakes. I maintain, despite the company likely having no knowledge of my existence, that Kellogg (NYSE:K) stole my idea just like Kramer had his idea for a cologne that makes you smell the beach ripped off by Calvin Klein.
In any event, you cannot take the incredible accomplishment of coming up with the notion of Netflix away from him. It was nothing short of genius and epic. Along related lines, Hastings impresses when he speaks about the future of "television":
No one has yet invented social TV, we haven't figured out as a society and culture, what is social TV, what does that mean exactly. So that's a whole another wave of innovation ... Because even on the big events like the Super Bowl it's going to be a single-cast ad stream. So everyone is going to get the same event, but the ad stream will be individualized over the Internet ... and then for the content that you click and watch and choose like Netflix that's not time-sensitive, it's not real-time then obviously, there's tremendous advantages.
You're not being objective, even as an ardent NFLX bear, if you don't concede and call Hastings a visionary. Actually, I don't consider it a concession; it's simply fact that the man sees the future. If coming up with Netflix in the first place was not enough, recognizing the way TV viewing is going before most other people do surely is. Hastings errs, however, when he situates Netflix at the heart of that vision of the future as a foregone conclusion.
Content Is King, But Not Just Any Content
We should all probably pay more attention to a deal that went down in Canada last month. I've covered it a bit here on Seeking Alpha, as has fellow contributor Chris Katje. Long story short, arch rivals Rogers Communications (NYSE:RCI) and Bell Canada (NYSE:BCE) teamed up in December to purchase Maple Leaf Sports And Entertainment (MLSE) for $1.32 billion. The deal gives the two Canadian telecommunication and media giants ownership of practically every piece of sports content that matters in the country. Between the various national and regional networks Rogers and Bell own, they already controlled a considerable portion of it prior to the MLSE deal. Now, they own the nation's crown jewel, the Toronto Maple Leafs as well as the arena the team plays in and the stations that broadcast a majority of the club's games.
I'll let Jeff Beer of the Canadian business Website, PROFITguide.com, more than capably take it from here:
...Bell and Rogers are intense competitors. They spend every waking moment fighting for any sliver of market share on multiple fronts-cable, wireless, Internet and media. What could possibly turn these arch rivals into business partners?..

Content is key, yes, but you don't pay that kind of money and get into bed with a hated nemesis for just any content. What merits this kind of truce is live content with a best-before date, stuff like hockey games and soccer matches that fans can't wait to see. And sports is the king of live content, not only for TV, but web and mobile video as well. That's the driving force behind the MLSE deal, and it's part of a larger trend in broadcasting and media that has seen the price of sports broadcasting rights and advertising revenues around the world skyrocket. Sports is one of the last and most valuable vestiges of appointment viewing (emphasis added).
The last sentence brings us back to Netflix. Let's be clear, I am not arguing that Netflix needs to be Sirius XM (NASDAQ:SIRI) and buy the rights to every type of content under the sun. In fact, just as I think that's not necessarily the best move for satellite radio, it would be a bad move for Netflix. There's no question that something like Netflix serves itself well with a relatively tight focus.
That said, you can measure value in programming on several levels. Beer (great name for a Canadian) speaks Hastings' language when he mentions "appointment viewing." The days of having to be in front of the TV at 8:30 p.m. to watch Night Court or kicking yourself because you forgot to DVR it are about to be history. We'll live in a world where we watch what we want, when we want and we'll do it the very social, personalized way Hastings so articulately speaks of. One of the key exceptions will always be live sports programming. Sure, you can watch it on demand, but only after it actually happened.
We can also measure value on the basis of what a piece of programming means to advertisers. To what extent can the owners and creators of content monetize it. You cannot beat the Super Bowl in that regard, which is part of the reason why networks pay so much to broadcast it. For good reason, Netflix will likely never have marquee programming like the Super Bowl. Frankly, it does not need live sports, but it does need more than it has right now - an incredibly pathetic collection of re-runs and stale movies.
Listen to a CBS (NYSE:CBS) conference call, for example, and you should be able to quickly comprehend Netflix's core conundrum. CBS executives gush over how much money they take companies like Netflix and Amazon.com (NASDAQ:AMZN) for and what little they have to give them in return. They provide these middlemen with a tiny fraction of their overall content offering. And they only give them the stuff that no longer holds sway with advertisers. There's a reason why CBS (and other programmers) cannot sell the stuff they pass off on Netflix for millions to sponsors. The sponsors do not want to buy time on it because large numbers of viewers no longer want to not only watch, but connect with the programming.
Netflix only has a chance in its fight for long-term survival if it ups the ante on the content it allows users to stream. At $8 a month, the studios and programmers who own the content will never give Netflix anything valuable on any level. Starz (NASDAQ:LMCA) proved that when it ditched Netflix:
This decision is a result of our strategy to protect the premium nature of our brand by preserving the appropriate pricing and packaging of our exclusive and highly valuable content. With our current studio rights and growing original programming presence, the network is in an excellent position to evaluate new opportunities and expand its overall business.
Call it content dilution that Starz lashed out against. And that's only the beginning. Like I said, Hastings is not stupid. He sees the writing on the wall. If he could swear me to secrecy, he would tell me that I am 100% correct. But he does not have to tell me that I am correct. His actions make it completely obvious.
Why do you think Netflix has, all of a sudden, shifted focus to producing original content, positioning itself as an upstart HBO? It's doing this because the only way it even has a San Francisco 49ers' chance in Candlestick Park of surviving is to produce its own modern day version of the Sorpranos or Sex and The City, several times over. It cannot afford to buy reruns at that level, let alone first-run TV shows and box office smashes while they are hot. And even if it had cash and a strong balance sheet, no programmer in its right mind sells Netflix anything of quality as long as it gives it away, unlimited, for $8 a month.
Netflix finds itself in an absolutely unworkable situation. Across the border, Rogers and Bell set aside competition to buy MLSE because they get it. It's not simply about spewing out a bunch of content Reno buffet-style, it's about the quality of that content and how you can leverage that quality to be a leader in multiple spaces. With Netflix, Reed Hastings had an incredible idea that, at least in relation to his company's profitability and ultimate viability, has gone bad.
Disclosure: I am long AAPL, RCI.
Additional disclosure: I am long NFLX June $40 put options.