Texas Instruments (NYSE:TXN) had quite an impressive run on top line revenue growth - from a low of $2.09B in the first quarter of 2009 to $3.74B in the 3Q of 2010. A 79% increase in 6 quarters! Since then revenue has been on a slight down trend to $3.42B for 4Q 2011 slightly above their original 4th quarter estimate of $3.39B and $203M above their lowered mid quarter update.
In addition, they have forecasted 1Q revenue of $3.15B and called the 1Q as the bottom of this semi cycle:
"In December, with low levels of customer inventory and short TI product lead time, we experienced significant strength compared to what our backlog indicated at the start of the month. Our belief based on historical trends is that the semiconductor market bottomed in fourth quarter '11 or else will bottom in first quarter '12. Our important market indicators were consistent with this belief. New orders declined 7% sequentially, book-to-bill was 0.84 and distribution inventory dropped to historically low levels. So despite low levels of backlog and visibility, we are forecasting that our first quarter revenue will decline only about 2% compared with the seasonal average decline of about 4% excluding baseband."
But with the recession in Europe, slowdown in China, and below trend growth in the US makes me believe that the bottom TI is calling is nothing more than a reversion to mean of flat top line revenue growth at best. In addition, Texas Instruments stock price is up 21% since mid-December.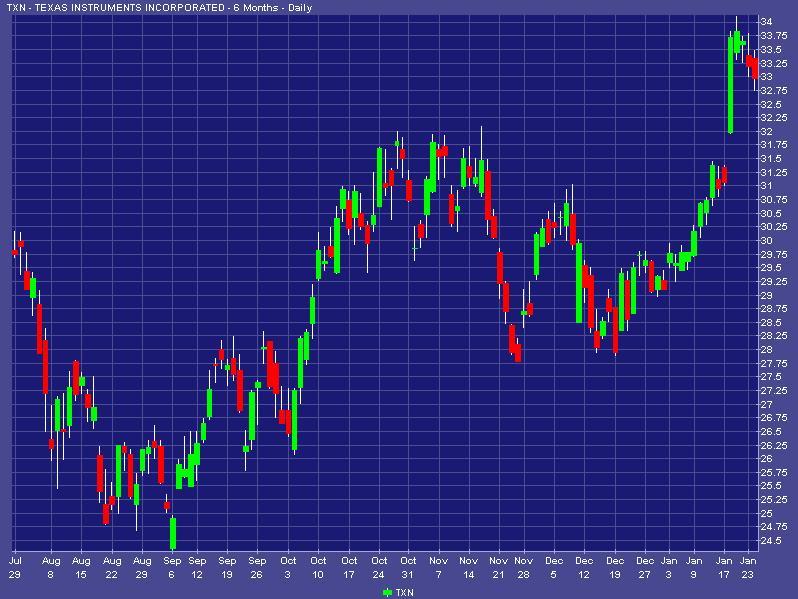 In conclusion, I would not be a buyer of Texas Instruments right now at what very well could be a top. At any sign of weakness I would consider going short Texas Instruments as well as the S&P 500 ETF (NYSEARCA:SPY).
Disclosure: I have no positions in any stocks mentioned, but may initiate a short position in INTC, SPY over the next 72 hours.