The recent conclusion of CES, the International Consumer Electronics Show, gives us a good opportunity to review new product launches that also included haptic technology, to try forecast the impact of the introduction of these devices to Immersion Corporation's (NASDAQ:IMMR) future revenue stream. In addition, some recently awarded patents and a new company approach aimed at defending its IP also in what is now known as "basic haptic" (and used in many popular smartphones available in the market), may justify analyzing this small company again for SA readers.
In Las Vegas, Lim Sung-jae, Director of Overseas Marketing, introduced 'Pantech Element' to the US market during the AT&T (NYSE:T) Developer Summit. Element is the first LTE, waterproof tablet produced by Pantech, the third largest Korean mobile handset producer.
It is also the first device to feature Immersion's High-Definition Haptics technology. The tablet includes a DRV-8662 haptic piezo driver from Texas Instruments (NYSE:TXN) combined with Immersion's TouchSense 5000 control software and MOTIV integrator tools.
HD haptics are important to Immersion for several reasons. First of all, the HD haptic experience creates a richer and more natural tactile sensation for end users, allowing a larger number of different effects, depending on the user interaction with the device. Gaming on tablets (and handsets) will certainly be the main activity profiting from this new solution, but not the only one.
From an investor prospective, Immersion is now trying to define three different levels of haptic effects: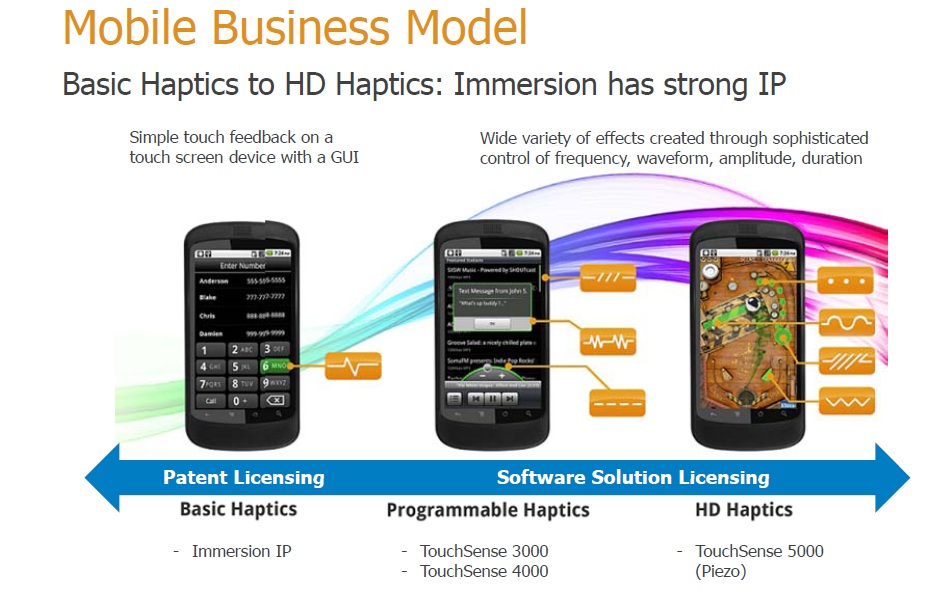 (click to enlarge, from the company's recent Investor Presentation)
So far, Immersion has licensed its programmable haptic solution to handset/tablet producers like Nokia (NYSE:NOK), Samsung (OTC:SSNLF), LG, Toshiba, Fujitsu and Pantech. Royalties on this solution are roughly 10 cents per unit, with reduced rates based on increased volumes (the reason why a single licensee increasing sales by 50% doesn't necessarily translate into a 50% revenue increase for Immersion).
Pantech's new tablet opens the door, for Immersion, to HD haptics, which will carry a royalty rate of roughly twice as much as the previous solution, and will contribute to further differentiate the company's offering. As one product is now available in the market, hopefully other existing licensees will be inclined to speed up the adoption of HD haptics in their higher end smartphones and tablets. In the longer term, Immersion also hopes to generate solutions licensing royalties, for example from gaming apps, etc. benefiting from HD haptics.
Simple patent licensing is now mentioned as a new potential revenue stream for the company. As Immersion's CEO, Vic Viegas recently commented during the 14th Annual Needham Growth Conference, the company is evaluating litigation to enforce it IP and collect royalties even for the simpler haptic technology:
Clearly, we are expanding our patent portfolio. We have what we believe to be a very fruitful opportunity in forcing that IP. There are quite a few customers -- potential customers licensees that we believe are infringing. And so we will be investing heavily and enforcement litigation.
While litigation is always a lengthy and risky process, Immersion could also use this aggressive approach to try convince some handset producers into licensing its programmable haptic solution - why should a large manufacturer engage in a lawsuit with the risk to end up paying a royalty for basic haptics when it can get a much more complete set of effects for just a few cents more per unit? As the technology to generate a haptic effect is there already (with the smartphone incorporating an actuator, etc.), the difference in cost could really be minimal for the OEM, with the advantage of achieving a much more advanced customer satisfaction. Touchscreens have been mostly associated to smartphones, the high end of the handset market, a segment where buyers are willing to spend a price in return for the best possible user experience. In this optimistic scenario the end result could be very rewarding for Immersion, which could easily boost its market share in touchscreen phones, now at about 20% to 30%, just adding a few more key partners. We would prefer to see the company adding new customers, even through a blend of basic and programmable haptic, than engaging in several litigations - but it's obviously not up to us to decide what will happen, we can only try to describe a few possible scenarios.
Here is a more complete description of what Immersion believes is infringing its IP, from the same recent conference:
So our patent portfolio continues to grow and mature overtime. And as a result, recently we've announced we have six patents, I think now up to eight patents that have to do with almost any form haptic capability on a mobile device. One area includes using haptics in a menu selection, using haptic in a GUI interface, using haptics in a multi-tasking environment, you are playing a game and you get an incoming phone call.

So much of what is currently used in today's phone are covered by this group of patents. So as a result we've begun working with notifying a number of the companies that are producing haptic capability in their phones but it's unlicensed.

So today we have licensees include Samsung, LG and Nokia, if I were to go through the top 10, other companies that have some form of haptics in their phones include, Apple (NASDAQ:AAPL), HTC, Motorola, Sony, ZTE, Huawei. I think those are the top 10. The only one who does not appear to have much in the form of haptics other phones would be Research in Motion (RIMM).
Having survived (and positively settled) litigation with Sony and Microsoft (NASDAQ:MSFT) in the past, Immersion's management should be aware of the costs and risks involved in pursuing such a strategy. Similar to what happened with rumble in console gaming peripherals, haptics is a key little technology that can improve end users' experience when interacting with a touchscreen on smartphones (and tablets). If we assume that most people now bring in their pocket an Internet enabled gaming device, which also happens to be making phone calls, we realize how Immersion technology could really become a must have in a very fast growing market: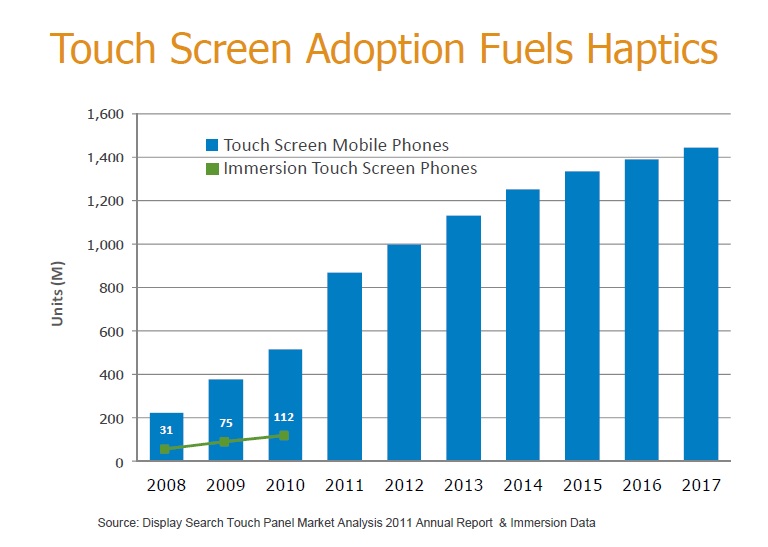 As a reminder, mobility already represents about 50% of Immersion's revenues.
Assuming litigation will be necessary, how the market might react to the start of a legal battle with one or more handsets producers is a guess game. While the move might bring the company to more radar screens, it would also probably concentrate investors attention to just this single aspect. Right now, Immersion is basically breaking even, but a lawsuits would obviously increase costs in a quite substantial way, making it more difficult, for investors, to track the underlining performance. The new licensing model, with 95% margins and a mostly fixed costs structure should allow the company to start delivering positive results going forward, assuming a decent growth in revenues. A litigation could hide the benefit of the recent restructuring, even if the company is in a very good cash position to handle one or more legal battles.
Back to CES, it is interesting to note that the show gave Immersion the opportunity to confirm that haptics is being incorporated in several new products, both in the mobility and automotive sectors.
Here is a quick look at some of the highlights, some of them taken from the company's partner section:

Starting from the tablet and smartphone vertical, Samsung heavily promoted its new Galaxy Note, with an extra large 5.3-inch display, a device that can also be used with a stylus. While it is too soon to say if this new phone category (phablet?) will be well received by consumers, it confirms that Samsung is incorporating haptics into most of its new phones and tables, including all its new Galaxy Tab 7" and 10.1" versions.
The new 'Pantech Element' was key, for Immersion, to show its new HD haptic technology. Waterproof Fujitsu F12C made also its debut at CES, together with the waterproof Arrow Tab. Toshiba introduced its smaller 7" Thrive Tablet to the US market.
ViviTouch, an Immersion partner, showed a prototype HTC smartphone with built-in haptics. The company hopes that its technology (that also allows HD haptics) will be available in a commercial unit in 2012.
Getting to the automotive sector, Cadillac (NYSE:GM) gave a demonstration of their haptic-enabled center stack touchscreen interface, which was developed in cooperation with Immersion. Production is foreseen for the first half of 2012, and will most likely impact revenues from the second half of this year.
Continental AG, that has already licensed Immersion's haptics technology for use in the high-end Volkswagen (OTCPK:VLKAF) Phaeton sedan and Bentley cars, also introduced haptics into several touch-sensitive surfaces:
To make the operation of touch elements even safer and more effective for motorists - whose primary task is, after all, to keep their eyes on the road - Continental is focusing on tactile (i.e. haptic) feedback from touch-sensitive surfaces. For example, slight counter-pressure from the display on the driver's finger indicates that an operating step has been performed successfully, making it unnecessary for the driver to look at the screen again.

Feedback can be provided in forms ranging from slight counter-pressure to vibration, depending on the respective control concept. This allows different feedback strategies to be implemented which are tailored to the manufacturers' requirements. Series of tests have shown that haptic feedback is accepted much better by motorists than visual or acoustic signals. Continental has also made use of this principle in its Accelerator Force Feedback Pedal (AFFP). Thanks to haptics, the world's first active gas pedal in serial production offers a new possibility to provide imminent danger warnings to motorists directly through the feet, for example.

Ready for serial production - for more safety and pleasure to use

Continental has completed the basic pre-development phase and is now in a position to work on specific implementation for new vehicle models together with automotive manufacturers. "Let's say that the combination of touch-sensitive surfaces and haptic feedback is a tangible innovation, that will provide even better support for motorists," declares Eelco Spoelder, Head of the Instrumentation & Driver HMI division. "Our customers can use this technology to improve safety for passengers, but also to create a kind of magic sensation for the operator due to the haptic feedback."
KIA displayed a new infotainment system complete with haptic feedback in the rotary dial: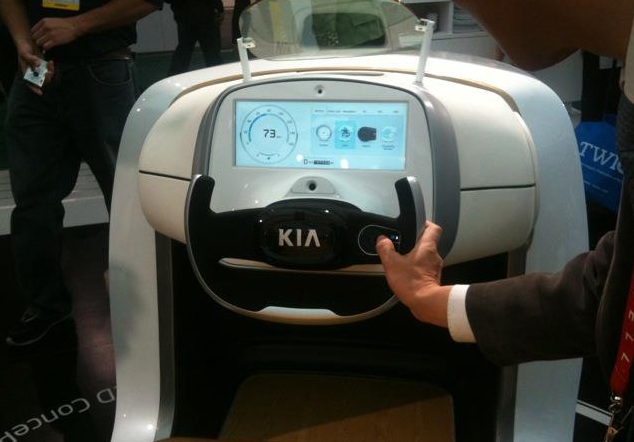 While this is a very futuristic project, an unlikely to generate royalties soon, in our opinion it demonstrates that haptics is slowly becoming a must have technology in cars, as it helps reduce driver distraction. We still expect the vertical to start impacting revenues in a strong way going forward, while it now represents just about 5% of sales.
Disclosure: I am long IMMR.