Last Friday Schlumberger (NYSE:SLB) announced 4Q results that beat expectations for revenues and earnings, with 4Q fully-diluted EPS of $1.11 on revenue of $10.97 billion. The stock rose 1.3% on Friday to $73.80.
According to the conference call transcript, every business segment and geographic region was strong, though the gains in North America came from efficiencies, rather than organic growth (since U.S. natural gas prices are hovering near 10-year lows). Margins were up in most segments.
Strong Earnings, Weak Stock
Consensus expectations call for a 30%-plus gain in profits this year, but you would never know it by SLB's stock price, which has lagged the S&P since mid-September (see chart below). A big problem lately is U.S. natural gas prices, which are down nearly 50% from their peak in early 2011. This is partly due to a warm winter, but is mainly due to an oversupply of natural gas due to the exploitation of the Marcellus Shale using hydraulic fracturing.
But since SLB is an oil services company it is driven by a global mix of oil and gas. Oil prices have stabilized after a steep decline last summer, and Brent crude has stabilized in a range of $105 to $115. (Brent crude is a global measure, and therefore a better indicator for Schlumberger than WTI, which is a local measure.) Meanwhile, the natural gas market outside the U.S. is just fine. Since the U.S. gas market is closer to a bottom than a top, I believe it is probably a good time to get into SLB.
My long-term bullish thesis for SLB is here. I like SLB as a play on peak oil, a hedge against a falling U.S. dollar, and a bet on continued growth in emerging markets. I believe the stock can reach $90 by the end of 2012, based solely on earnings growth, and not on an expansion in the P/E.
Aside from my long-term thesis, here are some risks and catalysts that are likely to impact the stock in the first half of 2012:
Risks
Natural Gas: Falling prices continue to hurt the North American drilling market. Natural gas prices have fallen from $5 this summer to $2.25 at present. This hurt SLB until January 10, 2012, when the drop in natural gas prices no longer drove SLB shares. On Jan. 16 the bears predicted a "catastrophic" surplus since a warm winter in the U.S. is leading to bloated inventories.
Negative estimate revisions: The consensus for 2012 EPS has fallen about 8% over the last three months, while the consensus for 2013 has fallen 10% over the same time period. SLB reduced guidance for the first quarter of 2012, but this reflected seasonal issues, not underlying demand.
Premium Valuation: SLB sells for 15.3x 2012 EPS of $4.83, compared to an industry P/E of 13.6x and a multiple for the S&P 500 of 10.2x. Schlumberger sells at a premium to its oil service peers due to its excellent technology, respected management, high margins, high returns on equity, and strong cash flow and balance sheet. I believe that SLB can finish this year at a forward P/E of 15x, which would put the stock at $90. But I acknowledge that the rich valuation may be a turn off for some investors.
Regulatory Climate: Deepwater activity in the Gulf of Mexico is slowly recovering from the BP disaster, and new regulations may hinder demand. · Likewise, concerns about fracking may disrupt the robust market for shale gas.
Catalysts
Production Cutbacks: On Tuesday Chesapeake Energy (NYSE:CHK) announced that it was cutting production due to the glut of natural gas. Chesapeake is the nation's second largest producer of gas, and the news triggered a 10% rally in gas prices from about $2.25 to over $2.50 per BCF.
Europe Muddles Through: Europe does not derail, and global growth in 2012 beats expectations.
LNG Holds Up: Liquified natural gas demand and gas prices remain strong outside of North America, boosting overseas drilling activity.
ThruBit Shale Technology: SLB acquired ThruBit in the fourth quarter, and this firm has wireline logs for horizontal shale wells. ThruBit offers a new solution in a hot market, always a good thing. This was the rationale for the Smith Int'l acquisition, too. The $13 billion purchase of Smith International in 2010 has paid off, and boosted earnings in 2011.
Rising Dividends: The dividend will rise 10% in April to an annual rate of $1.10, following a 19% increase in the prior year. SLB now yields 1.5% based on the new dividend.
Earnings Growth: Consensus estimates call for $4.83 in 2012, a projected gain of 32% in EPS and 15% in revenues.
Insider Buying: Six insiders have bought shares since August 2011 at prices ranging from $62 to $80.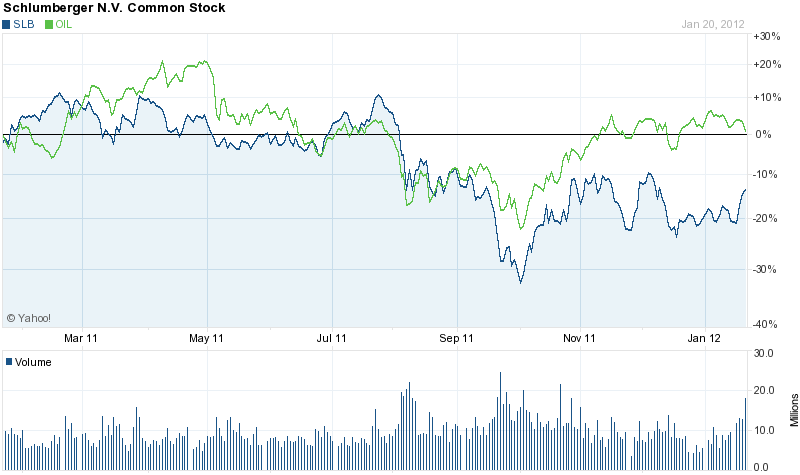 Source: Yahoo Finance
SLB Goes as Oil Goes: Either WTI or Brent
The chart above compares the price of SLB to the price of the Barclays Bank iPath Exchange Traded Note (NYSEARCA:OIL), which follows the futures price of West Texas Intermediate, a light, sweet crude that is used for a benchmark in the U.S. As you can see, the price of SLB closely tracks the price of WTI. The chart shows how SLB fell from about $95 in April of 2011 to $58 in October of 2011, before rebounding to $73.40 last Friday.
Between April and October, the price of Brent dropped about 25%, from $127 to $102 per barrel. Meanwhile, the price of WTI dropped about 35%, from $115 to $75. SLB fell over 40%, which suggests that it was tracking the 35% drop in WTI.
Looking ahead, however, I believe that Brent will provide a better indicator for SLB than WTI. WTI is often used by investors as a proxy for "oil prices," but WTI prices have been depressed by a glut of refining capacity and crude in the U.S. Brent is a better representation of global demand for SLB's products, and I believe that it will eventually be reflected in the stock price.
Disclosure: I am long SLB.
Additional disclosure: here.