So far 2012 has been a mixed blessing. The market has delivered impressive results, but it's difficult to pin the performance to any reliable indicator or set of factors outside individual company earnings reports. In an earlier article I outlined changes I planned on making to a portfolio I manage for income. With options expiring last Friday, its time to review the strategy and adjust as necessary.
In keeping with my 2012 strategy I sold the Cooper Companies (NYSE:COO), a manufacturer of contact lenses and women's healthcare products. Shares were sold through covered calls with a strike price of $70 that were assigned. It is currently trading at $68.74. I did not see any compelling news that altered my assessment of 2012 revenue hurdles and decided to not roll over the covered call which yielded 3.14%.
Holdings in the Vanguard S&P 500 VFINX were reduced as I continue to scale out of this position. Shares are up for VFINX nearly 5%, so patience is the operative word in management of this position. Not being able to trust in the market upturn makes management of advancing positions a challenge.
My position in gold through the GLD, a Gold trust ETF that replicates the price of gold bullion, has not been reduced. Covered calls were not assigned and I have not seen any data forceful enough for me to rush to get out of gold. It seems the gold panic of December might be behind us and as yet seems to be largely unexplained.
I have layered in a series of short dated covered calls as I would like to have some insurance against volatility and market turmoil. I have strike prices much closer to the money than in the past and am prepared to decrease my position if shares of the GLD are called away. Covered calls not assigned yielded 5.32%.
No action was taken with Clean Energy Fuels Corp (NASDAQ:CLNE), which provides natural gas as an alternative fuel for vehicle fleets in the United States and Canada. Shares are up in 2012 from $13.25 to a current price of $14.3 and options are lightly traded.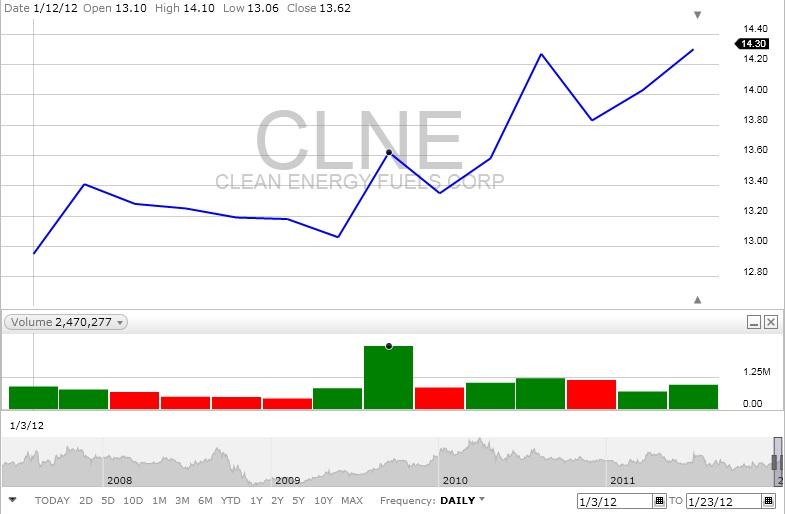 On the buy side of the 2012 strategy shares of Altria (NYSE:MO), a manufacturer and distributor of tobacco products in the USA, are flat and have not dropped to my entry points of $27.37 and $26.64. Options are available but inexpensive making it difficult to enhance earnings with either covered calls or cash secured puts. I do not have enough faith in the current market landscape to move option transactions too far into the future. Unfortunately this is one of the negative elements of the current market. Since Altria yields 5.71%, it's profitable to wait for a better entry point.
Freeport McMoRan (NYSE:FCX) a mining company producing primarily copper and gold, has enjoyed share price increases from $39.50 to $43.38 YTD. The advancing share pricing has made it challenging to add to my position but options are available and it provides a dividend yield of 2.37%. If the direction changes I am prepared to add to this position with price targets of $40 and $37.5. Covered calls yielded 4.47% and the share position was not reduced.
TransCanada (NYSE:TRP) operates an energy business concentrating in natural gas, oil pipelines and energy. Most of the news on TRP has revolved around the political antics of the Keystone XL pipeline. I have a price target of $38.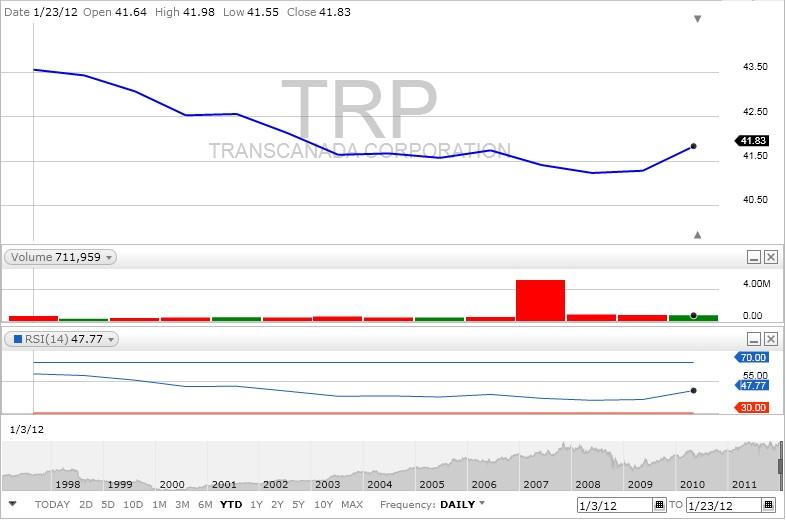 With 2012 starting out in positive territory, my conviction to move to an overweight position in cash has been challenged, but I maintain my strategic discipline. It's comforting to have the markets edge higher, but with the specter of Europe still looming and the USA elections diminishing decisive action, I maintain my stance on transitioning targeted securities to cash.
Disclosure: I am long GLD, MO, FCX, TRP, CLNE.