I keep a watch list of about 50 stocks in front of me each day. While I track the movement in these 50 and others regularly, I simply cannot take my eyes off of a handful of tickers.
Research in Motion (RIMM). Ask my wife. On Sunday night, immediately after I received the telegram (OK, it was a Tweet from The Globe And Mail) breaking the RIM CEO story, I rested my bifocals on the bridge of my nose, looked at her lovingly and said, "BlackBerry's stock is going to fly tomorrow morning."
Leave it to RIM to screw things up. As I initially reacted on Monday:
Generally, actions do speak louder than words, but exactly which actions you address and the words you choose when doing so dictates the ultimate impact. In that regard, RIM truly just sent itself into the land of Palm and Nortel Networks (OTC:NRTLQ). Fire up the random letter machine and find something snappy that comes before .PK because you'll likely need to sooner, rather than later.

Of course, RIM's co-CEOs stepped down Sunday night, replacing themselves with the company's COO Thorsten Heins. By stating that this move does not represent a "seismic change" and that he pretty much intends to do what Jim Balsillie and Mike Lazaridis have been doing all along, Heins only allows the train wreck to continue.

Investors wanted action. And they got it. Balsillie and Lazaridis are finally out. Now, if he can rebuild another bridge he burnt, Balsillie might actually be able to work full-time on bringing the NHL to Hamilton. He no longer has the distraction of running an international corporation into the ground standing in his way.
Maybe somebody else has said this, but I have not seen it yet in the mess of RIM rebukes. While staying the course is an awful move, if that's the plan at least execute it with some fresh blood. If RIM poached an actual living, breathing company of one of its top executives like J. C. Penney (NYSE:JCP) did, the stock would have flown and hopes would not be quite so dim.
Here's to all of the RIMM loyalist longs and old school MBAs with their calculations of book and intellectual property values. See you in the wild world of sub-$10 stocks.
Apple (NASDAQ:AAPL). In case you do not obsessively follow every single thing I do, you might want to know about a fun little contest I am running with regard to Netflix (NASDAQ:NFLX). I'm one-upping the Wall Street Journal's guess the close and we give you a token mention in next week's edition gimmick by offering the reader who gets closest to calling NFLX's Thursday closing price two big prizes.
Other than NFLX, AAPL would probably be the best stock to do this with. Talk about a critical moment in time. Here's what I think happens. This report, for all intents and purposes, sets, at a minimum, the first half of this stock's 2012 in stone.
If Apple crushes earnings - and I mean an Andy Zaky-like crush - the stock approaches and maybe hits $450 on Thursday. From there, it sustains. If Apple merely meets, has a nice or decent quarter or, worse yet, misses, AAPL plummets through $400 on Thursday and wallows around that level for at least a few months.
Investors want to see that iPhone 4S and iPad 2 have served as strong bridges to the forthcoming iterations of each device and iTV. If momentum slows, even a bit, the street, for better or worse, will punish the stock.
Sirius XM (NASDAQ:SIRI). If you cannot see what's happening here, you've got your blinders on. While I am not as bearish as I once was, near-term, I still cannot get all that excited about Sirius XM's long-term outlook and, more so, the way its stock acts and reacts.
Despite my man crush on fellow Seeking Alpha contributor Cameron Kaine, I have to take exception with his view of Morgan Stanley's recent downgrade of SIRI. Kaine argues that the "downgrade means nothing." While that might be the case on some higher conceptual level, it means quite a bit, practically speaking.
First of all, it knocked a stock already losing some ground in recent days for a bit of an intraday loop. While it's encouraging to see SIRI claw back to the close on Monday, a familiar pattern is developing here. As with Apple, Sirius XM's next report is critical. If the company simply tells us more of what we already know (great 2011, new radios are out, 2012 is on track, cash flow is strong, we might return capital to shareholders, etc.), expect the stock to swoon and stagnate, not necessarily in that order.
Bank of America (NYSE:BAC). A few reasons make it so I cannot take my eyes off of BAC. First, I'm fascinated by the big-money options activity that has taken place in BAC over the past several weeks. The whole "too big to fail" thing comes into play as well.
As with RIM, so-called "value" investors want to make the case that BofA is worth X because of its Y and Z. Maybe they're right. Maybe someday, investors piling into BAC in the single digits will hold a $100 stock. That said, I'm with Seeking Alpha's Richard Bloch. If you're underwater on the stock (or if you want to make a long speculation), do it with LEAPS call options:
One way to continue to maintain exposure to the stock, while reducing risk, would be to replace the stock with long-term LEAPS call option. My friend could sell his stock for $7000 or so and spend $1000 to purchase 10 of the January 2014 10-strike calls (representing 1000 shares at a cost of about $1 per share) ...


These options would be worth nothing if the stock isn't above $10 per share at expiration, but if the stock trades past that level, these options would gain value at a faster rate than the stock itself. These $1 options would sell for at least $5 if the stock somehow made it to $15 per share.

True, the owners of LEAPS call options don't get dividends, but BAC only pays 4 cents per year - hardly worth worrying about, at least right now.

Throwing good money after bad? Maybe. But sometimes it isn't so easy to simply say goodbye to a stock that's been such a downer. That's why, while I'm long BAC, it's through LEAPS options and not the stock itself.
Herein lies the beauty of LEAPS. Excellent strategy. And an even better one if you're not using it to partially bail yourself out of a dead long stock position. You participate in what could be the lotto ticket speculation of a lifetime, but you do it with far less capital on the line versus owning the stock outright.
Ford (NYSE:F). I look at F because I basically used the BAC strategy on it. I own out-of-the-money June and January 2013 calls on the stock. Here's what I said about the stock's prospects back on January 13, 2012:
Challenge #1: Close above $12.00 for several days in a row. Hold that level.

Challenge #2: Bust through the 200-day MA like it did the 5, 20 and 50.

Challenge #3: Break resistance around $12.50 and hold for several days in a row.
OK, I am a chartist after all (!). Have a look at the chart, courtesy of Yahoo Finance.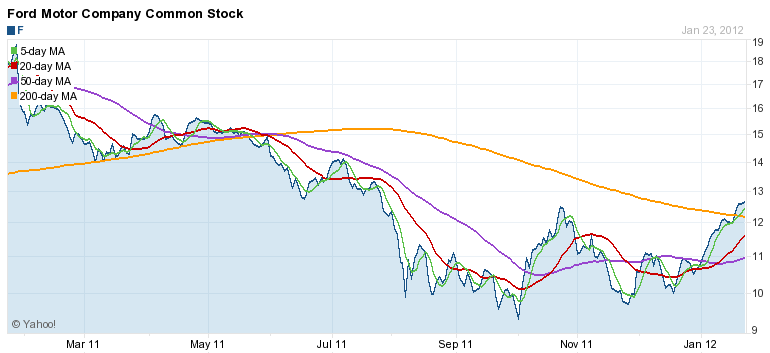 Compare that to the same chart from the above-linked 1/13 article.
Challenge #1. Check. Challenge #2. Check (cautiously). Challenge #3. Check (cautiously).
Ford reports earnings on Friday. Talk about a critical moment in time. On a strong report, what bulls have been saying about F for all of 2011 finally comes true and the stock has its day. While I'm not holding my breath, the charted course appears on track. Let's just hope we do not have a repeat of what you see from October 2011. I'm not sure I would call such a swoon a buying opportunity this time around.
Disclosure: I am long AAPL, F.
Additional disclosure: I am long NFLX June $40 put options.