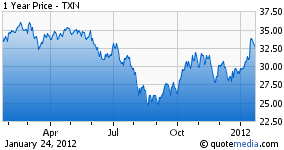 After yesterday's close it was time for Texas Instruments (NYSE:TXN) to open its books for the final quarter of the last year. Investors appear pleased after CEO Templeton believes Texas is at the bottom of the economic cycle and his comments send the shares more than 3% higher in after-hours trading.
Figures
Fourth quarter revenues came in at $3.42 billion on which it net earned $298 million or $0.25 per share. The company took a one-time charge related to the closure of two plants and charges related to the acquisition of National Semiconductor last year.
Outlook
The chip manufacturer expects first quarter 2012 revenues between $3.02-$3.28 billion, with earnings per share of $0.16-$0.24. Analyst were looking for revenues to come in at $3.23 billion. The company guided that it will speed up the closure of its "Baseband" unit and expects only $75 million in revenue, compared to $275 million in the fourth quarter.
Accounting for the unwinding of Baseband, the revenue outlook is comparable to the $3.39 billion Texas Instruments generated last year, however by then it earned $666 million or $0.55 per share.
Closing facilities
CEO and Chairman Templeton further announced the closure of two factories, which will cost about 1,000 jobs. Charges totaling $215 million will be taken (of which $112 million in the fourth quarter) in an attempt to lower operating cost by $100 million per annum.
Texas Instruments also took $256 million in acquisition related charges after the acquisition of National Semiconductor last year.
Financials
Texas Instruments levered up after acquiring National Semiconductor last year for $6.5 billion. However strong operational cash flows have already reduced net debt just above $2 billion.
For the full year revenues came in at $13.7 billion, down 2% year-on-year. Profitability has been reduced from $3.2 billion to $2.2 billion due to charges taken in the last quarter and margin depression on higher operating costs. Full-year earnings per share declined from $2.62 to $1.88
Long term range
During the last decade shares have not traded above $35, which has been a strong resistance level. The positive outlook, continued moderate share repurchase programs, divestment of Baseband and a successful integration of National Semiconductor could be potential driver for the shares.
However the decisive factor for Texas Instrument will be to translate the recovery into expanding margins in a serious attempt to break the long term upward resistance.
Disclosure: I have no positions in any stocks mentioned, and no plans to initiate any positions within the next 72 hours.