The most important thing about February is that it's not January. January is a special month for the markets because of three factors:
The January Effect
January's forecasting power for the rest of the year
The dire performance of momentum in January
Since February will start next week, it's time to review these factors and consider appropriate portfolio changes.
The January Effect
The January effect has long been an academic debate, but historically stocks have done significantly better in January than the rest of the year. This is particularly the case for small stocks and stocks that have done poorly over the prior 12 months. For example, this year Vanguard Small Cap Value (NYSEARCA:VBR) is ahead of the S&P (NYSEARCA:SPY) by 1.3% YTD.
Some believe that the outperformance is associated a rebound from tax loss selling in December, but the January effect exists in Japan where there is no capital gains tax, and in the UK where the tax year begins in April, and in Australia where the tax year begins in July. Therefore, it does not seem to be due to tax, though it is not clear why it exists.
Conclusion: It is less likely that the market will correct after a strong January, since a strong January is fairly typical.
January As A Predictor For The Next 11 Months
Secondly, January is also a predictor of returns for the rest of the year. If January is positive, there is a 61% chance the remaining 11 months of the year will be positive, but if January is negative the same chance is 12%, and this is found to be statistically significant. Of course, January isn't over yet, but the markets are up abour 5% currently.
Conclusion: All else equal assuming the positive January continues, the next 11 months are more likely than not to be positive for equities.
How January Kills Momentum
However, what January does seem to do, is kill momentum strategies. A momentum strategy is where you buy a stock that has performed strongly expecting further outperformance. January is the worst month for momentum (see chart below), but February can be a point to allocate some of your portfolio to momentum. For example, YTD the Russell 1000 High Momentum ETF (NYSEARCA:HMTM) has underperformed the Russell 1000 (NYSEARCA:IWB) by 2.8%, and if you look at the chart below, that's better than average.
Returns To Momentum By Month
Returns For Buying the Top 10% of Stocks Based On 6 Month Prior Performance and Selling The Bottom 10% Based On Prior 6 Month Performance and Holding That Portfolio It For 6 Months
1965-1989
Excludes Trading Costs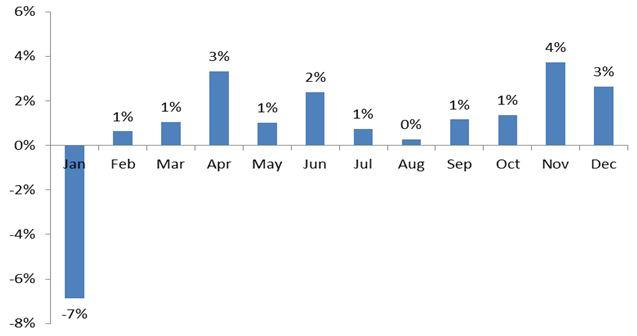 Click to enlarge
A couple of questions you might have at this point regarding momentum:
Q. This strategy involves both long and short. What if I just want to go long?
A. If you just go long performance historically, has been 0.79% per month higher, however I don't have the monthly breakdown to illustrate importance of January.
Q. This doesn't include trading costs, doesn't that mean it's useless?
A. Clearly, trading costs reduce the outperformance of the strategy, but research suggests trading don't eliminate the outperformance entirely. If outperformance is ~9% over 6 months, then your total trading costs (both buying and selling together with bid/ask spreads) must be meaningfully lower than that. Also, research suggests, investing very large sums of money in this strategy >$1B can eliminate the effect due simply to market impact of the trades.
Q. How do I know this will work?
A. You don't, that's the problem, as with the January effect, there is no clear explanation for it. Just because it's existed in the past does not mean it will exist in the future.
Q. Is holding for 6 months based on past 6 month returns the best strategy?
A. Actually, strategies that involve holding periods of less than 6 months can yield better absolute performance, but I assume that, in order to avoid excessive, trading costs holding for 6 months is better even if the return is lower because the reduced trading costs more than offsets the potential gain from higher trading frequency.
Conclusions:
The January effect is coming to an end, expect some of last year's poor performers that have rallied in January to perform more in line with market as February arrives, and vice-versa strong performers that has a mediocre January, could start to perform again in February.
Assuming the US market remains positive for the next week, it is a positive sign for the rest of the year, with a 61% chance of the markets ending positive for 2012 all else equal.
Consider allocating part of your portfolio to a momentum based strategy for the next six months (or perhaps longer, but certainly be ready to sell your position before next January). Here I would deviate slightly from pure momentum. I would look for momentum stocks (top 10% of performance over past 6 months) that also have some value characteristics and are smaller than average. There is no evidence that I'm aware of that a value/size tilt reduces returns to momentum but some evidence that value and size improves perfomance. I would also try and diversify by sector.
Some ideas based on 6 month momentum that show up well on value screens are:
Adams Resources & Energy (AE) - 30% 26w performance, 1.5% yield, 7.7x p/e
Barrett Business Services (BBSI) - 24% 26w performance, 2.3% yield, 10.5 p/e
Homeowners Choice (HCII) - 42% 26w performance, 6.3% yield, 9.9 p/e
(Note: I'm just give these as examples, I haven't done any fundamental analysis beyond running the screen)
Sources:
Momentum and Trading Costs
Outperformance Buy Small and Low Price/Book Companies
Disclosure: I am long VBR.