What is Apple Inc. (NASDAQ:AAPL) going to do with its market-leading cash hoard? Including short term bonds, Apple currently has approximately $81 billion of cash (as of 9/30/11). Many analysts predict that Apple's cash balance could hit $100 billion by the end of the current quarter and $150 billion sometime next year.
The cover story of Barron's this week highlights 10 large cap companies that have big cash balances and stable profits, yet pay little or no dividends. The article poses an interesting debate for companies with big cash balances. What is better for share price -- stock buy-backs or a juicy dividend?
Investors answered the question with their wallets in 2011. High dividend paying stocks were the top performing group in the S&P 500 during 2011. The top 50 yielders at the start of 2011 (all with 4%+ yields), returned more than 8% (not including dividends). Meanwhile, the index as a whole was flat for the year.
Below is the list of stocks highlighted in the Barron's article. As shown in the table, if these companies increased their dividend payout ratio to a modest 40%, the stocks would have decent dividend yields of 2.5% to 4.0%.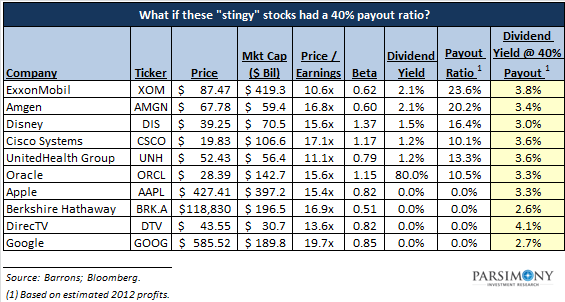 Not to mention, if these companies became real dividend payors, the stocks would likely increase 10-20% as investors clamor for the yield (which would make for a very nice total return for 2012). Several of these companies currently pay no dividend - Apple, Berkshire Hathaway (NYSE:BRK.B), DirecTV (NASDAQ:DTV), and Google (NASDAQ:GOOG). Any future dividend announcements would be a huge win for shareholders of these stocks.
Tactical Strategy
Investors should stalk these potential dividend stocks with patience and look for low risk entry points around strong resistance levels. Due to the current market rally (which we believe will be short lived), investors should consider waiting for a pullback in these stocks to enter a new position or to add to an existing position.
Most of the stocks above are currently in a positive uptrend. As such, investors should be looking for near-term areas of support as potential entry points. Below are a couple of examples: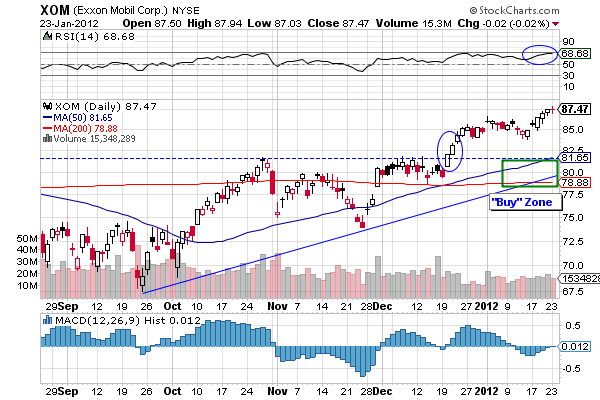 ExxonMobil (NYSE:XOM) has established a nice up trend since late September. The 50-day moving average crossed over the 200-day moving average in mid-December and the stock had a breakout through $81.50 around the same time (both of which confirmed the trend). We believe that the current 50-day ($81.65) and 200-day ($78.88) moving averages will provide strong near term support for the stock. Buy Zone: $79.00-$81.50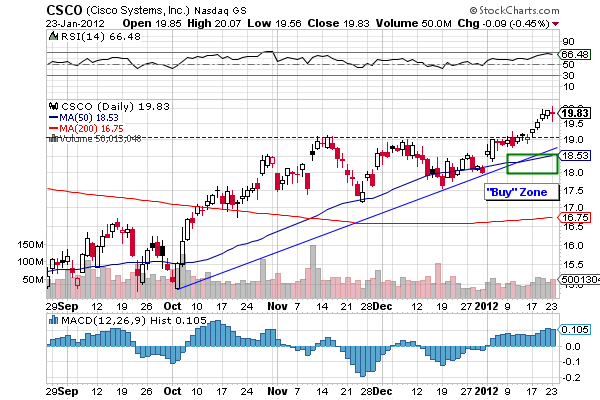 Cisco Systems (NASDAQ:CSCO) also has a very nice up trend in place. We think that the 50-day moving average ($18.53) will continue to offer support for the stock. Buy Zone: $18.00-$18.50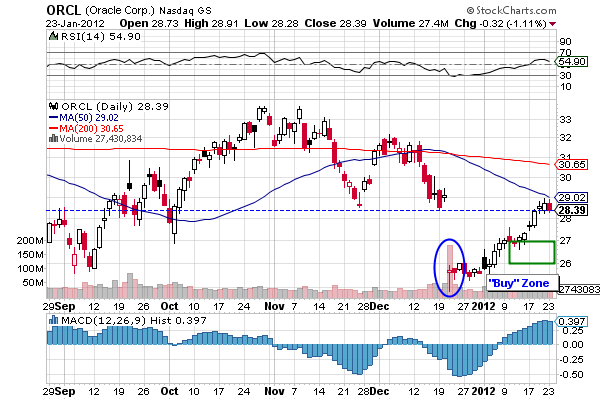 Oracle's (NYSE:ORCL) chart looks pretty ugly over the past few months. That said, the stock has rallied nicely from the massive gap down in late December. As a matter of fact, the stock has completely filled the recent gap and looks poised to go even higher from here. However, we do think the stock will pullback a few points as the general market runs out of steam. Buy Zone: $26.00-$27.00