Considering the recent decline in shares of Majesco (NASDAQ:COOL), it's clear that few investors believe the stock is poised to triple. However, there's a clear precedent based on how the stock responds to company news at this time of the year. Let's start by breaking down the cause of last week's meltdown in the stock.
THE SET UP
One culprit of last week's drubbing was the October-quarter miss. However, this came as no surprise. I previewed this in the comments section of my last SeekingAlpha article. You can see those and all of my latest comments on SeekingAlpha, here.
Though the October results were expected, management's 2012 guidance was not. However, Majesco management has a history of setting low guidance. It also has a history of beating and raising its guidance as the year progresses. Last year, the company greatly underestimated its prospects. The high end of guidance called for $90 million in revenue and EPS of $0.10. It ended with $125 million in sales and EPS of $0.28.
The reason for the tremendous upside was its wildly successful Zumba franchise. This title is selling more like a consumer product (long life cycle) and less like a video game (short life cycle). Despite this, the CFO confirmed on the earnings call that the company used a similar methodology as they always have to set 2012 guidance. This was the same methodology that led to earnings beats and/or raises for the January, April, and July quarters.
It should be noted that when COOL issued its guidance last year, the stock dropped just as violently (down 28% to $1.00 at its low) as it did this year. It should also be noted that the stock exploded to four dollars per share over the next two and a half months.
That's a 300% jump.
And the ride still wasn't over. The stock went on to set a 52-week high of $4.53 on June 13, the day of its April earnings release. If history repeats itself, COOL will beat its January-quarter estimates and raise guidance for 2012. If it does, history suggests that the stock will move back toward its 52-week high.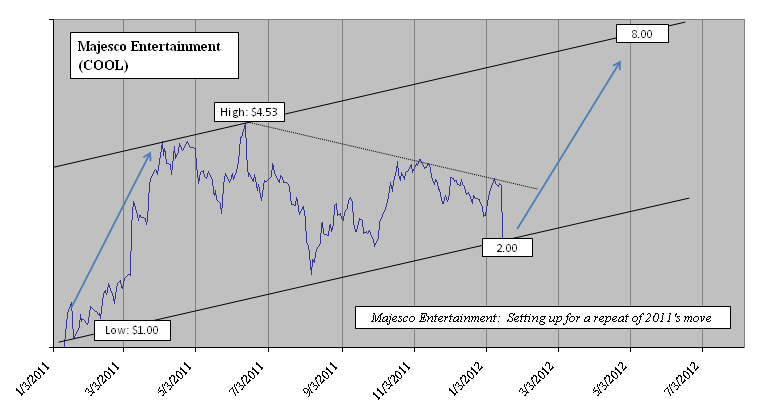 Investors will get an extra bonus if shares of COOL reach $3 by the end of May. If it does, Majesco will likely be added to the Russell 2000 Index. This would require institutions to buy shares of COOL for their Russell ETFs and/or mutual funds. The implications for such a small company's stock price are obvious.
The chances are good for all of the above to occur. A beat-and-raise for its January quarter will get the ball rolling. I collect data from several sources each week and believe that a strong earnings announcement is in the making. Shortly after this month's quarter closes, COOL will launch its newly-announced partnership with Microsoft. This relationship will come in conjunction with the February release of Zumba Rush for the Xbox Kinect. Microsoft (NASDAQ:MSFT) will be supporting the game with an extensive worldwide marketing campaign, which could push Majesco's sales to a whole new level.
At that point, just a few positive events could thrust COOL into the Russell 2000 (i.e. investor conferences or a positive May-quarter update prior the May 31 Russell market-cap deadline). If so, the stock will attain much greater institutional ownership. This would ease the stock's volatility, leading to a fuller and less-volatile valuation going forward.
In the meantime, Zumba 1 and 2 will continue leading the charge. The brand is still in its early stages. Today there are more than 12 million people taking classes weekly in over 110,000 locations across 125+ countries. This represents big growth versus year and is confirmed by Zumba's Google Insights stats, which just hit a new all-time high.
More importantly, Zumba 2 sold one million units much faster than the original did. In addition, the original has sold close to a million units since the sequel's release. So, Zumba isn't just holding its own … it's building momentum.
THE FUTURE
Longer-term, investors should be encouraged by the fact that COOL's executives have become big believers in motion-based gaming (and specifically fitness-based motion titles). This medium is well-positioned to replace the fitness DVD industry (5-10 years) and COOL is well-positioned to transition away from the dying console game market and into the growing interactive fitness market.
The timing couldn't be better. If we could look at COOL's financials on a title by title basis, we'd likely see that its fitness titles are driving the company's growing profitability. If management continues to transition from traditional game titles to fitness-based franchises, the stock could be a big winner for years to come.
I've seen this play out before. In 1995, I met with THQ's incoming CEO, Brian Farrell. At the time, THQ was a near-bankrupt video game vendor. Farrell saw that there was an advantage to being small and focused on developing a more targeted set of games based on brands that had huge followings, but weren't targeted by its larger competitors.
The first of these games was called "Bass Masters"… a fishing game. It seemed like a funny idea, but bass fishing experts helped THQ to create a realistic experience. You'd be surprised how many people love bass fishing. The game was a big hit.
After that, Farrell replicated the Bass Masters success over and over until THQ became one of the industry's leaders. The shares went from $1 (split adjusted) to $30 in just six years.
Unfortunately for Mr. Farrell, THQ's size advantage was long gone. He company had to develop big-budget games maintain growth, just as the console market started its secular decline. This is what happens when executives fail to recognize a market shift.
Luckily, it seems that COOL is taking full advantage of the current shift. With any luck, it will continue to transition away from traditional console games and focus on what's working for them. If so, COOL could be next to see its shares reach $30 over the next six years…
If they don't, the company may get acquired by a larger vendor. Based on COOL's ownership structure, the company looks exposed to the risk of activist or hostile takeover. Getting the shares back up quickly would be the first line of defense. Ridding itself of unprofitable practices would be another. This clearly points to a continued shift in its approach to choosing licenses, focusing on the following:
Potential for a long life cycle
Rising trends like Zumba (not dying trends like Hulk Hogan!)
Let's Draw was a proven educational franchise. Established children's franchises can literally sell for decades (remember Sit n Spin? They still sell them!). The right titles can continue to sell until the Wii and Xbox are relegated to the garbage bin.
In contrast, movie-based titles will follow the traditional (short) video game life cycle, which has become toxic.
Hall of Fame franchises like Tetris used to work, but probably won't anymore, due to the emergence of social and mobile gaming.
Other
Focus on non-traditional (underserved) demographics
Acquire inexpensive brands with large followings (the old THQ model)
The reverse of this is to avoid well-established brands with limited upside. I hope the NBA game works out for them, but color me skeptical. The NBA is a well-known brand, which means that COOL needs to execute on this idea better than their competitors could...otherwise one of them would have signed the license.
THE PRESENT
The original Zumba Fitness titles for Wii and Kinect continue to sell well and are doing so at their original retail price of $39.99 and $49.99, respectively. They accounted for about 58% of revenue in the October quarter and 70% for the full year.
Management guidance calls for Zumba to represent 70% of sales again in 2012. Based on its 2012 guidance, Zumba only needs to grow by 0-10% for the company to hit its numbers. This appears to be a no-brainer. The Zumba franchise sold about 4 million units in fiscal 2011. By management's own admission, COOL has already sold about 2 million units in the first quarter of this year. That's a much faster pace than it established last year.
Just to top things off, the company will be collecting more money for every unit sold in Europe this year. This makes COOL a safe bet to beat its numbers this year.
THE BOTTOM LINE
Based on the company's history of issuing conservative guidance, investors obviously over-reacted last week. The business appears to be running on all cylinders. The company added $11M to the value of its balance sheet last year and should add another $15M+ this year. Estimates call for 35-cent in 2012 EPS, so excluding its cash balance, the shares are trading with a P/E of less than 5.
Adding up the value of its balance sheet, plus its likely cash generation for the coming 18-months, the company could end up with a book value that approaches $2.00 per share. If this comes to pass, new investors are essentially paying pennies for COOL's longer-term opportunities.
All of the pieces are falling into place, just as they did in 2011. If management just keeps moving in the right direction, shares of COOL appear poised to triple once again.
Disclosure: I am long COOL.