VIX - Market Sentiment
Tuesday saw a fairly light day in futures trading as the S&P futures traded only 9 handles top to bottom. The futures followed Europe lower as many markets were down around 1% in pre-market. Although futures were lightly traded and did not move much this was not the case for many individual stocks trading in the pre-market.
Today is pretty much super Tuesday as many juggernaut companies are set to report. Tech giants Apple (NASDAQ:AAPL) and Yahoo (NASDAQ:YHOO) are set to report after the bell. Other big companies reporting include Advanced Micro Devices (NYSE:AMD), EMC (EMC) and Siemens (SI). Telecom giant Verizon (NYSE:VZ) reported before the bell today missing expectations by .01 and was trading down by more than 1% in early trading. Another heavy hitter reporting before the bell was Johnson & Johnson (NYSE:JNJ). JNJ reported EPS was 1.13 which was .03 higher than estimates, while on the other hand Peabody (BTU) missed earnings by .34 when it reported EPS of only .98. Shares of BTU were down 6.4% in pre-market, but this move was still less than the straddle pricing of more than a 10% move. Other notable earnings: McDonald's (NYSE:MCD) reported a strong quarter as shares rose in pre-market.
The CBOE Volatility Index (VIX) has been taken to the woodshed of late. As reported on some of my earlier sonar reports some traders are positioning for a pop in volatility prior to the March/April timeline as puts continue to be sold and out of the money calls being bought. Today the VIX popped even with the S&P only off .3% into the noon hour. Although not a huge move it is important to see where players are positioning moving forward. The SPY put fly 125-120-115 has been extremely active of late and it will be interesting to see if these "hedges" payoff moving forward.
Although the VIX futures have moved lower of late, today futures have reversed somewhat higher even as the "real" volatility experienced still continues to be less than 1% moves each day. The popular volatility ETF (NYSEARCA:VXX) moved up today and could begin to be an interesting play as the steep contango will make VXX pop higher if any type of backwardation comes back into play. However, backwardation is a long way away from today's VIX futures and the futures are priced as such.
February VIX futures 21.75
March VIX futures 23.60
April VIX futures 25.03
Options Paper
AAPL today saw a massive 2395 short 500 Feb strangle and long 400 Feb risk reversal go off. This is an extremely bullish play believing AAPL will run after earnings and continue toward the 500.00 range. This trader put up more than 203M of margin to execute the trade and will participate immediately to the upside. This is odd as typically large trades of this magnitude are not placed the day of earnings. This trade net net actually paid the trader ~12.5M to put the trade on and is a very bullish bet. I still have worries about any type of market share Amazon (NASDAQ:AMZN) would take form AAPL with the Kindle Fire and tonight will tell the tale. Although I do believe the iPhone 4S has been a huge winner, the offset of iPad and Mac PCs could hurt it short term after this very large run. Keep an eye on this moving forward to see if this trader will make or lose a ton of money in this stock. I put on ratio spreads both bear and bull to capture premium on the volatility collapse moving into tomorrow but overall am bullish on this stock.
My trade on AAPL was simple
Long
400 put
450 call
Short 2.5x
390 put
460 call
Net net I collected 2.75 on the trade looking to play for a volatility collapse tomorrow and will profit as long as AAPL is anywhere between 382.42 and 467.58 on Friday expiration.
Here's that large bullish trade I was talking about earlier.
Click to enlarge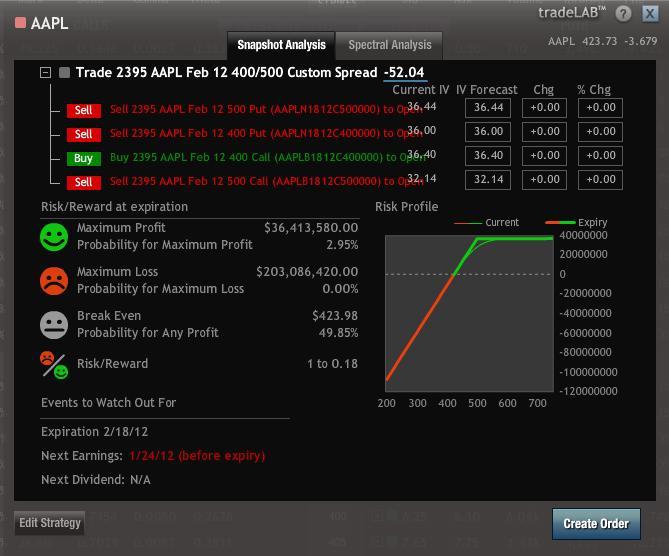 Natural Gas ETF (NYSEMKT:LNG) saw a massive 20K call spread go off today looking for a quick rebound in natural gas prices. Today the March 7 calls were bought 20K times and the March 8 calls were sold 20K times for a net price of .08. This is a 160K cheap shot which would make more than 10x their money if UNG ran back north of 8.00 prior to March expiration. Although February puts appear to have been bought across the board today the call spread has my attention. Calls outnumbered puts 5:1 on the day and UNG, which normally only trades 40K options a day, was north of 100K at the time of this writing.
Another earnings play was YHOO 16/18 March/April call diagonal spread, which appears to have been bought 7.5K times today for a net debit of .86. This combined with the 25K April 20 call options which went off we will have to check open interest to see if this was a new position as the calls appear to have been bought for .09.
China ETF (NYSEARCA:FXI) saw another large 10K risk reversal go off. This time in the May 34/43 they were paid a credit of .04 or 40K. This is one of many bullish bets on China of late and the option paper appears to continue to flow. I'm not so convinced China is out of the woods yet but the options are telling me there's more room to the upside from here. I personally believe the troubles will continue here and have no position in FXI as I have been burnt shorting it in weeks past.
Popular ETFs and equity names with bullish/bearish paper in terms of call/put ratios:
Calls outnumbering puts:
Ultrashort Euro (NYSEARCA:EUO) 65:1
TiVo Inc (NASDAQ:TIVO) 28:1
Kroger (NYSE:KR) 22:1
Rite Aid (NYSE:RAD) 18:1
Puts outnumbering calls:
Industrial ETF (NYSEARCA:XLI) 66:1 (Large June 34/29 put spread 50K times)
Treasury ETF (NYSEARCA:TLT) 12:1
Yum! Brands (NYSE:YUM) 9:1
Randgold (NASDAQ:GOLD) 20:1
Volatility Explosion
Research in Motion (RIMM) again shows up on the sonar as the troubled cell phone maker continues to be taken to the woodshed. After losing more than 1.00 of value yesterday RIMM continued to be beaten lower as IV continues to rise in this name. Today the puts were very active as some investors rush for cover as takeover speculation continues to subside. Although the put call ratio is fairly flat the puts appear to be clearly bought today and calls sold as indicated by net premiums collected.
Two other favorites of the sonar report - Dendreon (NASDAQ:DNDN) and Diamond Foods (NASDAQ:DMND) - again showed up with more than a 10% jump in implied volatility. Unlike RIMM, DNDN actually saw calls being bought at the ask more than 45% of the time and puts were flat to sold. DMND option activity was also similar with calls out numbering puts more than 5:1 with 54% of calls bought at the ask. Both of these names appear to be bullish even with the market pulling back some here at the 1310 level.
Volatility Implosion
Again companies reporting shoot up to the top of the volatility crush segment and today was lead by Polycom (NASDAQ:PLCM) and VMware (NYSE:VMW). Both companies produced knockout quarters and the stocks were soaring today. To accompany this, puts were sold and cut rate discounts and calls were bought across the board. The positive inflows are typical of companies producing such good numbers. Today all spectrums of the options market appear to believe these guys could be set for a continued run upcoming.
As always happy trading and stay hedged.
Remember equity insurance always looks expensive until you need it.
Disclosure:
I am long SDS, APC, TBT
I am short: SIAL, RAX, LNKD, AMZN, TMO, MU, KWK, PBI, FXE
I own Straddles: MCP
Disclaimer: The opinions in this document are for informational and educational purposes only and should not be construed as a recommendation to buy or sell the stocks mentioned or to solicit transactions or clients. Past performance of the companies discussed may not continue and the companies may not achieve the earnings growth as predicted. The information in this document is believed to be accurate, but under no circumstances should a person act upon the information contained within. I do not recommend that anyone act upon any investment information without first consulting an investment professional as to the suitability of such investments for his or her specific situation.