The essence and identity of coffee has dramatically shifted in the past few decades. Coffee has become a glamorized luxury with a social status and it is all due to the influence of Starbucks (NASDAQ:SBUX). The company took a necessity to many people and transformed it into an affordable pleasure and a multibillion dollar industry in a manner that can only be looked at as remarkable business coordination.
The fourth quarter of 2011 was especially bright for Starbucks as revealed in the company's Q4 2011 earnings conference call, bringing in its first 3 billion dollar quarter in history, the icing on the cake for a year in which they saw record breaking earnings for every quarter. It was a 15% increase from quarter four of 2010, driven by a 9% increase in global comp store sales. During 2011, the net revenue reached $11.7 billion dollars, an 11% increase, and an EPS of $1.52 compared with an EPS of $1.24 in 2010 and $0.52 in 2009.
While Starbucks is in the coffee business, it is providing a service to customers as well. It provides an oasis to escape to. While sipping a latte, you can enjoy the relaxing décor and tranquil ambiance at a place that isn't home, school or work. To evade the hustle and bustle of everyday life for even a few precious moments is priceless to consumers and Starbucks has made it accessible for less than five dollars a cup. While creating this place for customers, the company has also carved out its own special niche in the markets.
On a worldwide scale, it is very difficult for a company to go head to head with Starbucks as a competitor. Peet's Coffee and Tea (NASDAQ:PEET) and Caribou Coffee (NASDAQ:CBOU) are similar to Starbucks but have not amassed the clout or status to even come close. McDonald's (NYSE:MCD) has broken into the market with the McCafe line and Dunkin Brands (NASDAQ:DNKN) is also known for coffee, but coffee is only a supplement and the main draw for consumers lies elsewhere.
Fortunately for investors, selling coffee is not just what Starbucks does. One can buy coffee almost anywhere, but Starbucks has become the place to buy coffee. Carrying around a cup of coffee with its logo on it says something about who you are. It says you are cool and in the know, that you appreciate the finer things in life. Along with each cup of coffee, Starbucks is selling an image that is in demand.
Employees are trained to know and understand coffee and they use only the best equipment, like the Swiss-made Mastrena espresso machine. Starbucks offers over 87,000 drink combinations, which can easily be prepared by baristas in about 3 minutes. One store has the ability to serve about 220 customers an hour. Now, those customers can get through the line even faster by paying with the Starbucks App on their mobile phone
Starbucks, while adding healthy menu options like Bistro Boxes, for the most part has remained focused on advancing and improving coffee selections. Most recently it introduced a lighter roast regarded as Blonde Roast, opening up another billion-dollar market opportunity. The Blonde Roast allows Starbucks to attract even more consumers.
For 2012, as indicated in the most recent conference call, Starbucks is planning to open up 200 stores in the United States and renovate 1700. It also plans on focusing on expanding throughout China and Asia, where its concepts on ambiance and creating a "third space" where people can relax is widely accepted given the structure of family and work in that area of the world. In 2011, a new Starbucks opened every four days in China and it is aiming to accelerate that rate so there is projected to be 1,500 stores in mainland China by 2015.
The New Year will also see the introduction of Starbucks K-cups in stores, grocers and online. A K-Cup is a single serve pack used with a Keurig Single Cup Brewing System marketed by Green Mountain Coffee Roasters (NASDAQ:GMCR). Starbucks is predicting the K-Cup "will grow to be a greater than a $1 billion business over time."
In the future, Starbucks investors may be wary of the rising cost of coffee. Starbucks has already taken action in handling the increase by locking in its price. The first half of 2012 it will suffer an estimated EPS of 5%. However, the second half of 2012 should see a much more positive EPS of 25%. Already, it has begun locking in favorable prices for the 2013 year.
The Starbucks stock chart over the previous two years is absolutely beautiful, as shown below:
(Click chart to expand)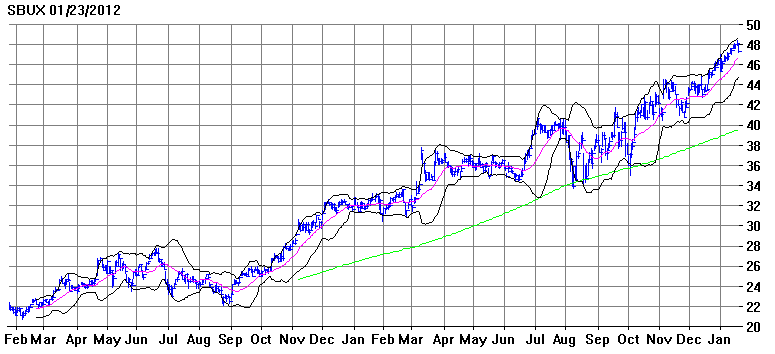 The company's stock price has more than doubled over the last two years and has experienced a fairly linear and steady increase in price as well.
Starbucks appears to be firing on all cylinders, which is why an investor in Starbucks might want to consider entering a collar position in order to protect the investment in the event the company announces bad news when it reports earnings January 26, 2012. It seems that companies firing on all cylinders eventually have a slight misfire, and as a result the stock price takes a tumble, and usually a big tumble as the stocks for these companies are often overbought.
An investor in Starbucks can protect the investment by entering a collar position. A collar position may be entered by selling a call option against the stock and using some of the proceeds from selling the call option to purchase a put option for protection.
Using PowerOptions tools, a collar for Starbucks was found with a potential return of 1.8% and a maximum potential loss of 7.4%. The potential return of 1.8% and the maximum potential loss of 7.4% assume a $0.17 dividend payment in February. The time frame for realizing the potential profit is 26 days.
The specific call option to sell is the 2012 Feb 48 at $1.16 and the put option to purchase is the 2012 Feb 43 at $0.27. A profit/loss graph for one contract of the collar position is shown below: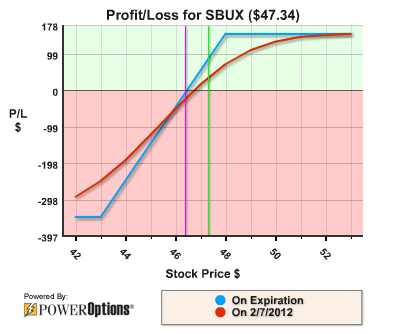 As a bonus, if the price of Starbucks stock is greater than or equal to the $48 strike price of the call option at options expiration in February of 2012, the position will return 3.3%. And, if the price of Starbucks stock drops below $43, the value of the collar position remains unchanged via the protective put option resulting in a maximum potential loss of 7.4%.
Disclosure: I have no positions in any stocks mentioned, and no plans to initiate any positions within the next 72 hours.