By Stephen D. Simpson, CFA
With more than a few major regional banking franchises apparently back up on their feet, do investors have any need to mess with those franchises still struggling to dig out from the wreckage of the credit collapse? Zions Bancorp (NASDAQ:ZION) is a good case in point. Current results are pretty uninspiring and the bank risks losing business to healthier rivals like U.S. Bancorp (NYSE:USB) and Wells Fargo (NYSE:WFC). On the other hand, this is a banking network with a good market share in many Western markets and relatively low expectations.
Q4 A Disappointment All Around
Zions is a surprisingly popular stock with a lot of sell-side analysts, but it looks like that enthusiasm got a little ahead of itself for the latest quarter. Reported earnings were about one-third short of expectations and many analysts had the "other items" in this quarter already factored into the estimates.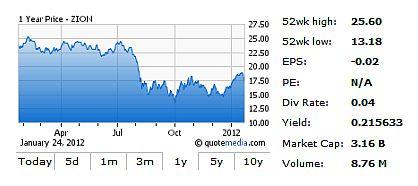 Operating revenue was weak, dropping 5% on a sequential basis. Net interest income fell 2% as net interest margin dropped 13 basis points to 3.86%. Although this margin is quite good in an absolute sense (equal to PNC Financial (NYSE:PNC), better than US Bancorp, and only slightly behind Wells Fargo), the decline is a bit of a surprise. Zions also saw fee income tumble 18%, with non-market-driven fees down about 8%.
Relative to the banking sector as a whole, expense growth of 2% wasn't bad (analysts in general have missed the higher expenses showing up this quarter). Still, an 18% drop in pre-provision net revenue is not a great result.
Credit Improving Nicely, Loans Not So Much
Bad debt is taking a smaller bite now. The non-performing asset ratio fell 60bp to 2.83%, with net charge-offs also down slightly.
Credit is getting better, but loan growth is still proving tricky. Like almost all of these other banks, Zions is seeing a revival in business lending, but loan growth was quite weak (below 1%). That weakness comes despite declines in average loan rates - so, Zions is seeing relatively soft originations and relatively soft rates.
Survival Today Versus Value Tomorrow
Unless the U.S. experiences a sharp rise in unemployment and another bout of credit stress, Zions is beyond the point where survival is a major concern. Moreover, if that dire scenario shows up, most investors will have bigger worries than the fate of Zions' stock.
Still, the clean-up process is not over yet. Zions is still on the hook for a sizable ($1.4 billion) TARP repayment and probably will need to raise close to half that from the market - not an easy task given the company's current market capitalization. With that bill over management's head, returning capital to shareholders or buying up weaker banks is pretty much out of the question.
It's also worth remembering that Zions has some well-heeled competition in many of its most attractive markets. While Zions does compete with the also-struggling Bank of America (NYSE:BAC), large rivals like US Bancorp and Wells Fargo are stronger today and in a better position to drive organic growth in lending and deposit collection. Moreover, Wells Fargo is a wiz at cross-selling a wide range of services and Zions may find that difficult to combat right now.
The Bottom Line
Zions trades at a discount to its tangible book value, but that is arguably appropriate given the anticipated capital raise this year (to repay TARP funds) and the absence of a clear candidate to step in and buy this company. That is not to say that the stock may not yet be undervalued as most banks are today. Even with the hit to capital from TARP repayment, today's valuation suggests an anticipated return on equity in the single-digits - a pretty harsh assessment all things considered.
There are too many better banks trading too cheaply (including US Bancorp and Wells Fargo) for Zions to be a great buy today. Maybe the sell-side analysts are right in that current problems are hiding the real value of this franchise, but Zions needs to show better results than this before giving management the benefit of the doubt.
Disclosure: I have no positions in any stocks mentioned, and no plans to initiate any positions within the next 72 hours.