The long-term ownership of publicly-traded U.S. common stocks spanning many decades has been quite good. However, it is also a fact that over shorter time frames, performance from owning stocks have been dismal. Since the calendar year 2000, the stock market, as measured by the S&P 500, has produced dismal investor returns. However, as we have expressed numerous times, we believe that the majority of this dismal performance, now entering its 13th year, can be mostly attributed to excessive overvaluation.
Ironically, when technology stock prices were at their peak in 2000, a time now referred to as the irrationally exuberant period, you could not beat investors off with a stick. The valuations of technology stocks relative to their earnings potential became ludicrous. It was quite common to see high profile technology companies trading at price earnings multiples of 50-100 times earnings and even higher. It actually seemed that the higher the valuation, the better investors liked the companies. Buying technology stocks was at a fevered pitch.
Fast-forward to the current time, and these same technology stalwarts can now be purchased at below-average PE ratios, averaging from mid-single digits to the low teens. Now that technology stocks have finally become attractively valued, nobody seems to want them. This is the classic, and sadly, often repeated investor behavior that defies the most sacred of all investing principles - buy low, sell high. History is replete with examples of investors insisting on buying high and selling low.
Jeff Miller, ex-college professor, and respected financial blogger stated it very succinctly and elegantly in an interview conducted by Seeking Alpha on January 10, 2012: Positioning for 2012: Don't Forget About Stocks
JM: The individual investor will return to equities far too late - long after most of the obvious problems have been solved. That would be when the Dow is at 20K, possibly overvalued, and risk is high. The story has been repeated many times.
There is a new and intriguing wrinkle to the story of investing in technology stalwarts. It's hard to imagine that only a few short years ago the technology sector was a nascent and small part of the overall economy. However, over just the past few decades the situation has changed dramatically. Technology today is as common to us and perhaps even as important to us as staples like the food, clothing and shelter stocks of yesteryear. And there doesn't seem to be any sign that the growth in technology will abate anytime soon.
On the other hand, some of our biggest and best-known technology stalwarts are experiencing a slowing from their traditional records of growth. However, even though growth is slowing, it is still expected to remain higher than the average blue chip. But most interesting of all, this slowing of growth has freed up the capital of many of these technology giants for other purposes, such as rewarding their shareholders through a growing dividend income stream. Therefore, today our once aggressive growth technology businesses are now morphing into above-average growth and dividend-paying blue chips.
So perhaps the dividend-paying blue chips like Procter & Gamble (NYSE:PG) and PepsiCo (NYSE:PEP) should take notice that there are new players entering their turf. Is it possible that tomorrow's "Dividend Champions" will include names like Intel Corp. (NASDAQ:INTC), Microsoft (NASDAQ:MSFT), Applied Materials (NASDAQ:AMAT), Honeywell (NYSE:HON) and even IBM (NYSE:IBM)? This article is intended to provide an introduction into that possibility.
The Two Keys to Long-Term Performance
Years of research and experience have taught us that there are two critically important keys to achieving above-average, long-term shareholder returns at reasonably controlled levels of risk. The first key is earnings growth, or what we like to call the rate of change of earnings growth. The faster a company can grow its business (i.e. earnings), the larger the income stream it can produce with which to reward shareholders. This is because of the power of compounding, which Albert Einstein was alleged to have called "the most powerful force on earth." Ultimately, both capital appreciation and dividend income will be a function of a company's ability to grow its profits.
The second key is valuation. When a company can be purchased at its intrinsic value based on earnings and cash flow generation, the shareholders' rate of return or long-term capital appreciation will inevitably correlate to and/or equal its earnings growth rate. Overvaluation will lower that rate of return and conversely, undervaluation will increase it. Consequently, paying strict attention to the valuation you pay to buy a stock is a critical component of both greater return and taking lower risk to achieve it. Because, ironically, when you overpay for even the best business, you simultaneously lower your return potential while increasing your risk of achieving the lower return.
10 Technology Stalwarts Holding Both Keys To Performance
The following two tables look at 10 high-profile technology stalwarts that additionally reward their shareholders through the payment of a dividend. The first table lists these companies in order of total estimated rate of return (capital appreciation and dividends) based on current valuation relative to the consensus estimated earnings growth rate of each company. Based on a combination of low valuation and above-average analyst consensus forecast earnings growth, each of these 10 selections offer potential double-digit five year total returns. The table lists the companies by order of highest to lowest expected future five year return.
The historical information on the tables is based on the 19-plus year period 1997 to January 23, 2012. The first column lists the current PE ratio, followed by the historical normal 20-year PE ratio (assuming the company has a 20-year history), followed by each company's 20-year historical EPS growth rate. With the exception of Honeywell, each of these high profile technology companies has historically generated double-digit earnings growth rates. The next three columns look to the future, depicting the consensus five year estimated earnings per share growth rate, followed by the current dividend yield, and finally the five year estimated annual total return, to include dividends. The final three columns depict market cap, followed by the debt/equity ratio, and finally the sector designation.
The second table provides exactly the same information in exactly the same order. However, since a primary focus of this article is on dividend growth, the difference with the second table is that the companies are listed in order of dividend yield highest to lowest. Both tables are provided in order to provide the reader a better perspective on the differences and importance between total return and dividend yield. Although both aspects of a dividend-paying growth stock are important, it should be clear from the tables that sometimes the lower dividend payer might be expected to provide the best total return. These are important considerations depending on each prospective investor's personal goals, objectives and risk tolerances.
Click to enlarge: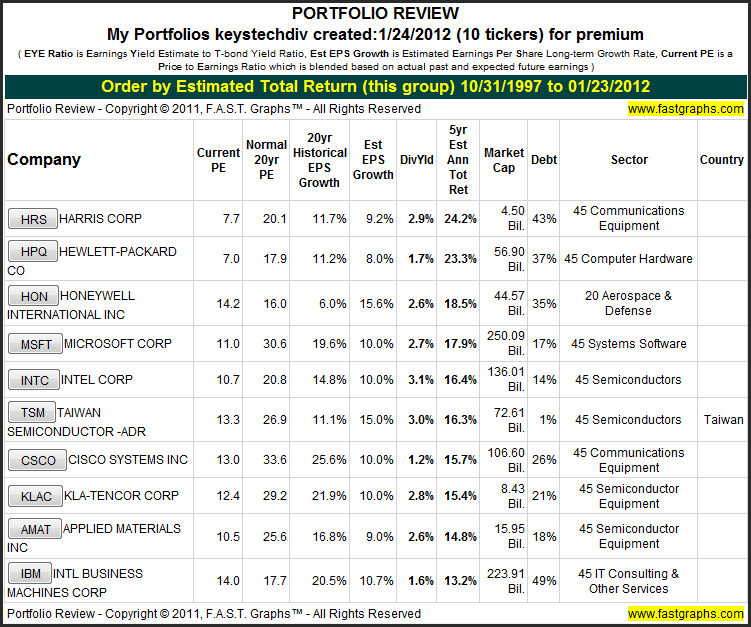 Click to enlarge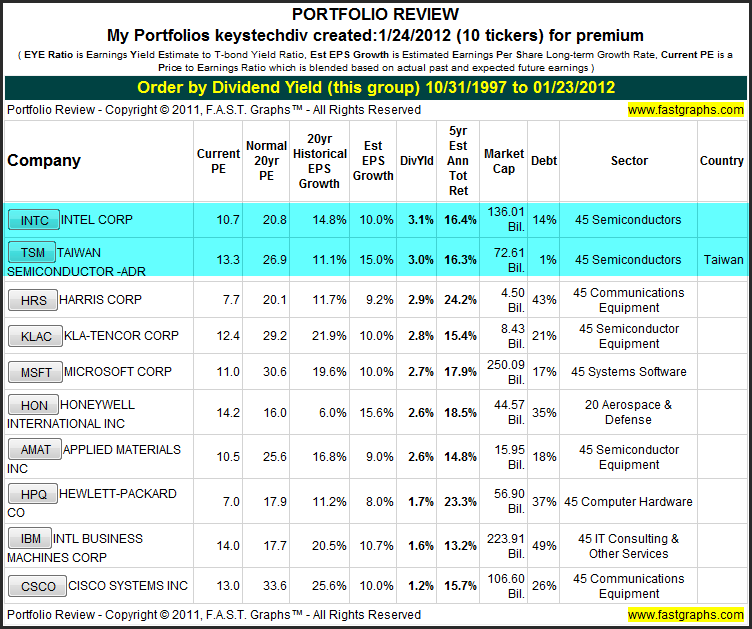 Click to enlarge
Intel and Taiwan Semiconductor (NYSE:TSM)
Although the statistics in the tables above provide a compelling argument for undervaluation and above-average future earnings growth on each of the respective 10 technology companies, statistics unto themselves can lie to, or mislead investors trying to find the best candidates to add to their dividend growth portfolios. Therefore, we intend to follow up on each of these 10 examples with the more comprehensive perspective provided by earnings and price-correlated F.A.S.T. Graphs. On the principle that a pictures worth 1000 words, we will present each of these 10 technology stalwarts two at a time, over a period of five consecutive days. The companies will be chosen and elaborated on in order based on dividend yield from the second table above as follows:
Intel History
Our highest yielding company with a current yield of 3.1% is Intel Corp. (INTC). Our first graph plots Intel's earnings since 1993 (the orange line) and dividends only (the light blue shaded area) in order to illustrate the quasi-cyclical nature of Intel Corp.'s 14.8% above-average earnings growth rate. Even though this is an extremely strong earnings growth rate, prospective conservative investors seeking a growing dividend income should at least be aware of the cyclical nature of Intel's operating history. Note that although the data for each of the 19-plus years is plotted, only every other year's data points are typed on the graph (See * at top of the graph) due to space constraints for drawing such a long period of history.
Click to enlarge: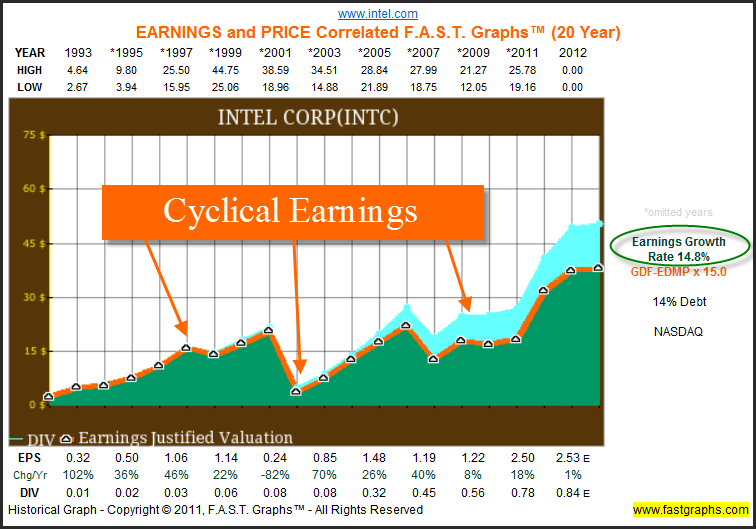 Click to enlarge
Our second graph adds monthly closing stock prices (the black line) and a calculated historical normal PE ratio (the dark blue line). There are two key, and we believe, interesting takeaways to be gleaned from the following graph. First of all, we see a vivid depiction of how irrationally exuberant the stock price of Intel became by calendar year end 1999 and into the fall of calendar year 2000. Next, we see clear evidence that excluding this irrational period of time, the long-term earnings and price correlation is validated. In other words, stock price does correlate to and follow earnings over the longer run.
Click to enlarge: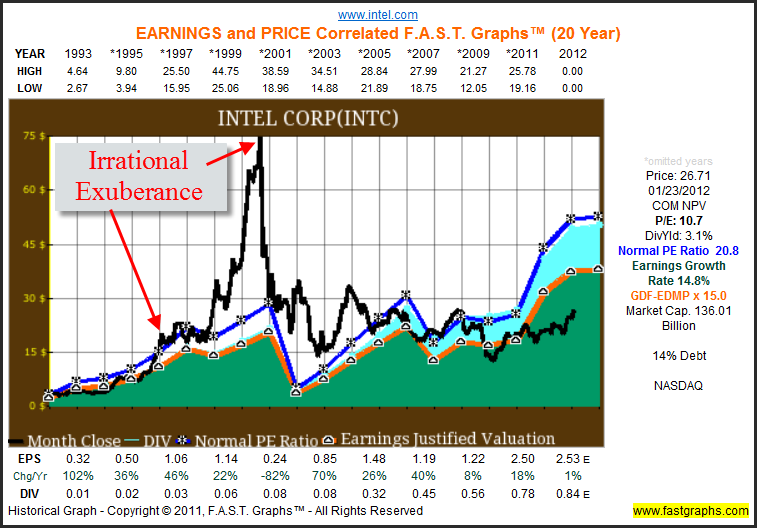 Click to enlarge
Our next graph on Intel is drawn over a much shorter time frame and is offered to illuminate a couple of important points. First of all, we see that valuation over these last 10 years has been much more rational than it was during the time frame 1995 to 2000. There was a return to overvaluation in 2003 but it was quickly reversed in 2004. Then, the stock price tracked earnings pretty closely until the recession of 2008 brought a precipitous drop in Intel's stock price as it fell from a high of $26.34 to a low of $12.06.
The second point that should not be overlooked is that Intel's earnings growth rate over the past 10 years of 17.6% is actually higher than it's 20-year historical earnings growth rate of 14.8%. In other words, Intel, the now $134 billion market cap behemoth, has been able to grow faster more recently than it had over its longer history. However, keep in mind the cyclical nature of its earnings history.
But most importantly, notice that earnings were flat between 2008 in 2009, but they did not fall or collapse as many companies earnings did during the great recession. Consequently, the stock price quickly recovered most of its recessionary losses. This is a point that many investors traumatized by the recession have failed to consider. Although stock prices did fall precipitously almost across the board in calendar year 2008, many of the better names continued to generate solid earnings, and therefore, experienced rather quick recoveries. Intel's stock price has returned to its 2008 highs, and as we will soon discover, thanks to solid earnings, Intel was able to raise its dividend every year over this 9-plus year time period.
Click to enlarge: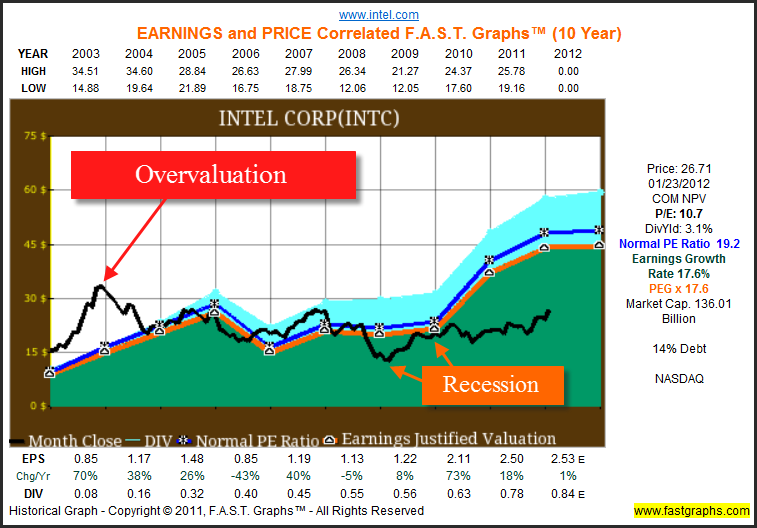 Click to enlarge
The following performance table associated with the above earnings and price-correlated graph speaks to both the importance of earnings growth and the power and protection of a steadily rising dividend income stream. The table is calculated on the assumption of a $100,000 investment on the first day the graph is drawn. Therefore, from the closing cash value of $171.558.33 we see that Intel shareholders received a profit of $71.558.33 (the capital appreciation component). Additionally, Intel shareholders received a cumulative dividend of $25,241.75 which represents approximately 36% of the company's total profit of $96,800.08. This increased Intel's total compounded annual return from an average of 6.1% to an average of 7.8% per annum.
Click to enlarge: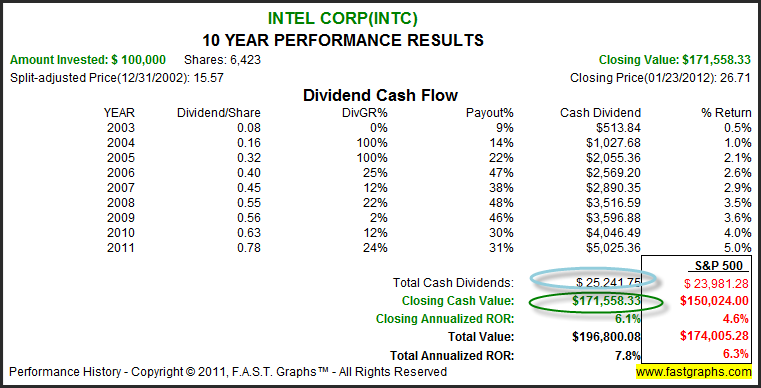 Click to enlarge
As a further illustration of Intel's current undervaluation, the following graph of Intel's PE ratio since calendar year 2003 (the blue line) shows that this technology blue chip is trading at a historically low PE ratio. Most importantly, this is occurring at a time when Intel's earnings growth remains strong, as you can see from the graphs above.
Click to enlarge:

Click to enlarge
This next graph shows that Intel's current price to sales ratio of 2.5 (the dark blue line) is also at a historical low. Even more striking is how sales, the burgundy shaded area, accelerated in calendar years 2010 and 2001.
Click to enlarge:

Click to enlarge
The Future for Intel
Although we can learn a lot from reviewing a company's history, sound investment decisions must be made based on future time. The consensus of 11 leading analysts reporting to Capital IQ estimate that Intel's 5-year earnings growth rate will be 10% per annum. As an interesting aside, this is approximately one half of the 19.9% average that Intel has achieved over the past five years. Further, note that earnings are expected to be flat for the 2012 fiscal year and then increase by 7% in 2013 and then advancing at 10% per annum thereafter.
Click to enlarge: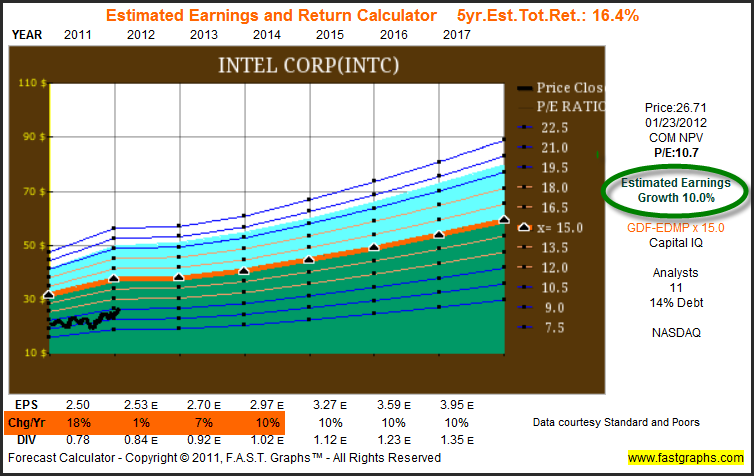 Click to enlarge
The 10-year earnings yield estimates table puts the picture above into numerical form. Notice that the five year calculations from the Estimated Earnings and Return Calculator graph above only run through calendar year 2017 and can be noted by the brown cell in the column headed "Target Prc Est Tot Ret." The reason the table is drawn out to 2021 is to provide a hypothetical comparison with investing in a 10-year Treasury bond. Also, estimated dividends are assumed to grow consistent with earnings growth and calculated accordingly.
Click to enlarge:
Click to enlarge
Taiwan Semiconductor History
Since Taiwan Semiconductor went public in October of 1997, we start with a shorter 16-year (15 years plus) historical graph looking at earnings (orange line and green shaded area) and dividends (blue shaded area) only. However, in this case we have the advantage of seeing this company's entire history as a publicly-traded stock. With just a quick glance, we can see that although this company has been profitable every year since going public it did experience significant cyclicality along the way. The graph also provides a vivid perspective of Taiwan Semiconductor's (TSM) dividend history (the light blue shaded area depicts dividends paid out of the green shaded area, earnings, and stacked on top for visual perspective).
Click to enlarge: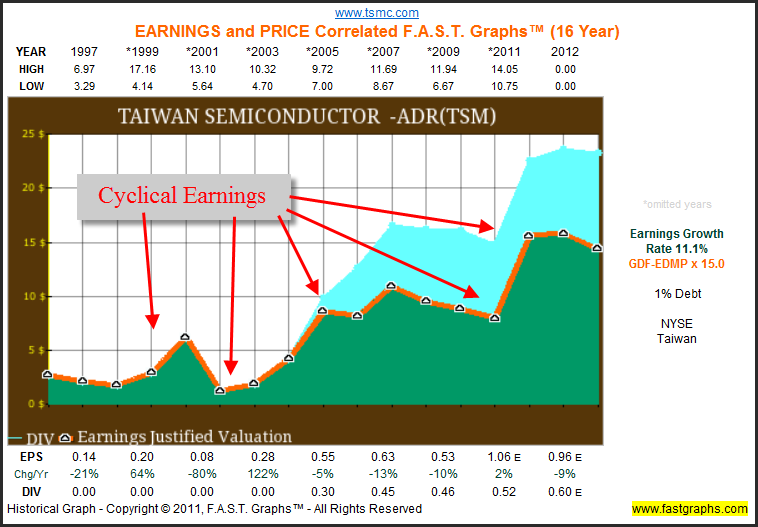 Click to enlarge
With our next graph, we add monthly closing stock prices (the black line) and a calculation of the normal PE ratio (the dark blue line). In this example we see that the calculated normal PE ratio, even though it is a mathematically correct calculation, does not truly reflect a PE ratio that the market has commonly valued the company at. This is due to the distortion that the significant overvaluation during calendar years 1998 and 1999 caused.
This is a glaring example of why we eschew mere statistical references in favor of a graphical presentation. By simply glancing at this picture, it is clear that Taiwan Semiconductor has rarely traded at the mathematically calculated normal PE ratio of 26.9. However, we can also clearly see that the market has capitalized Taiwan Semiconductor's earnings at or near a PE of 15 (the orange line) since the fourth quarter of calendar year 2004.
Click to enlarge: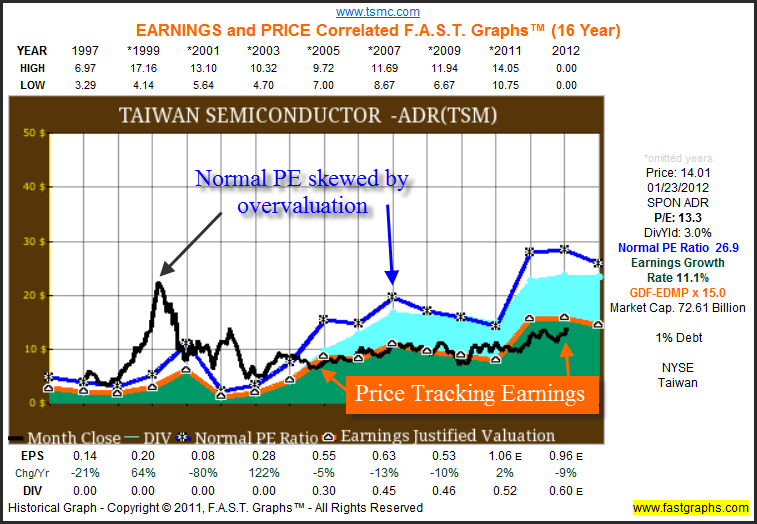 Click to enlarge
Since our research graphs are dynamic, it automatically recalculates all factors when a different time frame is drawn. Therefore, when the 10-year (9 years plus the current year) earnings and price-correlated graph is drawn, we are provided with a more current and different perspective on Taiwan Semiconductor. Here we discover that earnings per share growth since calendar year 2003 has averaged over 22.5%.
However, once again by not relying solely on the numbers, we can see that there's been a lot of variation in earnings per share growth from one year to the next. For example, we see years where earnings grew in excess of 100% and years where earnings fell. Although the average of the change per year (see Chg/Yr vertical line at the bottom of the graph under the EPS line) has calculated at 22.5%, the result has been far from consistently achieved. We believe this is an important perspective that prospective investors can use to their advantage.
The reader should also notice that the graph has now taken the form of PEG (Price Equals Growth rate) and therefore, each of the lines are drawn with different but appropriate values. These values are listed in color-coded ink to the right of the graph. Under this configuration, the blue normal PE ratio line is more representative of how the market valued the company since calendar year 2003. In this example, the normal PE ratio is more relevant than the orange earnings justified valuation line. In other words, it seems to make more sense to value this company at a PE ratio between 15 (the orange line on the 16 year graph) and/or the 17.2 PE ratio on the ten-year graph. This illustrates how the lines should be used as barometers, or what we like to call "tools to think with."
Click to enlarge: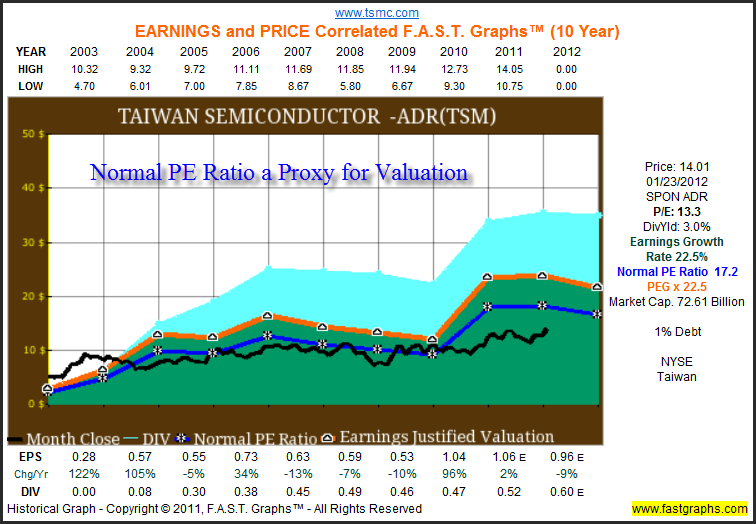 Click to enlarge
When reviewing the performance associated with the above graph the significance and importance of valuation as well as the importance and significance of earnings, growth rates are once more brought into clear focus. Shareholders in Taiwan Semiconductor did earn returns that were significantly in excess of the average company as measured by the S&P 500. Total dividends of $60,148 were almost three times greater than the approximately $22,000 generated by the S&P 500.
From a capital appreciation perspective, Taiwan Semiconductor shareholders were also lavishly rewarded in excess of the S&P 500 even though its shares appeared to be currently undervalued. It should also be noted that Taiwan Semiconductor did cut its dividend in calendar year 2009. However, it has been increasing, once again, ever since.
Click to enlarge: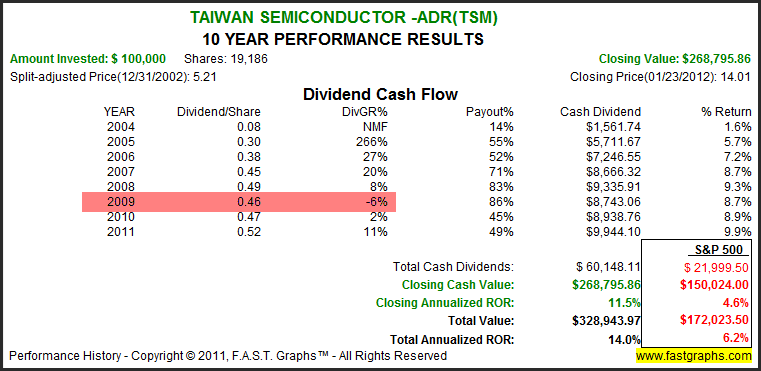 Click to enlarge
The current PE ratio on Taiwan Semiconductor is at a historical low. Therefore, the company does currently appear to be undervalued, at least on the basis of historical norms.
Click to enlarge:

Click to enlarge
On the other hand, the current price to sales for Taiwan Semiconductor appeared to be only modestly below normal. This metric implies that the company is currently fairly valued based on a multiple sales.
Click to enlarge:

Click to enlarge
Taiwan Semiconductor - The Future
Although there are only four analysts providing earnings growth estimates on Taiwan Semiconductor to Capital IQ, their expectations for five year growth are strong at 15% per annum. However, notice that they expect a 9% drop for calendar year 2012 followed by a 16% increase in 2013, and then the graph calculates a 15% forecast growth rate thereafter. On this basis, Taiwan Semiconductor appears reasonably priced, with the potential for some modest short-term downside before any significant capital appreciation might occur. However, the dividend is expected to continue to increase.
Click to enlarge: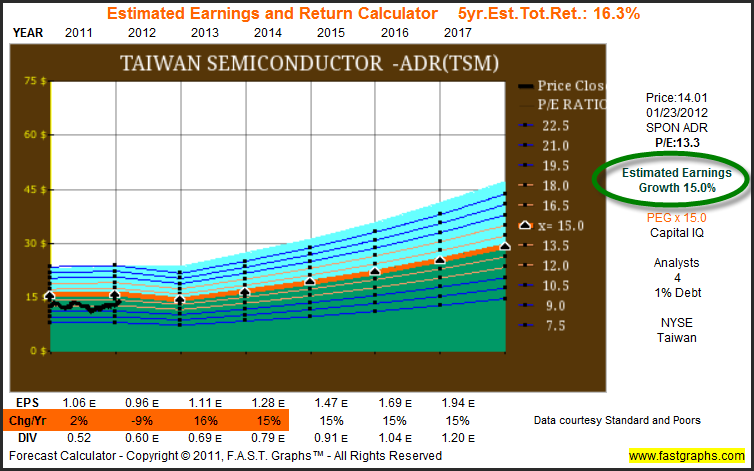 Click to enlarge
When converting the above graph into numbers as we did with Intel, we discover that Taiwan Semiconductor offers prospective investors an earnings yield of just below 7%, and the possibility of a 2012 dividend yield of 4.3% and growing by 15% per annum.
Click to enlarge: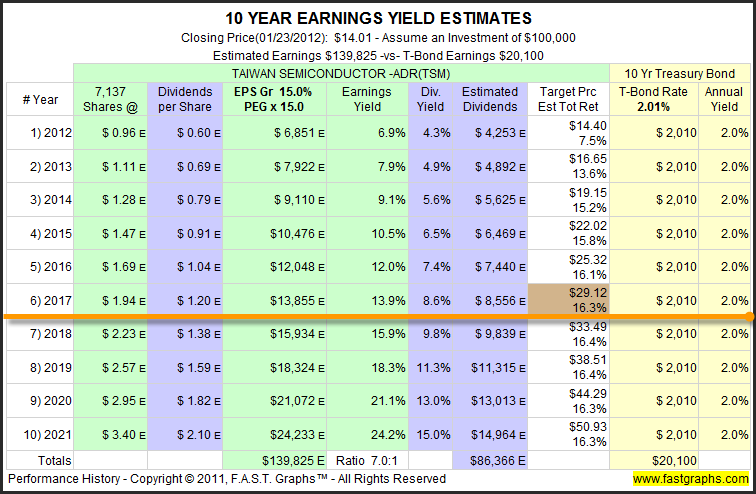 Click to enlarge
Summary and Conclusions
There many important points and principles that this series of articles is intended to convey. The principles of compounding based on a company's rate of change of earnings growth, looked at in conjunction to a reasonable calculation of the intrinsic value that those earnings achievements deserve, are the foundational principles that we wanted to illuminate and express. Additionally, the concept of valuation is all too often overlooked, causing investors to hold biases that lead to emotional responses towards investing in equities rather than a learned approach based on sound principles and facts. We hope to refocus investors' attention on this important fundamental consideration. We feel that what was written here provides evidence to our credo that "measuring performance without simultaneously measuring valuation is a job half done."
Most of our secondary objectives for writing this article and the follow-ups relate to the idea that statistics alone can mislead. Although tables of numbers and other stats can offer important measurements for investors to consider, they can often exclude important perspectives that investors should also possess. In other words, the high 10-year average earnings growth rates that we saw with Intel and Taiwan Semiconductor fail to simultaneously illustrate the cyclical manner in which those numbers were achieved. We feel that it's only when you see the whole picture that true understanding is achieved. When this information is revealed, we believe it's a more effective perspective from which investors can more effectively make their important buy sell or hold decisions.
In conclusion, we emphatically state that although we believe the information presented in this article provides a comprehensive look at each of the essential fundamentals underpinning each of these companies, it should only represent the starting point for a more comprehensive effort. The primary objective should be to validate the accuracy of the consensus growth forecasts. Although we consider them a valid starting point, they are no substitute for doing your own due diligence. Moreover, perhaps this information provided will empower the reader to determine whether or not they are interested in conducting the additional due diligence necessary to properly invest. With the remaining articles, we will present a more detailed look at the fundamentals on each of the remaining eight technology titans - two a time.
Disclosure: I am long HPQ, MSFT, INTC, TSM, CSCO.
Disclaimer: The opinions in this document are for informational and educational purposes only and should not be construed as a recommendation to buy or sell the stocks mentioned or to solicit transactions or clients. Past performance of the companies discussed may not continue and the companies may not achieve the earnings growth as predicted. The information in this document is believed to be accurate, but under no circumstances should a person act upon the information contained within. We do not recommend that anyone act upon any investment information without first consulting an investment advisor as to the suitability of such investments for his specific situation.