If you've read my past articles on high yielding, equity (stock) -based closed-end funds (CEFs) then you know that these funds generally use three different strategies to generate their income that they pass on to investors in the form of high distributions and yields. If you are unfamiliar with how these three income strategies work, you can read up about them here.
A Hybrid Income Fund
Most CEFs only use one strategy to generate their income but a few use a combination of strategies with the approach that if one works well, two can work even better. The Guggenheim Enhanced Income fund (NYSE:GPM) is such a fund. GPM uses both a leveraged strategy and an option-income strategy. This can produce a lot of income to the fund but it can also put a lot of pressure on the fund managers to optimally position the funds assets and liabilities and there was a time when GPM had an overly ambitious investment strategy which led to disappointing results. More on that later. GPM does compensate for being a more complicated hybrid income fund by not trying to pick individual stocks in its portfolio. Whereas most CEFs own a portfolio of stocks and/or bonds that they leverage up or write options against, GPM only owns Exchange Traded funds (ETFs), and generally the broad market U.S. stock based ETFs. Here is GPM's portfolio as of December 31, 2011:
TOP 10 HOLDINGS
SPDR S&P 500 (NYSEARCA:SPY) 52.6%
SPDR Dow Jones (NYSEARCA:DIA) 10.7%
PowerShares QQQ Trust (NASDAQ:QQQ) 10.4%
ProShares Ultra QQQ (NYSEARCA:QLD) 5.4%
SPDR S&P Retail (NYSEARCA:XRT) 5.3%
SPDR Select Sector Consumer Discretionary (NYSEARCA:XLY) 5.2%
SPDR Select Sector Technology (NYSEARCA:XLK) 5.2%
SPDR Select Sector Energy (NYSEARCA:XLE) 5.2%
With 75% of the portfolio in the SPY, DIA and QQQ, GPM is just using index funds for its core holdings and though I generally don't care for a fund-of-funds approach because of the added layer of management fees and expenses, this approach can work for a couple of reasons. First, U.S. based index and sector specific ETFs don't have particularly high expense ratios, generally between 0.10% to 0.35% annually so the expense is not going to be a huge drag on performance. Second, GPM leverages up to 30% of its ETF portfolio (about 20% leverage currently) so this can more than offset the added layer of expenses when the fund is firing on all cyclinders. Nonetheless, investors need to know that GPM has an above average expense ratio that can approach 2% because of its leverage and added layer of fund fees.
GPMs -11.1% Discount and 11.4% Market Yield
But let's talk about why GPM, as a hybrid income fund, can be an attractive investment even with that high expense ratio. Who here wouldn't want to own the S&P 500, the Dow Jones Industrial Average and the Nasdaq composite at an -11.1% discount to their current prices? Well ... indirectly, that is exactly what you can do by owning GPM at a market price -11.1% below the fund's Net Asset Value (NAV). Of course, with CEFs, the market price doesn't have to reflect the NAV but here's where that discount really becomes an advantage. Base on GPM's $0.24/share quarterly distribution, investors can receive a windfall 11.4% yield even though the fund is only paying a 10.1% yield based on its current NAV. How does GPM pay for its distribution? Leverage certainly helps as the fund's portfolio dividends just increase along with the leverage but its GPM's covered-call option strategy that generates the most income. GPM sells covered-call options on 100% notional value of the fund's ETFs. That's a very high option coverage which can bring in an immense amount of income depending on what strike price the portfolio managers set for each of the ETFs in the portfolio. More on the GPM's options strategy below.
GPM's Historical Performance
GPM has not had a very distinguished past when it comes to its historical NAV and market price performance. In fact, since inception, GPM's performance has been pretty bad. The fund was actually under a different name and sponsor back then and was acquired by and renamed by Guggenheim in early 2010. The table below shows GPM's quarterly NAV performance compared to the S&P 500 (ticker SPY) since its inception on August 25, 2005, at an NAV of $19.06 and a market price of $20 (table starts at 9/30/2005 quarter end). All dividends and distributions are added back, i.e. not reinvested, to give a running total return performance.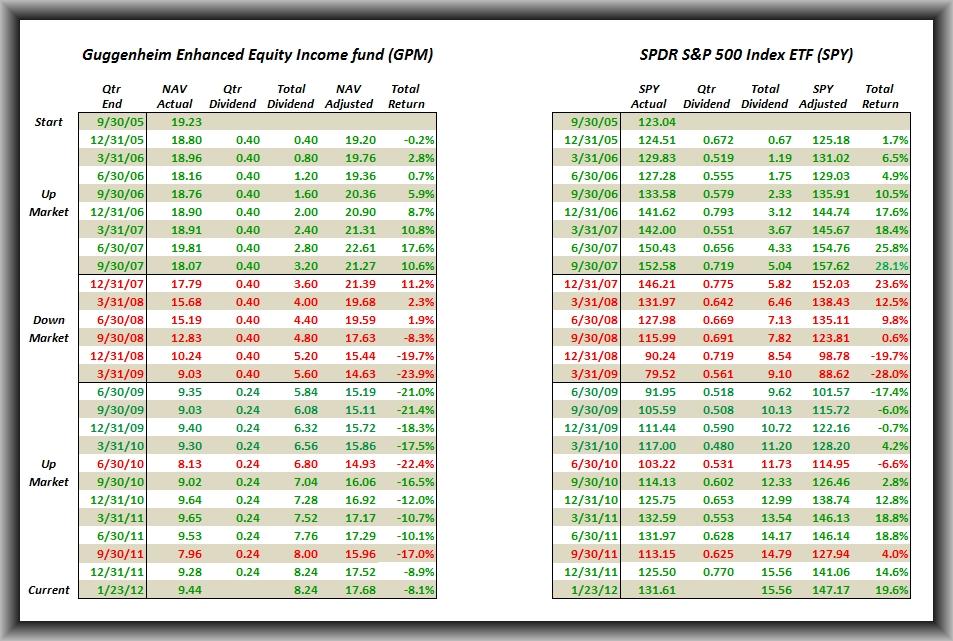 As you can see, GPM's historical performance hasn't been very good compared to the S&P 500, down -8.1% on a total return basis since inception compared to up to 19.6% for the S&P 500. In fact, GPM's NAV performance lagged so badly that one of the first things Guggenheim did when they acquired the fund was to institute a change in strategy and portfolio management as described here in GPM's fact sheet.
* Prior to June 22, 2010, the Fund employed a long-short equity and an opportunistic covered call writing strategy by Analytic Investors, Inc., the Fund's previous investment sub-advisor, in an effort to achieve its investment objective. Effective June 22, 2010, the Fund will utilize a covered call strategy developed by Guggenheim Partners Asset Management, LLC, in an effort to achieve its investment objective and selling securities short will no longer be a principal investment strategy of the Fund.
The more complicated a fund's income and investment strategy, the more that can go wrong and Guggenheim pulled the plug on the previous sub-advisor and brought management in house along with simplifying the fund's investment approach. So how has GPM's NAV performed since then? Much better. Since the second quarter of 2010 through the end of 2011, GPM's NAV total return is up 32% compared to the S&P 500, up 25%. And for 2011, GPM's NAV was up 6.2% compared to the S&P 500 up only 1.9%, again all dividends added back but not reinvested.
Initially, GPM's market price seemed to dramatically improve along with its improving NAV performance, even rising to a premium over the summer 2011, but like many equity CEFs during the second half of last year, a sharp sell-off brought GPM's discount back down to double digits where it remains. Here is GPM's six-month premium/discount graph going back to the summer of 2011 when it flirted with a premium pricing:

GPM's Ideal Market Environment
So what market environment will GPM excel in? On one hand, a leveraged portfolio will outperform in an up market but on the other, an option-income strategy outperforms in a flat to down market. So can you have it both ways? Perhaps, but as a hybrid Closed-End fund, GPM depends even more on its portfolio manager's ability to 1) select the appropriate balance of ETFs in the fund's portfolio, 2) apply the appropriate degree of leverage and 3) sell covered-call options on its ETFs at the optimal strike price each month to allow the fund to appreciate during up market periods and to reap maximum option premium during down market periods.
The covered-call option strategy is probably the most important. When the market is weak, the fund managers want to write options more out-of-the-money to allow the fund to capture more market upside. This will be at the expense of option premium but won't be a concern for a fund that sells 100% option coverage on its ETF portfolio. When the market is strong, the portfolio managers are going to want to sell index options at-the-money or slightly out-of-the-money to generate more option premium. GPM did this very effectively in 2011 and reviewing their semi-annual report and quarterly N-Q form shows this as the fund generated a whopping $7.26 million in option premium for the October expiration period when the market was relatively strong and only $2.9 million for the July expiration period when the market was relatively weak. Considering GPM's quarterly distribution requirement is only $4.6 million based on $0.24/share X 19.05 million shares outstanding and you can see that the fund can generate plenty of option income when needed. Of course, that assumes the options expire worthless and that will not always be the case, but the bottom line is that GPM can generate plenty of income to cover a very generous distribution yield.
Conclusion
I believe GPM represents an attractive investment here at an -11.1% market price discount to its NAV and an 11.4% market price yield based on the fund's much improved NAV performance since Guggenheim's management took over. Though GPM's market price hasn't yet reflected this improved NAV performance, I believe this gives income investors an opportunity to get into the fund at an attractive discount and yield before the market appreciates the turnaround Guggenheim has made.
For more information on Capital Income Management, LLC please go to capincmgt.com.
Disclosure: I have no positions in any stocks mentioned, but may initiate a long position in GPM over the next 72 hours.