One of the key things that a good investor does is to find anomalies in the market and position his portfolio accordingly. One trend that I believe will reverse over time is the vast difference between the rise of gold prices and the main gold ETF (NYSEARCA:GLD) compared with the gold miners like AngloGold Ashanti (NYSE:AU) that have significantly increased revenues and earnings over the past five years but have seen their stocks go nowhere. Many miners like AngloGold and Barrick Gold (NYSE:ABX) are scheduled to grow earnings by analysts between 80% to 200% from FY2010 through FY2012, much higher than gold is expected to rise. Given this, I believe this discrepancy has become too large to sustain over time.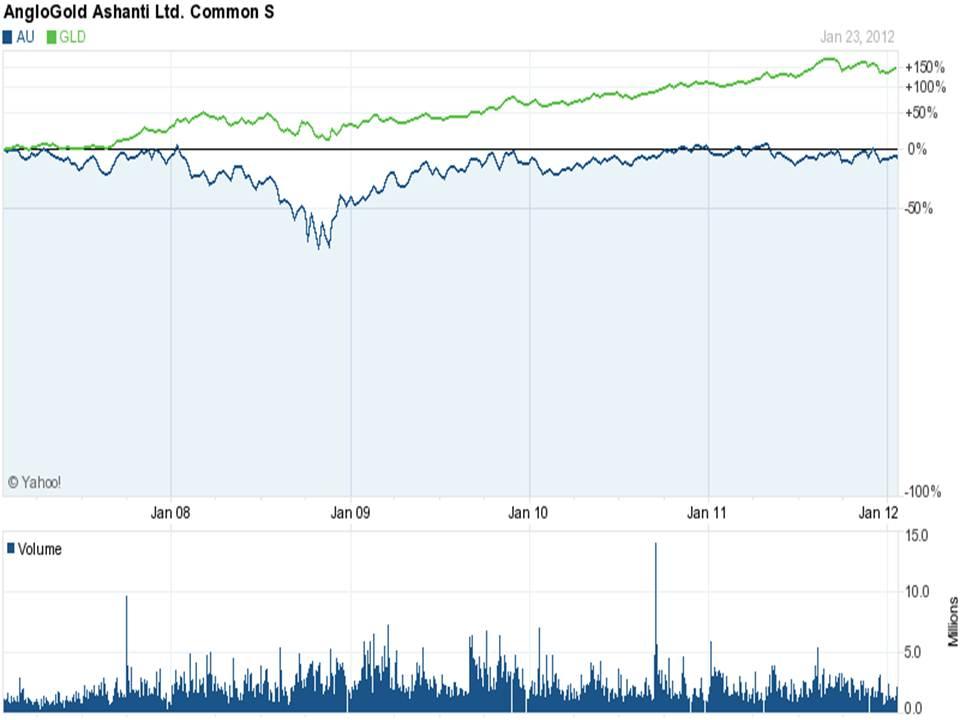 AngloGold Ashanti Limited primarily engages in the exploration and production of gold. It also produces silver, uranium oxide, and sulfuric acid. The company conducts gold-mining operations in South Africa; continental Africa, including Ghana, Guinea, Mali, Namibia, and Tanzania; Australia; and the Americas, which include Argentina, Brazil, and the United States. It also has mining or exploration operations in the Democratic Republic of the Congo, Guinea, and Colombia. As of December 31, 2010, the company had proved and probable gold reserves of 71.2 million ounces." (Business Description from Yahoo Finance)
6 reasons AU is a great buy at $44 a share:
The median analysts' price target on AU is $76. The stock has also crushed earnings estimates each of the past four quarters.
AU's consensus earnings estimates for both FY2011 and FY2012 have risen significantly over the past three months.
The company is showing accelerating earnings. AngloGold made $2.12 in FY2010, is scheduled to earn $4.70 in FY2011 and analysts have it making $5.96 a share in FY2012.
The company has raised revenues at a 15% annual clip over the past five years. Analysts project an average of 25% growth over FY2011 and FY2012.
AU has solid technical support in the $40 to $42 range (see chart):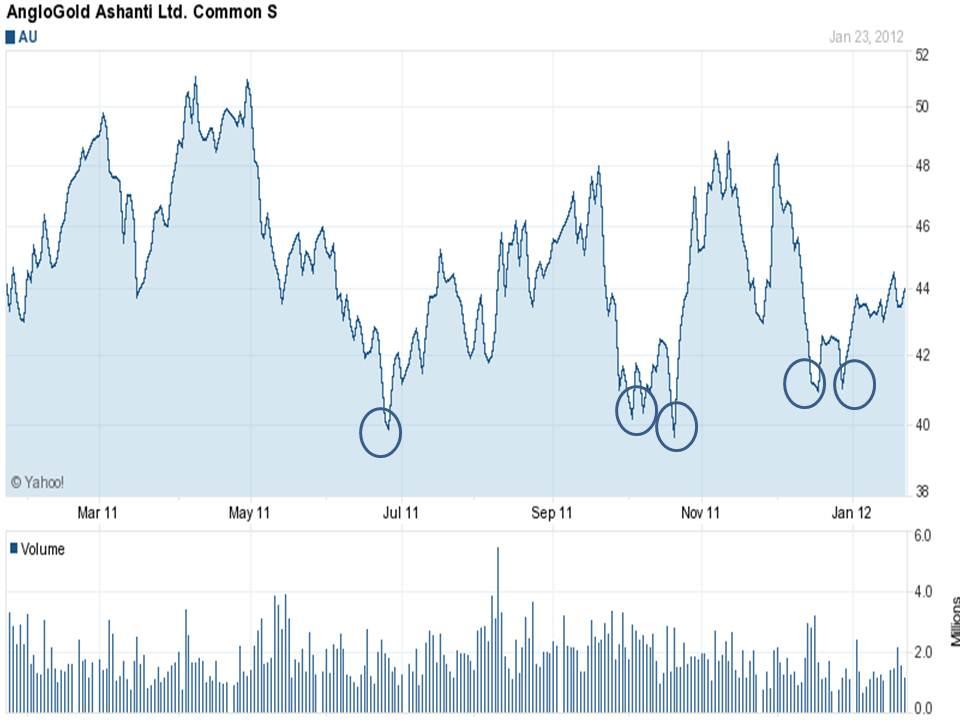 The company has a low beta (.68) for a mining stock, a forward PE of just over 7 times forward earnings and recently had a bullish technical move.
Disclosure: I am long AU, ABX.