Below are the 36 S&P 500 stocks that are currently trading more than 15% above their 50-day moving averages. That's a very high number and is indicative of how overbought the market has become. Based on how stocks are trading after hours following the Apple (NASDAQ:AAPL) news, it looks like even more stocks could become overbought at the open of trading tomorrow.
As shown, Micron (NASDAQ:MU) is the farthest above its 50-day of any stock in the S&P 500 at +26.69%. Bank of America (NYSE:BAC) is the second most overbought at 25.74% above its 50-day, followed by Genworth Financial (NYSE:GNW), JDS Uniphase (JDSU) and Novellus (NASDAQ:NVLS-OLD). (Click charts to enlarge.)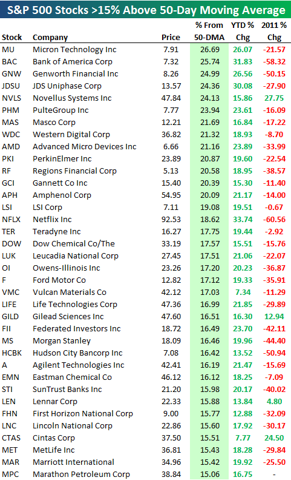 Click to enlarge
The average stock in the S&P 500 is currently up 5.5% year to date. Below are the 50 best performing S&P 500 stocks so far in 2012. As shown, Sears Holdings (NASDAQ:SHLD) ranks first with a gain of 44.24% followed by Netflix (NASDAQ:NFLX) in second at 33.74%. Bank of America (BAC) and JDS Uniphase (JDSU) rank third and fourth and are the only other two stocks that are up more than 30% year to date. Other notables on the list of 2012's winners include Pulte (NYSE:PHM), Goldman Sachs (NYSE:GS), Morgan Stanley (NYSE:MS) and Ford (NYSE:F).
We have also included each stock's 2011 change as well. As shown, just two of the fifty best performing stocks so far this year were also up in 2011. In fact, the average stock on the list below was down 25.5% in 2011. At this point in the year, 2011's pain has been 2012's gain!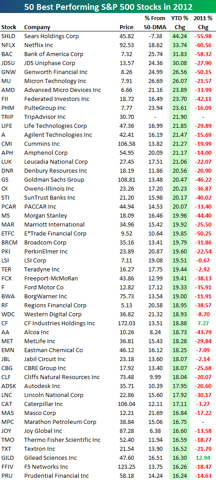 Click to enlarge