The widely recognized VeriSign authentication tick may have been sold to the highest bidder, but the refocused VeriSign Inc (NASDAQ:VRSN) is still one of the world's leading providers of trust and certainty in an uncertain cyber world. Following the sale of the authentication business unit to Symantec (NASDAQ:SYMC) in 2010, VeriSign's business now covers two main areas: domain names and network security.
In the domain names sphere, the company's services and infrastructure include the operation of the powerful top level domains .com and .net, as well as many others including .tv, .cc, .name, and .jobs. The number of generic top-level domains is set to explode in 2012, with the anticipated opening up of the previously restricted field to new extensions reflecting brands, communities and geographic regions below the national level.
Although this poses a risk to its ongoing competitiveness, VeriSign believes it is ideally placed, as an experienced and trusted registry provider, to assist clients with the stringent domain approval procedure exercised by ICANN (Internet Corporation for Assigned Names and Numbers). It will then provide services to host, manage and monetize the new generic names.
The company's second product line targets network security and continued availability of service. VeriSign offers protection and mitigation against malicious DDoS (Distributed Denial of Service) attacks, secure management of domain name infrastructure and proactive cyber threat intelligence. VeriSign's management believes that three main features set the company apart from its competitors: its proven leadership in both domain name management and internet infrastructure and threat intelligence, the reliability of its network, and its commitment to innovation and expansion
During the Q3 earnings call, president and chairman D. James Bidzos noted that 7.9 million new name registrations were processed during the quarter, the largest third quarter on record for new registrations. The network security business, whose contribution to revenue is undisclosed and can probably be assumed to be as yet relatively small, is exceeding targets. Interim CFO John Calys advised that total 2011 revenue is expected to be in the range $770 to $775 million, a growth of 13-14% on comparable 2010.
As well as Symantec, competitors to VeriSign include McAfee (MFE), Cisco Systems (NASDAQ:CSCO), Check Point Software Technologies (NASDAQ:CHKP), Trend Micro (OTCPK:TMICY), CA (NASDAQ:CA), and even Microsoft (NASDAQ:MSFT), IBM (NYSE:IBM) and other technology providers who bundle security systems with their main product offerings. Its rivals in the domain names sector are the privately-held, GoDaddy, eNom owned by Demand Media (DMD), Tucows (NYSEMKT:TCX) in Canada, and Australia's Melbourne IT. VeriSign's ability to increase its fees for the registration and licensing of .com and .net domain names is limited by its agreement with ICANN, and this presents the company with a further challenge.
VeriSign's recent financial results need to be approached with caution, since the divestiture of the authentication sector makes comparison with previous periods difficult. 2011 will be the first full year of business without this segment, and even when fourth quarter results are published in late January 2012, it will not be possible to easily compare 2011 with 2010 to determine how the company is performing. At the end of 2010 the only reported revenue remaining in the business was derived from domain name services. Those revenues were $681 million for the year, compared with $616 million in 2009. Consolidated total revenue and income for 2010 reflected earnings from discontinued operations, as well as the proceeds of the sale to Symantec, and should be ignored for comparison purposes. The 2010 special dividend of $3.00 (pdf) per share is also related primarily to the sale proceeds, and not to continuing earnings.
So what about 2011? The latest available results are for the third quarter, ended September 30 2011. Revenue for the nine months totaled $568 million, a 13% increase over the comparable 2010 figure when discontinued operations are excluded. A 1.5% reduction in total costs and expenses over the same period contributed to the 44% rise in operating income. US operations accounted for more than 60% of total revenue, but revenue growth was recorded in all geographic sectors. The growth was driven by both a volume increase in the number of domain names and a pricing increase introduced in July 2010. At the end of Q3 there were 112 million active .com and .net domain names, an 8% increase year-on-year. Effective 1 July 2011 VeriSign renewed its agreement with ICANN to serve as the authoritative registry operator for the .net registry for another six years.
VeriSign is a much smaller organization than it was in the years before it sold the authentication sector. Annual revenues, though growing, are less than half of those recorded in the period 2006-2008. However, the divestiture decision appears to be sound, given the declining revenue in 2009 from sectors now sold or discontinued, and the result is a leaner, more focused VeriSign. It remains to be seen how the company's registry business deals with the expected loosening of restrictions on domain name extensions in 2012. Can a challenge be leveraged into a major opportunity?
VeriSign's stock price has been in a trading range between $27 and $37 over the last year or so, as shown below: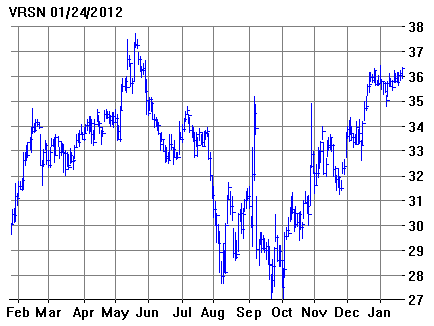 The stock's previous resistance was around $37 plus change and the stock price is currently near the previous resistance level. It will be interesting to see if VeriSign's stock price will break through resistance this time or retreat as it did following the previous flirtation with $37.
An investor in VeriSign might consider entering a collar position for the company. A collar position provides a potential profit while protecting the position. A collar may be entered by selling a call option against a stock and using some of the proceeds from selling the call option to purchase put option for protection. With VeriSign's upcoming earnings release on Thursday, January 26, 2012, a collar position would protect an investment in VeriSign were the company to release some bad news.
Using PowerOptions tools, a collar position was found for VeriSign with a potential return of 1.8% and a maximum loss of 7.5%. The timeframe for realizing the potential profit is 53 days. The specific call option to sell is the 2012 March 37 at $1.11 and the put option to purchase is the 2012 March 33 at $0.45. A profit/loss graph for one contract of the collar is shown below: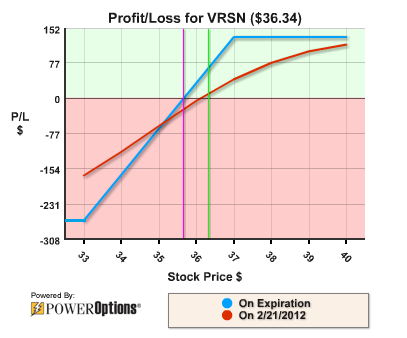 As a bonus, if the price of VeriSign's stock is greater than or equal to the $37 strike price of the call option at options expiration in March, the position will return 3.7%. If the price of the stock drops below $33, the value of the collar remains constant and offers a maximum loss of 7.5%.
Disclosure: I have no positions in any stocks mentioned, and no plans to initiate any positions within the next 72 hours.