Actions Semiconductor (NASDAQ:ACTS) is one of China's leading fabless semiconductor companies. The company provides system-on-a-chip, or SoC, products and total solutions for the development and manufacture of personal media players. Personal media players are battery-powered, portable consumer electronic devices that capture, store and play digital media files such as compressed audio, image and video files.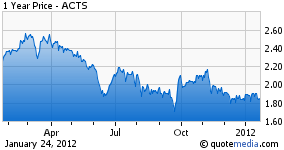 What is SoC?
System-on-a-chip, or SoCs, are integrated circuits that incorporate a digital signal processor, a micro controller unit, embedded memory, codec, a power management unit and other components. Actions Semiconductors SoCs are designed to be utilized for both flash memory based and HDD based personal media players with upgradeable firmware.
Initial Public Offering
Actions Semiconducter had the Initial Public Offering (NYSEARCA:IPO) at November 2005. Actions underwriters were Credit Suisse First Boston. The company has produced positive operating cash flow since the IPO.
Financials
Actions Semiconductor reported gross margin of 37.6% for the fourth quarter of 2011, compared to gross margin of 40.6% for the third quarter of 2011, and 37.1% for the fourth quarter of 2010. The company ended the year with $33.2 million in cash and cash equivalents. Trading securities, and marketable securities, current and non-current, were $187.4 million at the end of the year. Dr. Zhenyu Zhou, CEO of Actions Semiconductor, stated:
Our revenue for the fourth quarter was in line with expectations and reflects the current demand environment in our end markets.

We were pleased to see an increase in shipments of our higher end solutions including our high definition (NYSE:HD) products.

In 2011, we made progress on a number of financial metrics, growing revenues by 26% and improving profitability. We maintained our strong leadership position in mainstream portable video and portable audio products, such as automotive/boom box products, while gaining traction in new high end market categories, such as gaming and HD products. Importantly, we believe we have developed a solid platform for continued growth in targeting high end applications.

As we enter 2012, we expect to maintain a leading position in our established end markets with our current audio and video product portfolio. At the same time, we will focus on advancing our product mix to include even more high end, network enabled devices, concluded Dr. Zhou.
Share Repurchase Program
Since the share repurchase program commenced in 2007, the company has invested approximately $41.4 million in repurchasing its shares. As of December 31, 2011, approximately 17.7 million American Depositary Shares (ADSs) were repurchased.
Business Outlook
For the first quarter of fiscal year 2012 ending March 31, 2012, Actions Semiconductor estimates revenue in the range of $9 to $10 million and gross margin of approximately 38%.
For the full year 2012 the company expects to achieve 15% to 20% revenue growth as it shifts its focus to high-end products.
Conclusion
The company's net cash per share is $3.20. I recommend buying the shares below $3.20.
Disclosure: I am long ACTS.