The SPDR Select Technology Fund (NYSEARCA:XLK) is an exchange-traded fund that is non-diversified. This technology fund was launched in December 16, 1998 and mainly invests in computers, telecommunications, internet software and electronics.
Just like investing in a stock, there are advantages and disadvantages to investing in an Exchange Traded Funds. Advantages include exposure to a group of equities and the ability to manage risk by using options. Some disadvantages include investors are limited to larger companies, larger bid-ask spreads and averaged out dividend yields. Here's a break-down of SPDR Select Fund Technology's top ten holdings as a percentage of SPDR Select Fund Technology's assets.
Overall Portfolio Composition
Stocks: 99.76%
Bonds: 0.00%
Top 10 Holdings (65.18% of Total Assets)
| Company | Symbol | % Assets |
| --- | --- | --- |
| Apple Inc. | AAPL | 14.96 |
| International Business Machines | IBM | 8.61 |
| Microsoft Corporation | MSFT | 7.72 |
| AT&T Inc. | T | 7.12 |
| Google Inc. | GOOG | 6.48 |
| Verizon Communications Inc. Com | VZ | 4.54 |
| Intel Corporation | INTC | 4.18 |
| Oracle Corporation | ORCL | 4.03 |
| Cisco Systems, Inc. | CSCO | 3.86 |
| QUALCOMM Incorporated | QCOM | 3.68 |
If investors were buyers of the SPDR Select Technology Fund at the beginning of the year, the current year to date performance of the SPDR Select Technology Fund is up about 5% Currently, only Google and Verizon are down year to date. Out of the ten companies listed above only four have not reported earnings yet (Apple, Cisco, AT&T and Qualcomm). If investors believe that Apple, Cisco and Qualcomm can lift the fund higher through their upcoming earnings then you still may have time for a strategy on the bullish side. However, when technically looking at the SPDR Select Technology Fund on a one year chart investors will see the $27 level as resistance.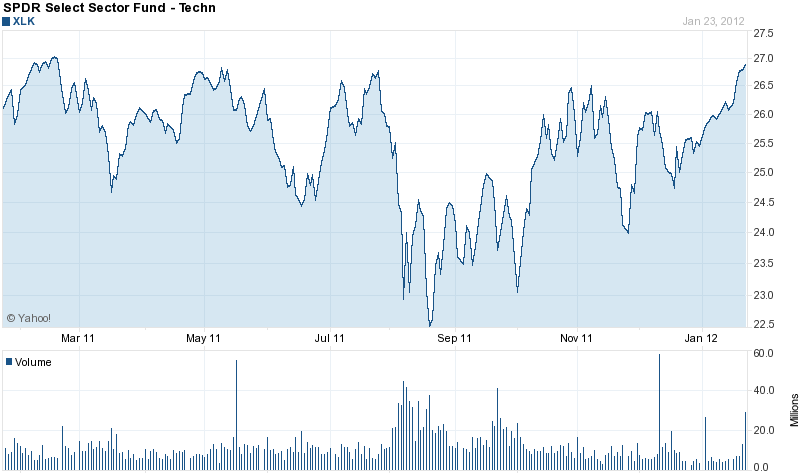 Click to enlarge
When looking at the chart on a one year time horizon, investors will notice that every time the SPDR Select Technology Fund approaches the $27 level there is a pullback. While I'm still bullish on tech in the in the longer term, I believe in the short term investors might see a pullback in tech, now that most of the SPDR Select Technology Funds stocks have reported earnings. Some of my reasons for seeing a pullback in the SPDR Select Technology Fund are:
If positive earnings are not enough as a catalyst in the short term to drive the SPDR Select Technology Fund through $27, then investors might see a healthy pullback.
General market correction in the Dow and S&P 500.
Further European debt concerns.
Seeing a market shift out of tech and into other sectors.
The Trade:
If investors believe that the SPDR Select Technology Fund will not break through the $27 level in the short term, investors could look at buying the March 27 or 28 strikes. The March $28 strike is currently going for $1.46 and your breakeven cost would be (28-1.46=26.54) now take the current stock price of 26.84-26.54=0.30 cents downward slide to breakeven. Investors could also use the 27 strike, but investors breakeven will be larger.
I picked March since June is the next month investors can look at investing in options and in the long term I like the fundamentals of technology stocks, but in the short term I'm looking for a pullback. If investors are not sure about this trade, I would wait until Apple, Cisco and Qualcomm report earnings and see if the SPDR Select Technology Fund breaks through the $27 level. Good luck on this directional trade, and thanks for reading.
Disclosure: I have no positions in any stocks mentioned, but may initiate a short position in XLK over the next 72 hours.