Back in April of last year, I published an article detailing the value in Cisco Systems (NASDAQ:CSCO). Here is how the stock has fared since then: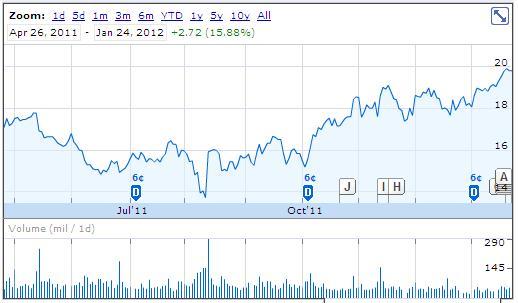 Wall Street sentiment has seemingly turned in favor of the stock, with analysts becoming more convinced that CEO John Chambers is re-focusing on core operations and the competitive pressures in its key markets. At the time, I based my investment thesis mainly on Cisco's copious free cash flow, which averaged ~$9B over the past 5 years. The company does not report full quarter results until February 6th but its trailing-twelve-months FCF of $9.6B suggests my bullish case for the company remains intact.
While I still value shares at $25 - $30, the stock's nice run up allows me to generate further gains and lower my risk via covered call options. Last week, I sold Jan 2013 $22 call contracts at $1.26. With shares trading around $20, this equates to over 6% premium, a nice de facto dividend that also allows us to collect the real 1.2% dividend during the options contract period.
But if I think CSCO is worth at least $25, why would I agree to sell my stake at $22? First, CSCO has to close above $22 at the expiration date for me to be called out of my position, which means another 10% gain from here. And my effective selling price is $23.26 once the option premium is factored in, not too far off my $25 target.
Stock valuation is an imprecise science (or art, even) so I usually start thinking about selling as a stock approaches my estimated intrinsic value - after all, I could be wrong and the stock may only be worth $22! I also like to use a conservative options strategy to maximize my portfolio holdings -a major reason I've generated market-beating returns the last five years. Since market prices are random in the short run, it is possible CSCO could fall in 2012 so pocketing a 6% premium mitigates some of that risk. Even if the market stays range-bound, I still benefit as options lose value over time even if stock prices go nowhere. I only lose out if CSCO were to explode to the upside as I would miss any gains past $23.26. Basically my biggest risk is that I'll only profit by 45% instead of 46% or higher if I'm called away in a year's time. That's a risk I'm willing to take.
Disclosure: I am long CSCO.
Additional disclosure: Short CSCO covered call options.