Gold prices are down about 13% since they traded at $1900 late last year. With that, I decided to take a closer look at Agnico Eagle Mines (NYSE:AEM) to see if it offers opportunities to investors as the stock has been crushed this past year. Here are six points I looked at while researching AEM:
Valuation: AEM's trailing 5 year valuation metrics aren't too valuable because they have been very erratic. The only one that has value is P/B and it suggests that the stock is undervalued. Regardless, I present the information on the 5 year trailing valuation metrics and you can make your own conclusion. AEM's current P/B ratio is 1.6 and it has traded between 1.6 and 5.0 over the past 5 years. AEM's current P/S ratio is 3.2 and it has averaged 13.8 over the past 5 years with a high of 25.0 and low of 3.2. AEM's current P/E ratio is 49.2 and it has averaged 72.1 over the past 5 years with a high of 169.6 and a low of 29.03.
Price Target: The consensus price target for the analysts who follow AEM is $56. That is upside of 62% from AEM's current stock price. That is significant appreciation analysts expect for the stock.
Forward Valuation: AEM is trading at about $34 a share and analysts expect EPS of $3.10 next year for a forward P/E of about 11. Revenues are expected to jump 14%. Taking a closer look at other publically traded competitors will get a better idea of AEM's value. Goldcorp (NYSE:GG) is trading at $44 and analysts expect EPS of $2.65 next year for a forward P/E of 17. Goldcorp is expected to record revenue growth of 21% next year. Analysts forecast that Barrick Gold (NYSE:ABX), another gold miner, will earn $5.80 a share next year.
With a current stock price of $45, that is a forward multiple of 8. ABX's revenues are projected to grow 18% next year. Newmont Mining (NYSE:NEM) is currently trading at about $57 a share and analysts expect the company to report earnings of $5.64 a share next year for a forward P/E of 10. Newmont's revenues are expected to grow 16% next year. The mean forward P/E multiple of the three competitors is 12 and AEM is trading at about that level which suggests that AEM is fairly valued.
Earnings Estimates: AEM has had an erratic past four earnings reports. The company missed earnings estimates 3 times while beating them once. The earnings ranged between 1-7 cents off of the analyst consensus. This suggests that analysts do not have a good idea of where the company's earnings will come in and that there may be upside potential from earnings upside.
Dividend: AEM pays a quarterly dividend of 16 cents a share. This equates to an annual dividend of 64 cents a share for a dividend yield of 1.8%. AEM has paid a dividend at least once a year since 1990.
Price Action: The stock was more or less stable for the first ¾ of the past year but then fell apart in October, dropping more than 20% from $57 to $45 overnight. Since then, AEM has continued lower, setting new lows and just set new a 52 week low on Tuesday of $34.36 a share. The stock is below its 50 day moving average, which is at just below $50 a share, and its 200 day moving average, which is just below $56 a share. The $34 level should be a key level of support as it is the level the stock's highs in the depths of the credit crisis in 2008. On the upside, the $38 level should be a solid resistance level followed by $40.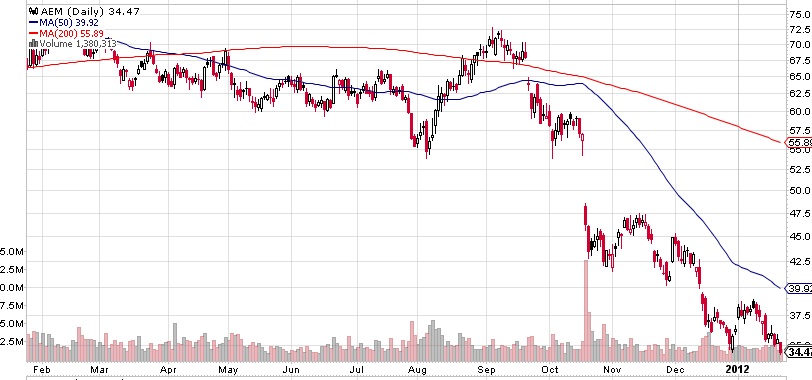 Conclusion: The valuation metrics on AEM are mixed but what we know for sure is that a higher gold price will lead to share appreciation in the stock. AEM seems to be one of the more undervalued gold stocks by analyst targets so this may be a good spot to put your money if you are optimistic on gold.
Disclosure: I have no positions in any stocks mentioned, and no plans to initiate any positions within the next 72 hours.