What if there were a way to invest in the business of processing and delivering oil and natural gas without being exposed to the volatility of the energy commodities market - the gain without the pain? Enterprise Products Partners (NYSE:EPD) manages to do just that. The vast majority of its revenue is derived from fees earned by its pipelines, storage facilities, processing plants, marine transportation equipment, offshore platforms and import and export terminals. Many of EPD's facilities are jointly owned with its long term customers, a guaranteed way to ensure ongoing customer loyalty. Those customers include BP (NYSE:BP), Chevron (NYSE:CVX), ConocoPhillips (NYSE:COP), Dow Chemical (NYSE:DOW), ExxonMobil (NYSE:XOM), Marathon (NYSE:MRO), Shell (NYSE:RDS.A) and Spectra Energy (NYSE:SE).
President and CEO Michael A Creel advised, during the course of the third quarter earnings conference call, that $833 million of distributable cash flow for the first nine months had been retained in order to fund growth capital projects and reduce the partnership's dependence on capital markets. The natural gas liquids segment performed particularly well, recording a gross operating margin of $548 million for the third quarter, a 38% increase over comparable 2010. Quarterly cash distributions have increased to $2.65 on an annualized basis, and this marks the 38th quarterly distribution increase since the initial public offering in July 1998.
During 2009 and 2010 the partnership completed $2.5 billion worth of growth capital projects and acquisitions, with a further $5 billion under development. It is the largest publicly traded energy partnership in the United States, with over $31 billion in assets. Distributable cash flow is returned to unit holders each quarter. Its core business strategy is the expansion of its asset base to capitalize on anticipated increases in oil and natural gas production in the Rocky Mountains and US Gulf Coast, while spreading the cost and risk through strategic joint ventures.
Operations are divided into five areas according to pipeline type: natural gas liquids, offshore oil and gas, onshore crude oil, onshore gas and petrochemical/refined products, with their associated processing, storage and transportation facilities. The petrochemical sector includes the 800 tractor-trailer tank trucks of the Enterprise Transport Company, an organization in which EPD acquired ownership interests in 2010.
The partnership is not completely protected from the volatility of fluctuations in the price of hydrocarbon products. Sudden price increases could affect the demand for oil and gas end products, and therefore the demand for EPD's revenue-earning services. Some of its natural gas processing contracts provide for fees to be calculated based on a regional natural gas price index, or to be paid in-kind by taking ownership of the end product, so a price decrease could have an adverse effect on revenue (2010 Form 10K page 53 (pdf)),
There are many other pipeline and associated services organizations competing in the same market, including Plains All American Pipeline (NYSE:PAA), Buckeye Partners (NYSE:BPL), Sunoco Logistics Partners (NYSE:SXL) and Williams Companies (NYSE:WMB). All of these businesses have intensive growth strategies and are competing not only for customers but also for access to capital to execute their planned growth. EPD's growth could be limited if it cannot raise the necessary funds. Operations may also be interrupted as a result of extreme weather conditions or a catastrophe, such as the February 2011 explosion and fire at the Mont Belvieu, Texas storage complex.
In the face of all these challenges EPD's annual revenue has grown from $14 billion in 2006 to $34 billion in 2010. It has not been a smooth ride, however. Revenue fell to $25.5 billion in 2009, in line with global economic contraction, following the 2008 record revenue of $35.5 billion. Despite this, non-GAAP EBITDA (earnings before interest, taxes, depreciation and amortization) have grown steadily, to $3.3 billion in 2010. Natural gas liquids made the greatest contribution to revenue ($14 billion), followed by onshore crude oil ($11 billion). 2010 cash distributions per unit amounted to $2.27.
All of which brings us to 2011, and the third quarter results now available. Year-to-date revenue for the nine months stands at $32.7 billion, already 97% of the full year 2010. Non-GAAP EBITDA of $2.8 billion is a welcome 85% of the full year 2010. The growth continues (Selected Financial Data Q3 2011 (pdf)).
Enterprise Products Partners is a story of phenomenal growth, funding the ever-increasing distributions to unit holders preserved even in the thick of the economic downturn. Onshore and offshore US oil and gas production appears set to rise for the next two decades and the company's stock price has apparently reflected this outlook as shown below: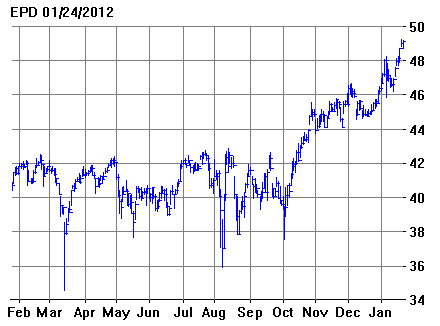 The company's stock price has almost doubled over the last two years and has increased dramatically over the last four months as shown above.
An investor in Enterprise Products Partners might be a little jittery about the recent run up in the stock price and might be considering an exit. As an alternative, an investor might consider entering a collar position for the stock. A collar can be entered by selling a call option against the stock and using some of the proceeds for purchasing a protective put option. Additionally, since the investor is long the stock, participating in receiving the company's dividend remains a possibility, assuming the stock is not assigned via the call option.
A collar position for the company was found using PowerOptions tools with a potential return of 1.3% with a maximum potential loss of 9.1%. The potential return of 1.3% and maximum potential loss of 9.1% include the upcoming dividend payment of $0.62 on February 9, 2012 to unit holders of record as of close of business on January 31, 2012 with ex-dividend date of January 27, 2012. The specific call option to sell is the 2012 Feb 50 at $0.15 and the put option to purchase is the 2012 Feb 44 at $0.10. A profit/loss graph for one contract of the position is shown below: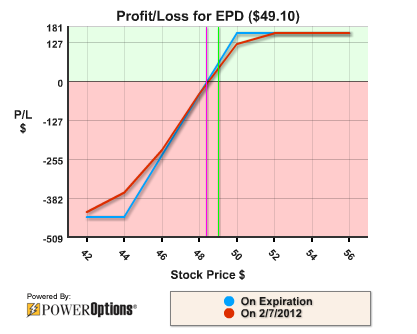 As a bonus, if the price of the stock is greater than the $50 strike price of the call option at options expiration in February, the position will return 3.2%. If the price of the stock drops below $44, the value of the collar remains unchanged with a maximum potential loss of 9.1%.
Disclosure: I have no positions in any stocks mentioned, and no plans to initiate any positions within the next 72 hours.