Hasbro (NASDAQ:HAS) is a worldwide leader in children's and family leisure time products and services with a broad portfolio of brands and entertainment properties.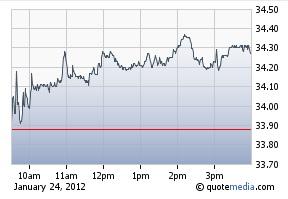 The Company earns revenue and generates cash primarily through the sale of a variety of toy and game products, as well as through the out-licensing of rights for use of its properties in connection with non-competing products, including digital games, offered by third-parties.
The Company's product offerings encompass a broad variety of toys, including boys' action figures, vehicles and play sets, girls' toys, electronic toys, plush products, preschool toys and infant products, electronic interactive products, creative play and toy-related specialty products. Games offerings include traditional board, card, hand-held electronic, trading card, role-playing and DVD games, as well as electronic learning aids and puzzles. While many of the Company's products are based on brands the Company owns or controls, Hasbro also offers products which are licensed from outside inventors. In addition, the Company licenses rights to produce products based on movie, television, music and other entertainment properties owned by third parties. Hasbro sells its products both within the United States and in a number of international markets.
Hasbro owns a few great brands that provide the company with a nice moat. The most well-known names in its product portfolio are: Transformers, G.I. Joe and My Little Pony. Hasbro applies its brand blueprint to all of its operations. The brand blueprint revolves around the objective of continuously re-imagining, re-inventing and re-igniting the Company's brands through a wide range of innovative toys and games, entertainment offerings, including television programming and motion pictures, and licensed products.
There are a few reasons to consider adding Hasbro to your portfolio.
1. The stock is cheap
Hasbro's latest quarter revenue fell slightly below expectations. This resulted in a sell-off of the stock. At current levels - under $36 - I consider the stock to be a buy. A few measures to evaluate the current price are listed below:
Average earnings per share over the last 5 years is $2.39. The stock currently trades with a P/E of 14 against 5 year average historical earnings.
A discounted cash flow analysis based on 5 year average owner's earnings, discount rate of 10% and a growth rate of 5%, gives an intrinsic value of $51. This means an almost 50% upside compared to the current stock price.
Current earnings power of the company, excluding future growth, I estimate to be around $36. The stock currently trades with a discount against its current earnings power, and on top of that, you get the growth for free.
The stock currently trades with a forward P/E of 11 based on 2012 expected earnings.
2. Shareholder friendly company
The company has done a great job in returning cash to shareholders. Over a 10 year period, it generated $3.4 billion in free cash flow, and it returned $3 billion back to shareholders through dividends and stock buy backs. The stock currently yields 3.5% and has reduced the share count with 15% in the last 10 years.
Graph 1: Dividend and Stock Buy Back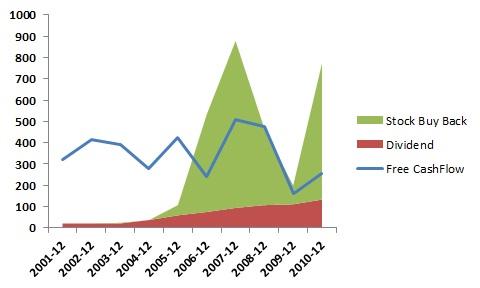 3. Earnings growth
Hasbro has consistently grown earnings. In the last 5 years, it had an average EPS growth of 20%. This is an impressive number taking the 2009 recession period into consideration.
Graph 2: Earnings Growth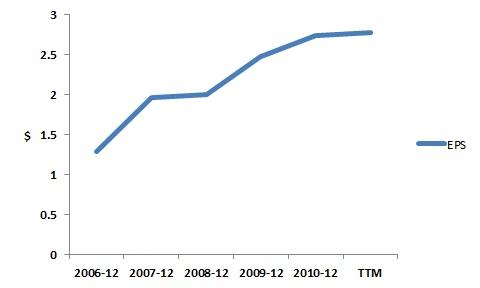 4. Revenue growth
Hasbro operates its business through 3 key segments: US & Canada, International and Entertainment & licensing. Graph 3 gives an overview of the revenue percentage per segment (source: latest 10Q submission). Growth in the international segment (more than 20% per year) and the entertainment & licensing segment (more than 80% over the last year) has been driving the company forward. In the next few years, sales from international markets will be bigger than US & Canada.
Graph 3: Revenue per segment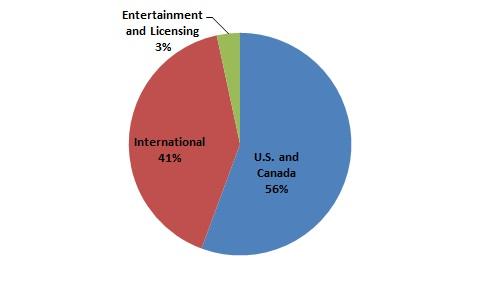 Risk factors are the debt to equity ratio, which is more than 100% ($1.3 billion in equity versus $1.4 billion in debt). A potential recession period would impact consumers and result in lower revenue and earnings growth than experienced over the last 10 years. Investors intending to buy and hold the stock for the long term should do well with owning Hasbro.
Disclosure: I have no positions in any stocks mentioned, but may initiate a long position in (HAS) over the next 72 hours.