Apple (AAPL) just delivered an above average EPS blow-out of $13.87, beating the consensus $10.08 by 38% and their own guidance of $9.30 by nearly 50%. They also beat, by 15%, the projection of $12.05 I made in "Apple: Unlocking The Patterns In Their Quarterly Guidance". Additionally, Apple's Q2 FY12 guidance of $8.50 exceeded the $8.05 Street estimate.
This was a spectacular quarter, even by Apple's standards, but what I find most interesting is the implications for their fiscal year performance. Going into the Q1 FY12 earnings release, Apple had a TTM EPS of $27.67. The 2012 and 2013 full-year (ending September) consensus EPS estimates stood at $35.39 and $39.59 respectively. By Street standards everything looked reasonable and conservative.
Coming out of the Q1 earnings release, Apple's TTM EPS jumped to $35.11. To be practical, Apple just hit the Street's 2012 estimate 9-months early. Over the next week, analysts will be updating their financial models and submitting updated estimates. At a minimum, they will have to adjust their 2012 estimates up by:
$3.79 to account for the Q1 FY12 earnings beat and,
$0.45 to account for Apple's Q2 FY12 guidance exceeding the current estimate.
Assuming no other adjustments are made, the new year end 2012 consensus would be $35.39 + $3.79 + $0.45 = $39.63.
An EPS updated estimate of $39.63 for 2012, is a Street absolute minimum. This is interesting because the current 2013 consensus is $39.59. Apple has just shown that they are positioned to handily beat the 2013 EPS estimate by (and most likely before) September 2012, a full 12-months early. I suspect the Street's revised 2012 and 2013 annual estimates to come in around $40 and $45 respectively; nothing drastic, just a big enough bump to maintain the appearance of reasonable conservatism through the end of the current quarter, while being utterly useless for investment decisions.
As Apple blows them away, the consensus estimates are adjusted on a quarterly basis and form a stair-step pattern. Last October I published an article with a graph showing these estimate changes over time. Below is an update where I took the liberty of inserting my estimates of the revised Street estimates as discussed above.
click to enlarge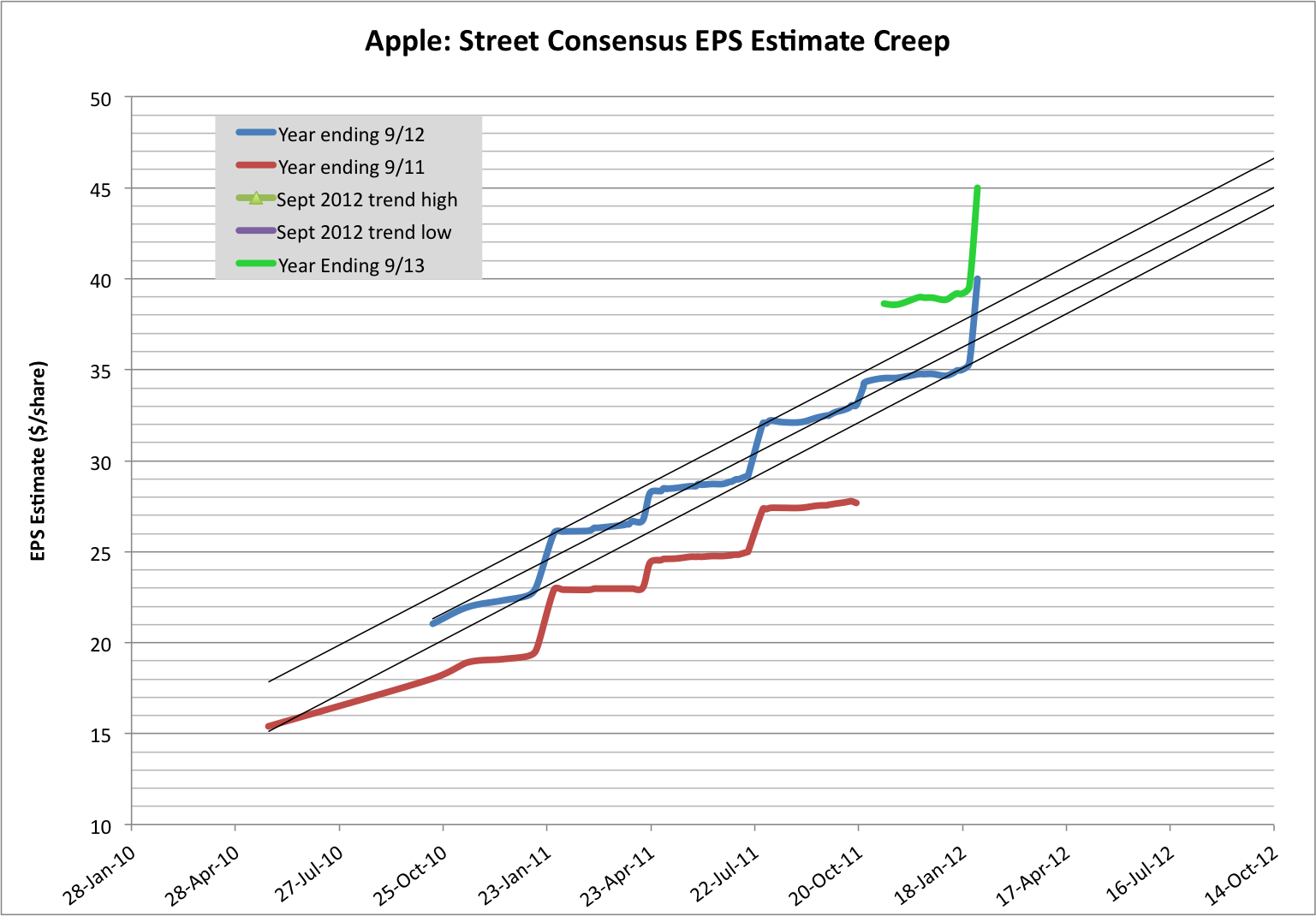 The trend is still pointing towards $45 for September 2012, but where they actually come in will be heavily influenced by the timing of the next iPhone release (June vs. October). There isn't enough data to extrapolate the 2013 data, but I can assure you the trend will be well North of any consensus numbers you will be seeing in the near future.