When LSI Corporation (LSI) announced that it had bought Sandforce, we believed this was a wise business choice that would keep LSI moving up in the same pattern it has been moving since 2009. With options prices so reasonable for LSI right now, we see a great opportunity to secure a profitable position for future growth very inexpensively through the use of long-term options.
LSI Corporation designs, develops, and markets storage and networking semiconductors and storage systems worldwide. Its Semiconductor segment offers integrated circuits for hard disk, solid state, and tape drive solutions, which are used to store and retrieve data in personal computers, corporate network servers, archive/back-up devices, and consumer electronics products. This segment's storage electronics products include systems-on-a-chip, read channels, pre-amplifiers, serial physical interfaces, and hard disk controllers, as well as custom firmware required to read, write, and protect data.
Sandforce Acquisition will help LSI Grow
Sandforce was founded in 2006 through venture capital. It provides flash storage processors and has an award-winning product: flash storage processors at the heart of PCIe flash adapters and SSDs. For those who don't know, flash storage processors provide the intelligence required the deliver the performance and benefits of flash storage in enterprise applications. SandForce flash storage processors are designed to improve the reliability, endurance and power efficiency of flash-based storage solutions.
Knowing the NAND flash memory market grew by 16% in 2011, LSI should sit pretty well with this acquisition. LSI is already using Sandforce flash storage processors and the combination of the two is expected to position LSI near the top of the rapidly growing, high-volume flash storage processor market space for ultrabook, notebook and enterprise SSD and flash solutions. Since the acquisition is to be completed sometime in the first quarter of this year, investors may not see results until midyear.
(Click chart to expand)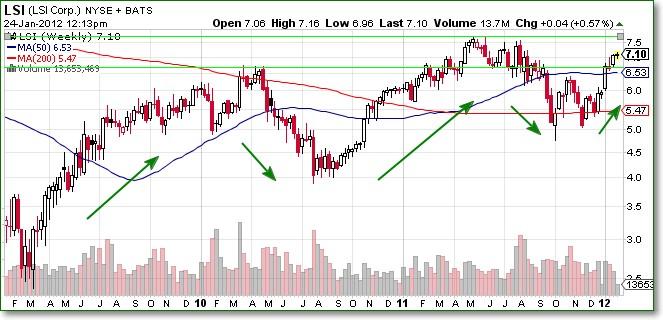 Long-Term Chart Shows Present Pattern and Opportunity
If we look at a weekly chart pattern, here's what we see:
Dipping to a low in Mach of 2009 at 2.5
It then grew to about 6.6, peaking in March of 2010.
Dipped again until September of 2010 at about 4.
Grew to 7.6 and peaked in June of 2011.
Dipped to about 5 by mid October of 2011.
Presently growing again!
Analysts have this move targeted at about 10.05 on the high side. This gives LSI room to move another 30%. We really like an option play here with the opportunity to secure the stock for future growth without having to invest much yet.
Here's the Option Play
We expect the growth to continue through 2012. Look at buying a January 2013 7.5 call option (priced at $1.00). If LSI continues to grow in the pattern it has remained in for the last 4 years, we may see it peaking close to 10 come year's end. With an option at 7.5, a savvy investor will be able to exercise the option and purchase the stock for 25% less than it is worth. This would make a great turnaround play and could be quite profitable. This is a very inexpensive way to secure 100 shares of the stock if you believe it will continue to move up.
Disclosure: Long LSI