It's easy to see why investors are loving McDonald's (NYSE:MCD). The stock was the best performing Dow stock in 2011 and shares are up 33% in the last year. McDonald's business is firing on all cylinders, across all regions.
McDonald's reported strong Q4 earnings on Tuesday. Earnings per share came in at $1.33, up nearly 11% year over year. Operating income grew 10% for year-ending 2011. Global comparable sales were up 5.6% for the year. Below is a breakdown of comparable sales and operating income increases by region.
(Click charts to expand)

Click to enlarge
Sales increases were driven by higher store traffic, promotional items, and high-margin specialty drinks. Store traffic set a record of 68 million customer visits per day. McDonald's has been successful in offsetting commodity price inflation with price increases of its own.
McDonald's plans to open more than 1300 new stores in 2012, with 750 new store openings in the Asia Pacific, Middle East, and Africa. In addition, Mcdonald's will re-image another 2400 locations.
I first wrote favorably about McDonald's one year ago; McDonald's; A Sell, Or On Sale? At that time McDonald's traded at $74.21. Shares today aren't near the deep value that they were a year ago. McDonald's trades at just under $100 and has a P/E ratio of 19.37. Its forward P/E ratio is 17.23. McDonald's has grown revenue at an annualized rate of 17.7% over the last five years. Cash flow has increased at an annualized rate of 10.2% over the last five years.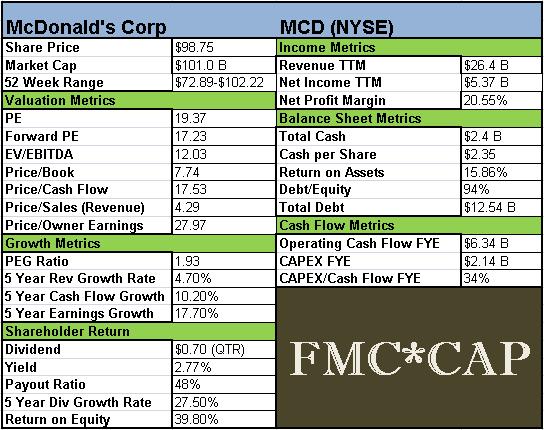 Click to enlarge
Despite the stellar performance of the stock, McDonald's is still attractive for long-term investors. Management continues to execute flawlessly. The company continues to offer the right product mix at the right price for each of the regions in which it operates. Though McDonald's is still primarily about burgers and fries, it is expanding its line of high-margin specialty foods and drinks. McDonald's has a huge opportunity for expansion in Asia, particularly China. It has far fewer stores in that region than competitor YUM! Brands (NYSE:YUM).
McDonald's faces some headwinds in 2012. Unfavorable foreign exchange rates and commodity price inflation are the two biggest risks for the stock in 2012. McDonald's plans to pass through some price increases this year to help offset inflation. The key for McDonald's to succeed will be to continue increasing traffic to its stores. The company is implementing newer point-of-sale systems that add capacity at peak times.
McDonald's has an attractive dividend yield of 2.77% and has increased dividends at an annualized rate of 27.5% over the last five years.
Despite McDonald's' stock hitting new highs, I'm still lovin' it. I plan on adding to my position on pullbacks.
Disclosure: I am long MCD, YUM.
Disclaimer: Mr. Constantino is a proprietary investor and does not provide individual financial advice. The stocks mentioned in this article do not represent individual buy or sell recommendations and should not be viewed as such. Individual investors should consider speaking with a professional investment advisor before making any investment decisions.