In this article, we will discuss the following stocks: Bank of America Corporation (NYSE:BAC), Agilent Technologies, Inc. (NYSE:A), Cummins Inc. (NYSE:CMI), Goldman Sachs Group Inc. (NYSE:GS), SunTrust Banks, Inc. (NYSE:STI), Freeport-McMoRan Copper & Gold, (NYSE:FCX) and PACCAR Inc. (PCAR).
The stocks covered are the seven best performing S&P 500 large caps for 2012. Unfortunately, the S&P index as a whole and these seven stocks have reached a frothy, overbought level. The rapid advance has come too far too fast and is unsustainable, leading me to believe the volatility that was ever-present in 2011 and nowhere to be found in 2012 will soon rear its ugly head and wreak havoc on the stocks that have performed the best. With the first sign of a trend reversal, institutional and high frequency traders will be caught in a game of "catch-as-catch-can" to lock in profits, your profits.
This macro state of the market is not the only reason many of these stocks may be heading for a fall. In the following sections I will first lay out my case for the S&P correcting then review each of the stocks to uncover possible near term obstacles that may facilitate the correction.
Imminent S&P Pull Back - A Case of Too Much To Soon
Positive territory was discovered by the S&P 500 at the end of trading last Friday. The S&P reached its highest level since its prior pull back last summer. The broader markets have risen slightly four sessions in a row corralling a 2.0% gain last week with the third consecutive weekly increase. What a great start for the S&P 500 (NYSEARCA:SPY); it is up by 5% since December 31st. "If the market were to continue on this trajectory we would have a 50% return for the year" said, Todd Morgan of Bel Air Investment Advisors. "This rate of increase is clearly unsustainable." Nevertheless, what makes this point in time so special? Walter Zimmermann of United-ICAP gives us the telling signal.
Walter Zimmermann of United-ICAP, pointed out:
There is too much bullish sentiment coupled with a momentum extreme in the market currently. The combination of extreme bullish sentiment and overdone momentum has only occurred three times in the last 15 years on March of 2000, October 2007, and may of 2011 so there is cause to be concerned. See chart below.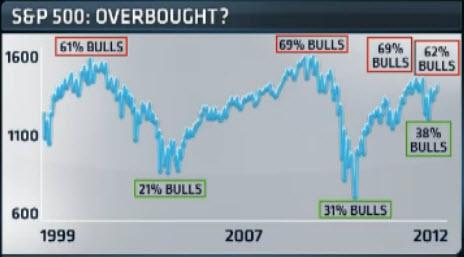 Chart Provided by CNBC (Click to enlarge)
Zimmerman and Morgan see a near term pull back of 5 to 10% allowing stocks to consolidate before moving forward. I have been employing an S&P levels trading strategy learned from Steve Grasso, Director of Institutional Sales Trading at Stuart Frankel & Co. Inc., and current Governor on the NYSE. Grasso states institutional traders enter and exit the market based on certain levels in the S&P. The breakout above 1300 is positive and may initiate a new set of levels if it is confirmed by staying above 1300 until Friday. Grasso recently stated he needs to see 1310 hold and confirm or S&P could move down to 1275 in the near term. Using these levels to lock in profits at the crests and buying back in at the troughs allowed me to increase capital gains and lock in additional profits in 2011.
The market has been eerily quiet regarding volatility this year, but I believe things may be about to change as the political rhetoric heats up and the end of earnings season nears. There were noticeable downturns at the end of each earnings seasons last year with traders left with nothing but negative Eurozone headlines to trade off.
Company Specific Review
Bank of America, Goldman Sachs and SunTrust Banks
The financial lost an average of 25% last year, conversely, this year they have significantly outperformed the broader market. Financials have led the way with a return of return of 9.4%. Bank of America with a 31.12% performance year to date is the number one best performing large cap stock in the S&P followed closely by Goldman Sachs at 20.39% and SunTrust Banks at 20.28%. Unfortunately that has left them in a frothy overbought state with relative strength index readings of 73.58, 70.18 and 67.28 respectively. A stock is usually considered overbought when the relative strength index reaches above 70.
The Relative Strength Index was developed by J. Welles Wilder and published in a 1978 book, New Concepts in Technical Trading Systems and has become one of the most popular oscillator indices, according to Wikipedia. Wilder posited that when price moves up very rapidly, at some point it is considered overbought. Likewise, when price falls very rapidly, at some point it is considered oversold, in either case, Wilder deemed a reaction or reversal imminent. Wilder believed that tops and bottoms are indicated when RSI goes above 70 or drops below 30. Traditionally, RSI readings greater than the 70 level are considered to be in overbought territory, and RSI readings lower than the 30 level are considered to be in oversold territory. In between the 30 and 70 level is considered neutral, with the 50 level a sign of no trend.
Agilent Technologies
Agilent Technologies, Inc. provides bio-analytical and electronic measurement solutions to the communications, electronics, life sciences, and chemical analysis industries worldwide. Agilent has great prospects for future growth being at the top of their game. Agilent's installed base serves a wide expanse of industries which it utilizes to generate sales. This superior competitive position has led it to be the number two large cap stock in the S&P behind Bank of America with a 2012 gain of 21.96%. Nevertheless, along with this incredible gain comes an incredibly overbought condition. Agilent currently has a relative strength index rating of 72.67.
Cummins, Freeport-McMoRan Copper & Gold and PACCAR
Cummins was up 1.98% for the year in 2011 and is currently in third place among large caps for 2012 S&P performance with a one month gain of 21.34%. Cummins is a great company with excellent fundamentals with a PEG ratio of 0.89, a forward PE of 10.89 and an EPS estimate of 15% for the next five years. Nonetheless, currently it has a RSI reading of 73.52 which is a red flag it is overbought.
In the market, as in life, timing is everything. Identifying and capitalizing on these nuances separates the good from the great investors. Cummins will trod forward and will mostly likely be up in a year from now, but the savvy well informed investors paying attention to all the key indicators will be vastly ahead of the people who buy and simply hope based on an overarching belief.
Freeport-McMoRan and PACCAR fill out the top seven 2012 winners list, although this outperformance may be more related to a phenomenon known as the January effect than any underlying fundamentals. These stocks have seen gains of 20.27 and 20.10 in 2012 respectively after having abysmal 2011 performances.
The January effect is most common theory explaining this phenomenon. Individual investors, who are income tax-sensitive, sell stocks for tax reasons at year end (such as to claim a capital loss) and reinvest after the first of the year. Another cause is the payment of year-end bonuses in January. Some of this bonus money is used to purchase stocks, driving up prices.
With RSI's of 67.50 and 78.66 respectively, these stocks are ripe for a pullback just as all the other stocks covered in this article. What's more, with the global debt debacle causing many countries to implement austerity packages rather than stimulus packages, the global growth prospects seem jeopardized.
Conclusion
A few phrases come to mind regarding the current market situation. Nothing lasts forever. All good things come to an end. What goes up must come down. And finally, Nothing goes up in a straight line. These one liners seem apropos at this juncture in the market. You must remain focused and be aware of all indicators. Get caught up in the pomp and circumstance of a bull run at your portfolio's peril.
Disclosure: I have no positions in any stocks mentioned, and no plans to initiate any positions within the next 72 hours.