ATP Oil & Gas (ATPG) is something of a speculative play. The business has a lot of upside: ATP has more potential reserves relative to proved than almost any E&P, and its hub strategy will provide it with enormous economies of scale if the potential reserves are realized. Further, a project it is working on in the Med, offshore Israel, could prove to be a natural gas bonanza. However, the last earnings call outlined a situation that left many wondering whether bankruptcy would be reached before riches. Liquidity is tight and the company is already highly leveraged from a rapid expansion of reserves and infrastructure in previous years. Following the call, the company's bonds and stock both got hammered and have more or less stayed there.
Consequently, there has been a lot of debate surrounding the company. Most of that has focused on the common shares, as in some recent SA articles. If you think the company is undervalued, you buy the common. If you think it's in the middle of a liquidity crisis and ultimately must restructure its capitalization, you short it. Simple and straightforward.
Some talk has also considered the Senior Secured bonds as an alternative way of making a bullish bet, especially after they traded down into the mid 60s, but the returns are capped at a mundane level, at least compared to the triple digits sought by most who have been drawn to the company of late.
But we think neither the common nor the bonds are the best way to bet on ATP. Given the various considerations here and the prices of the common, preferred, and bonds, the 8% Convertible Preferred Stock (ATPGP.PK) offers a far better risk adjusted return.
Situation
An analysis/review of ATP's recent fall from favor is critical to the valuation.
The consensus take from ATP's November 3Q11 earnings call was that the company has a precarious liquidity situation. Analysts on the call were told that earlier forecasts of 40K Mboe per day by the end of 2011 would be high by about 15K Mboe per day. This magnitude of top line miss would be concerning in any context, but ATP's situation made it worse. The company's heavy debt load has a double digit effective interest rate. ATP's ability to service its existing debt has been called into question, and the May interest payment due on the Senior Secureds looms large.
But are things really that bad?
First look says no. The miss was created by a collusion of events, the most significant of which were temporary: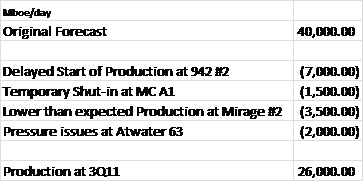 The delay at 942 #2 was due to additional work related to additional reserves discovered upon drilling the well, and production should begin soon at 7K+ Mboe per day. After that well is complete, the shut-in at A1 will be rectified, bringing approximately 1500 additional Mboe per day online. That leaves just 5500 Mboe per day or so of production that actually was lost.
The lost production did not significantly affect the value of ATP's reserves. Indeed, management noted on the call that reserves booked for Mirage #2 would not be reduced, suggesting that the only material value lost was due to lower operating margins and higher discount factors in the PV of Atwater 63 and Mirage #2.
The problem, however, is that the production miss created the possibility of a liquidity crisis that would result in highly dilutive financing or a structured deleveraging (debt for equity exchange or Chapter 11). Current street consensus holds that meeting scheduled interest payments and funding planned 2012 capex will require further borrowing from a market that may well be done supporting the company's already high leverage. If ATP can get additional financing, it will likely cost current stakeholders dearly. If it cannot, then restructuring may be its only option.
In response to market concerns, management has stated that they can push back planned capex to accommodate cash restrictions. The Clipper pipeline can be financed by a third party. The Cheviot related payments can be deferred. Drilling can be postponed.
But even highly dilutive financing seems like an equally attractive option. To what extent management's claim is true or not, PV10 would be impacted negatively by the delay. Projects already heavily discounted in the present value calculation would be discounted even further. ATP may do just as well to concede additional NPIs and ORIs, expensive though they may be, to keep its projects moving forward.
In short, while recent set backs in and of themselves are not significant, the company's rapid balance sheet expansion has left it with no margin for such errors. The production miss will likely destroy a significant amount of existing stakeholder value. It seems very likely that even if the company can make its May interest payment and avoid restructuring additional, possibly costly financing will be required to keep projects underway.
Valuation
We performed a relative valuation of ATP using Energy XXI (EXXI), W&T Offshore (NYSE:WTI), Energy Partners (NYSE:EPL), and Stone Energy (NYSE:SGY) as the closest Comps [click to enlarge]: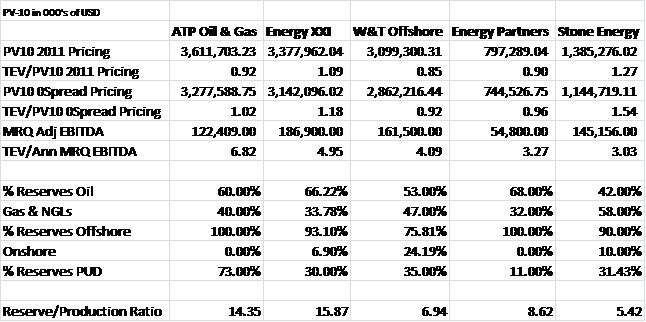 We calculated three different multiples of total enterprise value: Estimated year-end 2011 PV10 with reserves priced at actual commodity prices seen over the last 12 months adjusted for field quality differentials (SEC pricing), estimated year-end 2011 PV10 priced assuming that Brent fell back to differential adjusted WTI and U.S. natural gas prices normalized at $3 Mcfe (the "0Spread" scenario), and finally as a multiple of annualized MRQ EBITDA. All 2011 PV10 estimates were proprietary, with reserve estimates based on YTD and projected production, YTD sales of property, and YTD discoveries and revisions; and value estimates derived from previous years' cost projections and discounts.
We chose to focus on the 0Spread multiple, as it is more consistent with an intrinsic value than the EBITDA based metric and it provides a more realistic estimate than SEC pricing given that a tightening of Brent-WTI seems likely and U.S. NG prices will probably stay depressed.
For our valuation we looked at W&T Offshore as the floor on the multiple to be applied to ATP's PV10. The two companies have similar business models, buying up properties neglected by larger concerns. However, the continued decline of U.S. NG prices has hurt W&T more than ATP because a significant portion of ATP's NG exposure is in the North Sea, where prices are better than 3 times those in the GOM. Partly as a result, going back as far as year-end 2009 and continuing throughout this year, ATP has traded at a slight multiple premium to W&T.
Taking that into consideration, we valued ATP using a 0Spread PV10 multiple of 0.96. We also considered an upper-end valuation scenario defined by Stone Energy, and a multiple that resulted in the Bonds being just covered. The results of our valuation for each SEC and 0Spread reserve pricing: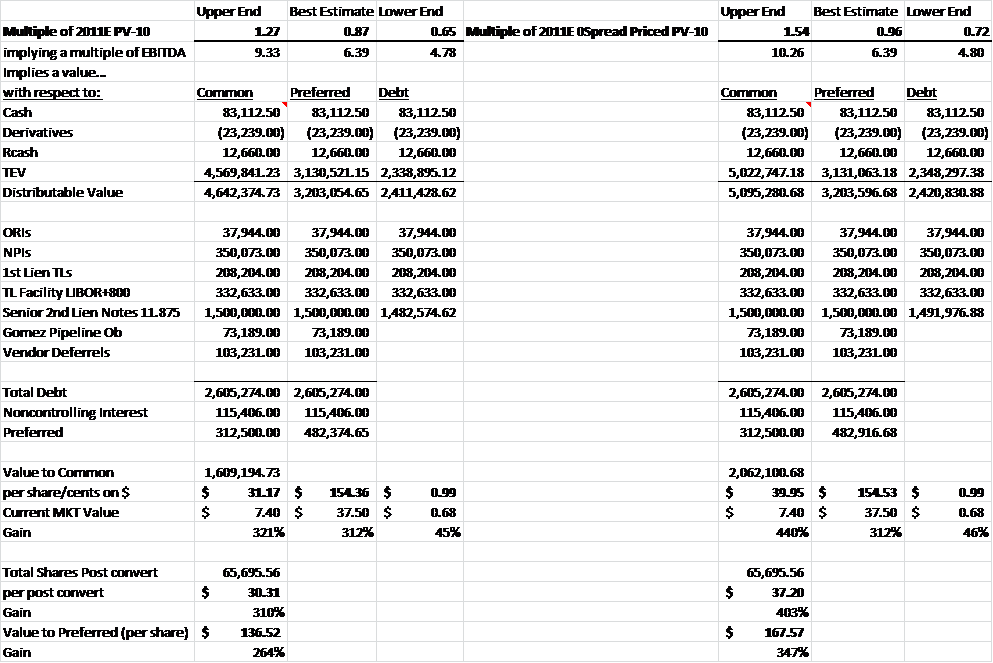 Based on this, we ran a rough scenario analysis to give an approximate risk adjusted (near-term target) price for the preferred:

Essentially, we quantified the outlier chance of a high valuation or a major positive from the Med at 5%, and per our situational analysis, gave a 75% weighting to further leverage-related distress. We assumed that there was a 45% chance that ATP would have to borrow, and that in that case it would need an additional 300mm on which it would concede discounts (on fair value) of 25%. We also assumed that restructuring would cost some 300mm (approx. 10% of assets) in fees and the multiple of 0Spread PV10 would be 0.92X. Fair value for the preferred securities where value provided coverage of liquidation value but conversion was not yet practicable was estimated to be 95.
This assessment produced a current value of $88 per share and a risk adjusted return of 134% (based on a price of 37.5).
The last piece of our analysis was to run the same scenario analysis for the common stock and bonds as we did for the preferred. By this assessment, the common is overvalued:

…And the bonds offer a much lower return:

And so we are left to conclude that the preferred is the best way to own ATP. Trading at a little below 40, coverage of the liquidation preference alone would provide a hefty return; but when combined with the volatility of ATP's fundamentals and the option of conversion to common, it is a unique opportunity.
Basically, ATPGP does what convertible preferred stock was designed to do-it captures both the value in a highly favorable outcome and the value in scenarios that are less so. In ATP's particular case, this ability is well worth owning.
Disclosure: We are long ATPGP