Though Fusion-io (NYSE:FIO) reported earnings that slightly beat estimates and revenue that handily beat estimates, the stock sold off 13% after hours. With 170% year-over-year revenue growth, the report made clear that the move to flash memory storage was gaining steam.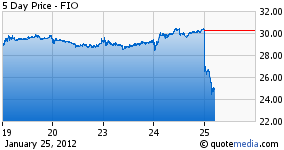 Fusion-io provided revenue guidance for the next quarter that easily surpassed the Capital IQ analyst consensus, but that might also be weighing on the stock as investors tend to prefer more growth than basically flat sequential guidance.
Numbers per briefing.com:
4:12PM Fusion-io beats by $0.01, beats on revs; guides Q3 revs in-line 30.34 +0.90 : Reports Q2 (Dec) earnings of $0.05 per share, $0.01 better than the Capital IQ Consensus Estimate of $0.04; revenue rose 169.6% year/year to $84.1 mln vs the $76.44 mln consensus; gross margin in Q2 was 52.0% compared to 58.7% in prior year. Operating margin was a loss of 4.8%. FIO sees FY12 rev growth of 65-70% vs. consensus expectation for +60%; sees Non-GAAP gross margin between 54-56%; sees Non-GAAP operating margin for 2012 to be approx 8%. Co issues in-line guidance for Q3, sees Q3 revs of $85 mln vs. $80.75 mln Capital IQ Consensus Estimate; sees gross margins in the range of 50%; Non-GAAP expected to be breakeven to 5%.
Another interesting dynamic is that fellow flash memory storage provider OCZ Tech (NASDAQ:OCZ) has been growing faster. The after-hours drop might indicate that investors are concerned that OCZ is gaining market share and pressuring margins. So while Fusion-io claims the gross margins were impacted by the new product transition, investors are likely fretting that the high priced company is under assault from competitors with cheaper products.
When providing Q3 results on January 9, OCZ guided toward Q4 revenue averaging $112.5M. This amounts to a whopping $27.5M above that of Fusion-io guidance.
OCZ Guidance:
OCZ expects revenue for its 4th fiscal quarter ending February 29, 2012, to be in the range of $105 to $120 million, and revenue for its fiscal year ending February 29, 2012 to be in the range of $360 to $375 million.
GAAP Gross margins are expected to be between 23.5% and 25.5% for its 4th fiscal quarter.
Even more interesting is that Fusion-io only reported non-GAAP earnings of $.05 compared with the $.06 of OCZ. Considering guidance for the March quarter and one has to wonder if the advantage for OCZ won't grow further. Considering the $30 to $8 price difference, investors in Fusion-io have to be concerned about maintaining such a lofty price and corresponding valuation. OCZ is only worth $424M after an 8% jump on Tuesday.
True the biggest issue with OCZ are the low margins, which should increase as 2012 progresses. Ultimately though, low or high margins, the stock that has the highest earnings per share tends to have the higher stock price.
STEC (NASDAQ:STEC) reports Q4 numbers in February and the market will closely watch whether it drops out of the race. With analyst estimates of only $56M in Q4 and $49M for Q1 2012, STEC is quickly becoming a distant 3rd player.
The storage wars are heating up with the anointed leader a little bruised after reporting last night.
Disclosure: I am long OCZ.
Disclaimer: Please consult a financial advisor before making any investment decisions.