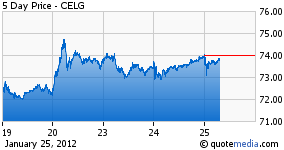 Celgene (NASDAQ:CELG) is expected to report Q4 earnings before the market open on Thursday, January 26 with a conference call scheduled for 9:00 am ET.
Guidance
Analysts are looking for EPS of $1.06 on revenue of $1.29B. The consensus range is $1.01-$1.10 for EPS, and $1.27B-$1.33B for revenue, according to First Call. The company announced preliminary Q4 results earlier this month at the JP Morgan Global Healthcare Conference, reporting Q4 EPS $1.05, Q4 revenue $1.28B, and Revlimid sales up 2% to $855M. It also gave forecasts for FY12, expecting FY12 EPS $4.70-$4.80 vs. consensus $4.68 and FY12 revenue $5.4B-$5.6B vs. consensus $5.47B. Celgene said it expects EPS to grow faster than revenue, and both are expected to exceed 2015 targets of $8.00 in EPS and $8B in revenue. The company also said it expects Abraxane sales to drive the company's sales through 2015. Investors will be looking for more color on these preliminary results and forecasts, including sales numbers for Abraxane, Vidaza, and Thalomid.
On its Q3 earnings conference call, Celgene said it is well positioned for continued outstanding performance with its revenue and momentum remaining strong. It said that U.S. demand for Revlimid and commercial momentum for Abraxane are good. Globally, the company said it will focus on emerging markets in 2012, citing Japan as a particularly strong market. Even though it said Europe's economic situation remains a concern, the company said it sees a return to growth in France. Investors will also be looking to hear if Celgene is in fact looking for deals, as Bloomberg reported earlier this month.
Analyst Views
The company was initiated with a Buy at Auriga and an Overweight at Barclays. The company's price target was also raised at RW Baird, Oppenheimer, and Lazard Capital.