Summary
Biofuel play Renewable Energy (NASDAQ:REGI) priced below its filing range today at $10 versus the $14 mid-point. Biofuels represent a large, if regulated, market. The typical investor concern is ability to scale, yet Renewable has done it and should book over $850M in revenues for 2011 with over $125M in adjusted EBITDA. At the current price the market capitalization of $290M plus the debt yields an EV of $390M which seems very cheap. If the company continues to deliver this level of growth and cash flow ,the shares may have to go up. With an IV of $32, the company may end up buying back shares if it continues to execute.
Positives, Neutrals and Negatives
+ Company has used a combination of growth and acquisitions to create real scale in the biofuel business.
+ Use of multiple feedstocks reduces input pricing risk and volatility while giving the company a cost advantage over most competitors.
+ Fuels are a huge market, and Renewable Energy produces a superior product that can meet most energy needs. The company could easily grow to 2-3x its current size and has identified a few key markets where it is likely to acquire and expand post-IPO.
+ The management team is mature and seems to have good discipline in both risk management and integration of acquired plants.
+ Valuation is low. If we project an average of 20% growth and flat margins, we arrive at an IV of $32 using a 7.5x multiple of operating earnings.
= Demand for biofuels depends on government programs and mandates. Thus, while the demand for energy is organic ,the demand for biofuels is somewhat artificial. It appears to be firmly ensconced in current legislation, but political positions can change.
- Other companies in this space have not done very well -- Amyris (NASDAQ:AMRS), KiOR (NASDAQ:KIOR), and Gevo (NASDAQ:GEVO) -- since their IPOs.
- The company is generating solid returns, but this will always be a capital-intensive business that is subject to cyclical swings in demand, capacity and pricing.
- The market for alternative fuels is very competitive, and many approaches are being used. It's not yet clear which ones will win out long term, and even traditional energy sources like natural gas are being pursued as inexpensive domestic alternatives to oil.
- An acquisition-based strategy can accelerate growth, but investors always fear risks from integration and/or dilution as a byproduct of the strategy.
Click to enlarge: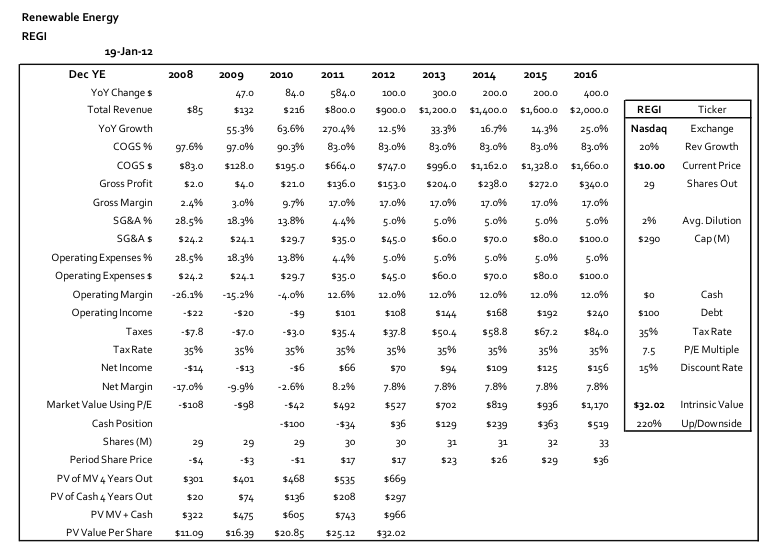 Disclosure: I have no positions in any stocks mentioned, and no plans to initiate any positions within the next 72 hours.
Additional disclosure: The system will not let me select the focus ticker (obvious) and secondary tickers like GEVO, SYZM, AMRS