Altria Group, Inc. (NYSE:MO) is expected to report earnings for last fiscal quarter before the opening bell on January 27, 2012.
Altria Group, Inc., through its subsidiaries, engages in the manufacture and sale of cigarettes, smokeless products, and wine in the United States and internationally. The company was founded in 1919 and is headquartered in Richmond, Virginia.
52 Week High: $30.40
52 Week Low: $23.20
Book Value: $2.15
Float Short: 0.95%
On average, 9 analysts are expecting a drop of $-0.07 in earnings per share compared to last quarter's results of $0.56. The estimated mean earnings are $0.49 per share. Analyst estimates range between $0.47 and $0.51 per share.
The current trailing twelve months P/E ratio is 14.5. The forward P/E ratio has moved down to 13.06. From a month ago, the stock has decreased in price -4.12%, with a change from a year ago of 18.76%. When comparing to the S&P 500, the year to date difference is -7.79%.
If you like a big-paying, relatively consistent stock that produces cash like a printing press year after year, it's hard to find a better one than Altria. Altria currently pays out a yield of 5.8% in dividends. One does have to wonder about the long term prospects, with the government doing everything it can to make it tough for smokers, short of summary executions for lighting up.
It was not long ago that Attorneys General from several states decided to do a "shake down" with big tobacco and sue them for what they claimed to be higher state costs related to smokers. My state of Wisconsin was included in that circus, I am not proud to say. Wisconsin already blew its settlement money by selling out what was basically an annuity to get some quick cash.
The big joke now is maybe smokers actually cost states less money. It appears when the states where so busy thinking about all the money they could get they forgot to figure out that having people around a lot longer uses up more health care benefits, and they collect longer retirement benefits. From a strictly financial point of view, the states and the federal government may end up spending more money due to lower smoker rates.
OK, so why bring up such an inconvenient truth in an earnings article? Because the numbers no longer support lawsuits from government bodies, and the worst may be nearing an end for investor concerns about having their investment crushed at a moment's notice.
The company has rising revenue year-over-year of $24.36 billion for 2010 vs. $23.56 billion for 2009. The bottom line has rising earnings year-over-year of $3.91 billion for 2010 vs. $3.21 billion for 2009. The company's earnings before interest and taxes are rising, with an EBIT year-over-year of $6.23 billion for 2010 vs. $5.46 billion for 2009. Rising revenue along with rising earnings is a very good sign, and what we want to see with our companies. Be sure to check the margins to make sure that the bottom line is keeping up with the top line.
Here is a look at the fiscal year revenue: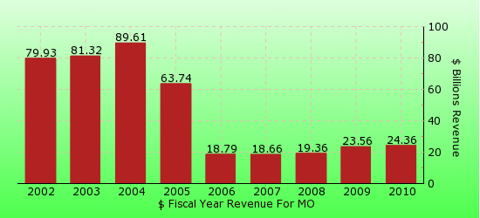 Here is the last few quarters to get an idea how well they perform compared to estimates: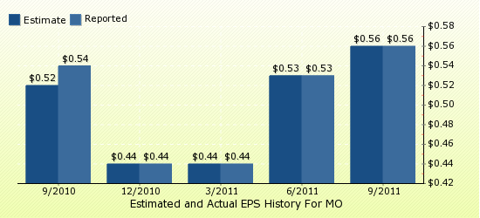 Reported earnings per share compared to the mean estimate. Differences are rounded.
The total short interest number of shares for MO:



The number of days to cover short interest based on average daily trading volume for MO:



I use a proprietary blend of technical analysis, financial crowd behavior, and fundamentals in my short-term trades, and while not totally the same in longer swing trades to investments, the concepts used are similar. You may want to use this article as a starting point of your own research with your financial planner. I use Seeking Alpha, Edgar Online, and Yahoo Finance for most of my data. I use the confirmed symbols from earnings.com that I believe to be of the most interest.
Disclosure: I have no positions in any stocks mentioned, and no plans to initiate any positions within the next 72 hours.