The market has rallied for quite some time now, and we think it is due for a consolidation phase soon. Some stocks have rallied more and are in need of a pullback, as some of them are heavily overbought. Here are three of them:
InvenSense Inc. (NYSE:INVN)
What do they do? From Yahoo: InvenSense, Inc. designs, develops, markets, and sells micro-electro-mechanical systems (MEMS) gyroscopes for motion processing solutions in consumer electronics. The company delivers next-generation motion processing based on its advanced multi-axis gyroscope technology by targeting applications in video game devices, handsets and tablet devices, digital still and video cameras, digital television and set-top box remote controls, 3D mice, portable navigation devices, and household consumer and industrial devices.
The stock went to market at $7.50 as recently as mid November, so the shares have already more than doubled in two months. We think that alone is a reason for a little pause
Some basic metrics (Yahoo):
Market cap $1.25B on nearly 80M shares outstanding
Revenue $130M
Cash $58M (end of quarter), no debt
It generated almost $10M in cash flow a quarter this year (Google)
The stock is expected to earn 11 cents this quarter and 45 cents next year, which gives it a rather sumptuous forward p/e of 36
There is no doubt this is a solid company operating in a growth market, but the stock ran a little ahead of itself and a pause is warranted, even if it might very well get a considerable 'Apple (NASDAQ:AAPL) boost' this morning. One has to realize that the company actually worked with Apple during the development of its own integrated motion processing capabilities for the iPhone4, but lost the contract to STMicroelectronics (NYSE:STM) because the company was deemed too small.
(Click charts to expand)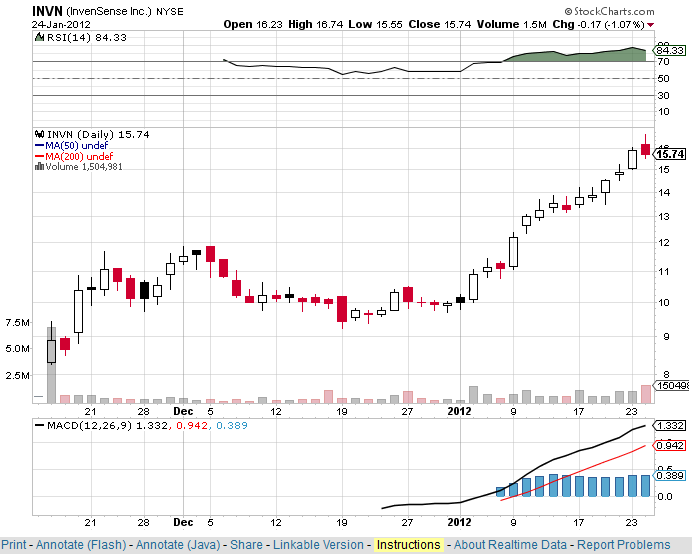 We would write some Feb 17.5 calls but apparently these do not exist and the $20 calls are too cheap. Outright shorting Wednesday after the expected Apple boost is another possibility, but not for too long as we quite like the company.
REX American Resources Corporat (NYSE:REX)
What does it do? It produces ethanol and distillers grains (and also leases real estate).
Some basic metrics (Yahoo):
Market cap $212M with 8.3M shares outstanding
Revenue $335M
Cash $87M but $77M of debt
It did generate some cash from operations and the last quarter $21M or so has been used to retire stock (Google)
The really unexpected metric is the whopping sales growth, expected to be 25% this year and 65% next year
Profit doesn't explode in the same way; EPS expected to be $1.48 this year, rising to $2 next year and $2.25 in 2013.
The sales growth is partly the result of an acquisition (the NuGens ethanol plant). While it had a very good quarter (Q3, with EPS rising to 70 cents from 44 cents in the same quarter 2010), and the shares took off rather spectacularly, rising from $16 to almost $26 in less than two months. However, this should now be well priced in the shares, which are rather overbought (although certainly not terribly expensive). We think an outright short position (there are no options available) is likely to be a good trading idea.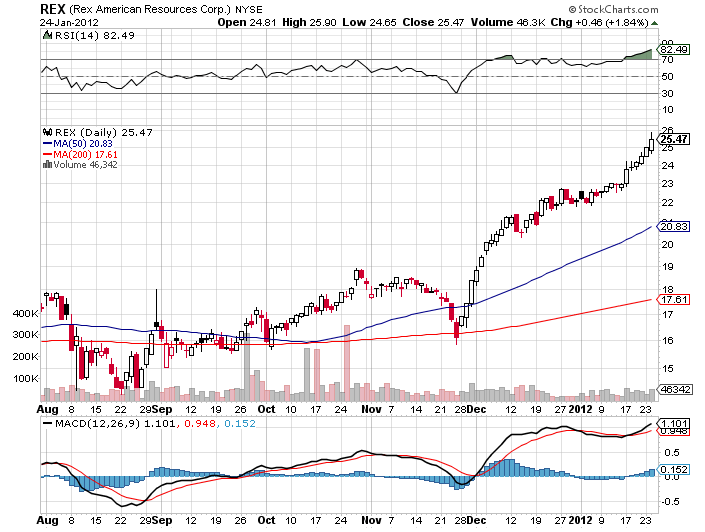 Spanis Broadcasting System Inc. (NASDAQ:SBSA)
Spanish Broadcasting System, Inc. operates as a Hispanic-controlled media and entertainment company in the United States. It owns and operates 21 radio stations located in the Hispanic markets of New York, Los Angeles, Miami, Chicago, San Francisco, and Puerto Rico; and two television stations in the South Florida market that reach approximately 5.6 million Hispanic households in the United States and Puerto Rico. The company also operates LaMusica.com, Mega.tv, and its radio station Websites, which are Spanish and English Websites that provide content related to Latin music, entertainment, news, and culture. In addition, it produces live concerts and events.
Some basic metrics (Yahoo):
Market cap $53.5M on 7.27M shares outstanding
Revenue $137.7M
Cash $63.5M and a whopping $319M in debt
From the Q3 SEC filing, EPS for the first nine months in 2011 was $1.39, which is quite a lot. The shares are very cheap on an EPS basis, but that debt sort of sticks in our throats.
One could say that the Spanish language audience in the U.S. is a bit of a growth market, but the growth isn't that fast.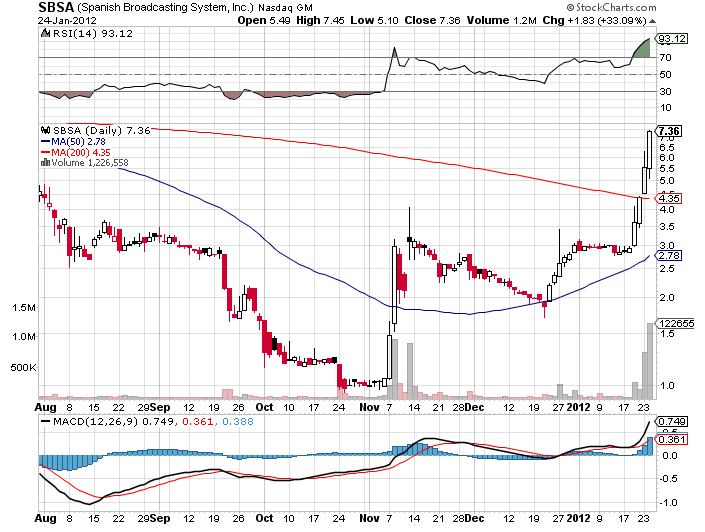 What's behind the gargantuan rise and similarly overbought position (RSI above 90)? Preliminary Q4 results came in and these were pretty good. We doubt whether they were so good as to warrant such a sharp rise in the stock price (from $3 to $7+) in just 4 trading days. In fact, we're pretty sure they weren't that good. So yes, the shares are cheap, but the company has a lot of debt, and the shares are also very overbought. They're due for a pause, at least.
Disclosure: I have no positions in any stocks mentioned, but may initiate a short position in INVN, REX, SBSA over the next 72 hours.