About three months ago, I authored an article, "After the Dividend Cut", that analyzed the total return performance of consistent dividend growth stocks that had cut their dividend between 1999 and 2006. Though the data set was limited, the results were promising, as the group averaged an annualized return of 11% through 2007 versus 6% for the S&P (NYSEARCA:SPY) over the same time period. Through 2010, the results were even better, 10% vs. 3%, however, the data set did not include many financial firms, which caused much of the S&P's decline in recent years.
In this article, I examine the consistent dividend growth firms that cut their dividend between 2007-2010; the list is at the end of this article and in the graphic below. I sourced the list from David Fish's CCC list, which tracks stocks that have cut or frozen their dividend, and from some prior research I did on dividend cutters. This analysis ONLY examines actual dividend cuts, not freezes. The majority of these firms are financials, which provides some contrast to the mostly non-financial stocks in the first analysis.
Note that this analysis only examines performance from the time of the dividend cut announcement, not any losses from price declines that likely preceded the cut announcements. My previous articles on stop-loss and potential dividend cut detection strategies (Part 1, Part 2) offer ideas on how to exit a stock before the dividend cut announcement. Also, the first "After the Dividend Cut" article had a longer recovery time period (6-9 years), whereas this study of recent cutters has an average holding period of just under 3 years. It would be interesting to check this group again in 3 years to see if the total return performance improves relative to the S&P.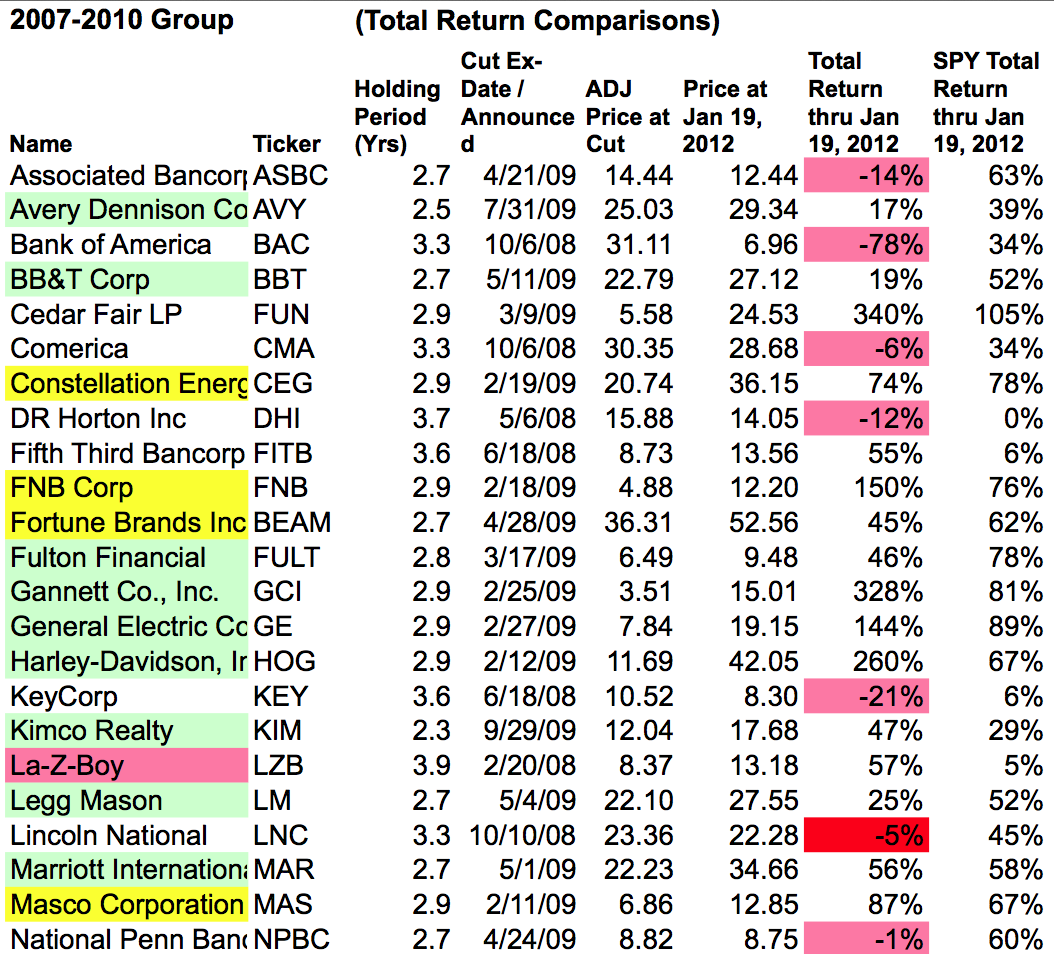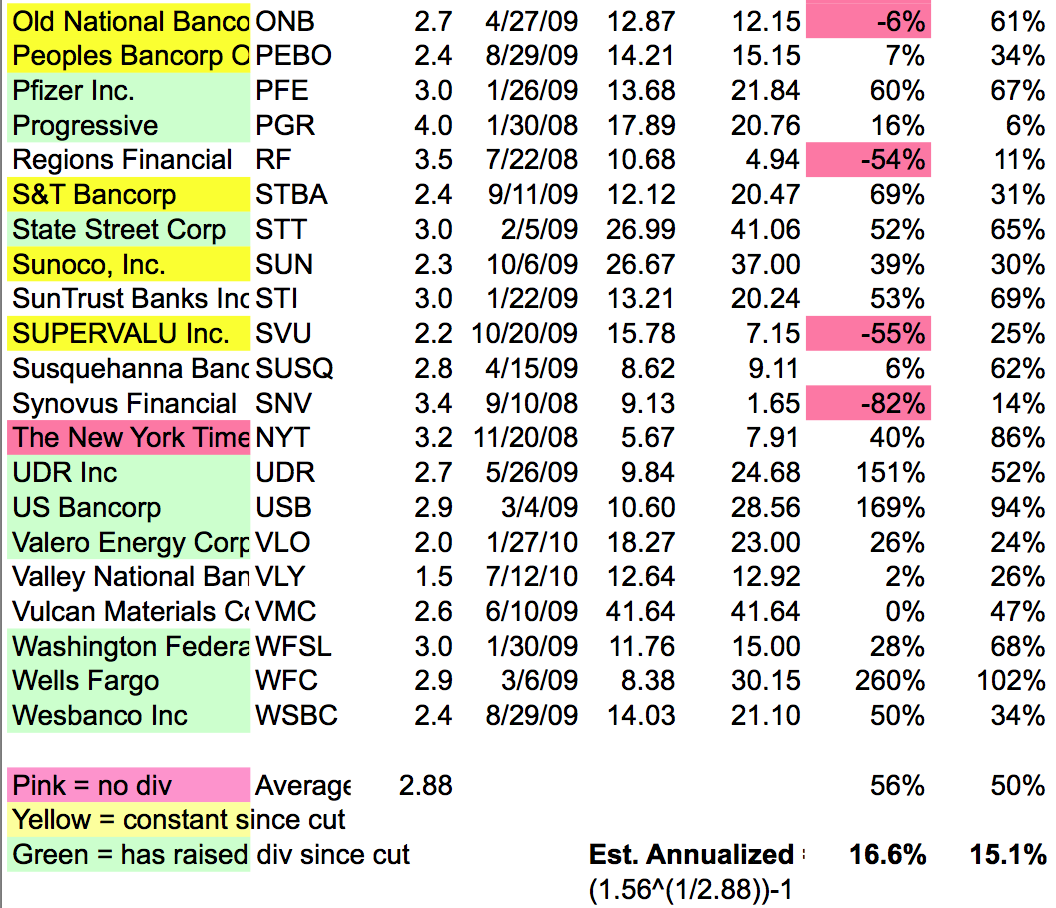 2007-2010 Cutters
The pictures above contain the 2007-2010 dividend cutters, their total return performance through January 19, 2012, and the S&P's performance for the same time period. There were 44 stocks this time with most being financials. This may cause some bias in the results with respect to industry, though the previous analysis had a lack of financials. I color-coded the stocks that totally eliminated their dividend (pink), those that remained constant since the cut (yellow), and those that have since raised their dividend (blue). The unshaded stocks had a second cut, though some have raised their dividend since then; see the notes on the far right.
Observations:
All of the cutters continued paying dividends as of their first cut, though La-Z-Boy (NYSE:LZB) and The New York Times (NYSE:NYT) went on to eliminate their dividend.
41% eventually resumed raising dividends. 75% of the stocks had a positive total return by January 19, 2012.
Of the 11 stocks with negative total return, 9 of them were firms that cut their dividend a second time.
As a group, the average total return through January 19, 2012 was a 56% gain since the first cut announcement date. This translates into approximate annualized gains of 16.6%, slightly higher than the 15.1% annualized return of the S&P for this time period.
The S&P did not have any negative returns and it outperformed 61% of the cutters as of their respective dividend cut announcement dates.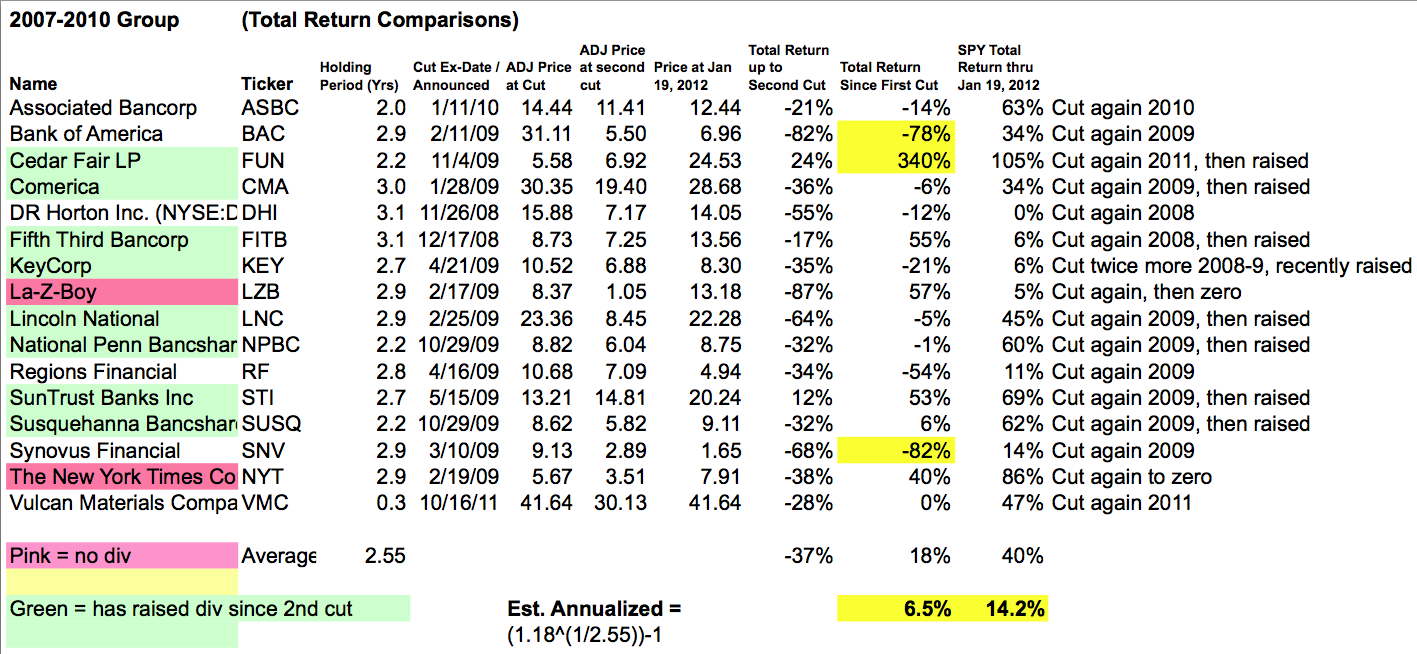 Click to enlarge
(Click to enlarge)
2007-2010 Double Cutters
Isolating the 16 stocks that proceeded to cut their dividend a second time yielded some additional interesting results.
As a group, these stocks produced just a 6.5% annualized return vs. 14.2% for the S&P since the announcement of their respective first dividend cuts. Furthermore, if Cedar Fair's (NYSE:FUN) 340% gain is removed, the group's average annualized return is negative.
The S&P Index outperformed 81% of these stocks for the same time period, and again, had no negative returns.
On average, the stocks declined another -37% between the first and second dividend cut announcements.
Over half of these stocks had a negative total return since the first cut announcement.
Analysis
Given the heavy bias toward financial stocks in this data set, I'm a little reluctant to draw too many conclusions, though in general, the results match what was observed in my earlier analysis of non-financial cutters. Overall, the average total returns of dividend cutters outperformed the S&P for the same holding period, however, there was more variation in the financials group than in the first study and the overall return premium was smaller. 36% went on to cut their dividend a second time, and 25% are still below their price on the first cut date. Due to the magnitude of the 2008-2009 financial crisis and the concentration of banks in this data set, higher variation is not a surprise. Perhaps a takeaway is that if your dividend cutter is in an industry experiencing a crisis, you should let it go. The fact that the SPY at worst produced a 0% return highlights the issues banks experienced relative to the overall market.
For those who intend to hold on to dividend cutters in the hopes of a rebound in the price and/or dividend stream, a key variable appears to be whether the firm cuts or raises their dividend in the near future. This is where more fundamental analyses, both macro and firm-specific, could help to identify the likelihood that the firm's issues will be short-term or if they will get worse. If we could successfully avoid the double-cutters, then the remaining cutter group's returns and performance relative to the S&P increase significantly.
Potential Action Plans
As always, an investor's decision depends on his/her risk tolerance and goals. For those focusing on the income stream, the usual response of selling the stock after a cut may be the best option. If the dividend is not completely eliminated, it's possible that the yield may still be above 3%, as the price will have fallen by the time of the cut. However, the firm is clearly having problems and the investor's reason for owning the stock has been lost, at least temporarily. There is also the risk of a second cut, and based on this data, that would lead to significant underperformance as well as more lost income. Switching to another CCC stock with a comparable or better yield and stronger fundamentals would seem to be the prudent choice. The higher variation of total returns within the financials is also concerning; the overall market performed better with less variation and no negative total returns over the same holding period.
| | | | | |
| --- | --- | --- | --- | --- |
| Top 5 Performers | %gain | | Bottom 5 Performers | %loss |
| Cedar Fair | 340% | | Synovus Financial (NYSE:SNV) | -82% |
| Gannett Co (NYSE:GCI) | 328% | | Bank of America (NYSE:BAC) | -78% |
| Harley Davidson (NYSE:HOG) | 260% | | SUPERVALU (NYSE:SVU) | -55% |
| Wells Fargo (NYSE:WFC) | 260% | | Regions Financial (NYSE:RF) | -54% |
| US Bancorp (NYSE:USB) | 169% | | KeyCorp (NYSE:KEY) | -21% |
For investors who want to speculate on higher total returns relative to the overall market, the data from this study and the previous one suggest that this is possible on average. Those last two words are important, as there were definitely very successful cases and very unsuccessful ones (see table above). Key determinants appear to be whether the firm cuts its dividend a second time, and in the case of this data set, whether the stock was part of an industry experiencing a major crisis. An investor who only purchased non-financial cutters would have fared pretty well over the last decade. Whether the risk is worth the reward is up for debate. Also, while the gain percentages seem impressive, keep in mind that it takes a 400% gain to cancel out an 80% loss.
Personally, I am in the camp that would sell a dividend growth stock that has cut its dividend. If my goal is to invest in consistent dividend growth stocks, then a cutter no longer fits that requirement. However, it is nice to see that the performance of the dividend cutters, on average, is slightly better than that of the overall market, though the increased variation is a concern. I would rather place my money with another CCC stocks that has stronger fundamentals than the cutter, rather than try to ride out the decline and hope that it bounces back. I still believe that the real value is in exiting a dividend stock before a cut occurs, and plan to continue exploring strategies for predicting these events.
Dividend Cutters 2007-2010:
Associated Bancorp (ASBC), Avery Dennison (NYSE:AVY), Bank of America , BB&T (NYSE:BBT), Cedar Fair LP , Comerica (NYSE:CMA), Constellation Energy (NYSE:CEG), DR Horton (NYSE:DHI), Fifth Third Bancorp (NASDAQ:FITB), FNB Corp (NYSE:FNB), Fortune Brands (NYSE:BEAM), Fulton Financial (NASDAQ:FULT), Gannett Co , General Electric (NYSE:GE), Harley-Davidson , KeyCorp , Kimco Realty (NYSE:KIM), La-Z-Boy , Legg Mason (NYSE:LM), Lincoln National (NYSE:LNC), Marriott Intl (NYSE:MAR), Masco Corp (NYSE:MAS), National Penn Bancshares (NASDAQ:NPBC), Old National Bancorp (NYSE:ONB), Peoples Bancorp Ohio (NASDAQ:PEBO), Pfizer (NYSE:PFE), Progressive (NYSE:PGR), Regions Financial , S&T Bancorp (NASDAQ:STBA), State Street Corp (NYSEARCA:SST), Sunoco (NYSE:SUN), SUPERVALU , Susquehanna Bancshares (NASDAQ:SUSQ), Synovus Financial , The New York Times , UDR Inc (NYSE:UDR), US Bancorp , Valero Energy (NYSE:VLO), Valley National Bancorp (NYSE:VLY), Vulcan Materials (NYSE:VMC), Washington Federal (WFSL), Wells Fargo , Wesbanco (NASDAQ:WSBC).
Disclosure: I have no positions in any stocks mentioned, and no plans to initiate any positions within the next 72 hours.