Ford Motor Company (NYSE:F) is scheduled to release last fiscal quarter's results before the opening bell on January 27, 2012.
Ford Motor Company primarily develops, manufactures, distributes, and services vehicles and parts worldwide. It operates in two sectors, Automotive and Financial Services. The company was founded in 1903 and is based in Dearborn, Michigan.
52 Week High: $18.88
52 Week Low: $9.05
Book Value: $1.57
Float Short: 3.45%
On average, 13 analysts are expecting a drop of $-0.19 in earnings per share compared to last quarter's results of $0.46. Investors will be looking to see a number north of $0.27 per share, based on the earnings estimates. Analyst estimates range between $0.18 and $0.40 per share.
One analyst that is not counted in the 13, but maybe should, be is Curt Beilke, who sells Fords at more than one dealership in Northern Wisconsin. Ford trucks and SUVs count for more net profits than their share by unit sold so getting a handle on what the inventory looks like at Courtesy Auto and availability to get more has done a very good job for me in getting a sense of what to expect. All-wheel-drive vehicles, as many would imagine, are very good sellers in this part of the country. I don't use Curt in isolation, though; I know two other dealers that I talk to in other parts of the country in addition to all the other standard research I do.
I am bearish on the industry and will remain so until the central planners get out of the industry (well, at least less involved like actually having ownership). Otherwise I am bullish with Ford. I believe Ford beats the mean estimate and pullbacks in price spell buying opportunity via selling put options. I like the dividend on top of the relatively low price. An extended move under the 200 day moving average of about $12 would shift my viewpoint.
From a month ago, the stock has increased in price 15.62%, and moving in price -29.47% from one year ago.
The stock has done very well as compared to the overall market. When comparing to the S&P 500, the year to date difference is 12.44%.
Investors have been rewarded with an increase of year-over-year revenue. Revenue reported was $128.95 billion for 2010 vs. $116.28 billion for 2009. The bottom line has rising earnings year-over-year of $6.56 billion for 2010 vs. $2.72 billion for 2009. The company's earnings before interest and taxes are rising, with an EBIT year-over-year of $6.66 billion for 2010 vs. $-3.43 billion for 2009. Rising revenue along with rising earnings is a very good sign, and what we want to see with our companies. Be sure to check the margins to make sure that the bottom line is keeping up with the top line.
Here is a look at the fiscal year revenue: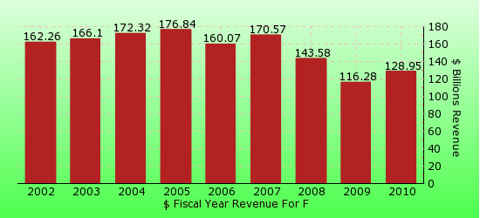 Here is the last few quarters to get an idea how well they perform compared to estimates: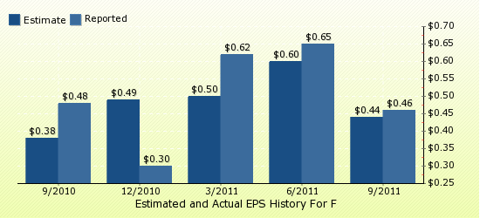 Reported earnings per share compared to the mean estimate. Differences are rounded.
The total short interest number of shares for F:



The number of days to cover short interest based on average daily trading volume for F:



I use a proprietary blend of technical analysis, financial crowd behavior, and fundamentals in my short-term trades, and while not totally the same in longer swing trades to investments, the concepts used are similar. You may want to use this article as a starting point of your own research with your financial planner. I use Seeking Alpha, Edgar Online, and Yahoo Finance for most of my data. I use the confirmed symbols from earnings.com that I believe to be of the most interest.
Disclosure: I have no positions in any stocks mentioned, and no plans to initiate any positions within the next 72 hours.