Mortgage REITs own the mortgages on real estate rather than the property. Some mortgage REITs concentrate on commercial mortgages, while others concentrate on residential property mortgages. Agency mortgages are backed by federal agencies, while non-agency debt has no such backing.
Most of these mREITs have recently performed poorly over the last month and into the strong sell-off within August. Mortgage REITs have been hit by added risks such as the debt ceiling debate, debt downgrading, interest rate fluctuations hurting spreads and further real estate weakness causing defaults and reduced MBS paper value.
Most mortgage REITs produce high yield returns by leveraging a spread. The spread is the profit margin the REIT can achieve between the rate on the money they borrow and the rate paid by the mortgage paper they hold. For example, if a company can borrow at 3% and buy paper that yields 5%, the spread is 2%. The level of leverage used by the REIT then multiplies that spread payout. A major risk for mortgage REITs has been that the spreads will get hurt due to increasing interest rates decreasing the spreads due to a raise in borrowing costs.
On Wednesday, January 25, 2012, Ben Bernanke added some greater certainty to U.S. interest rate policy. Prior to today, the Federal Reserve comment as to the interest rate was that it would keep the Federal Funds Rate near zero through mid 2013. The reasoning by the Fed was due to a diminished economic outlook. Bernanke now extended this federal Reserve policy into 2014.
This is arguably a good or bad policy for the nation, but it is most certainly good for most Mortgage REIT spreads, by ensuring that the borrowing rates will stay low for the next few years. Lower rates would also mean longer term and higher yielding paper should increase in value in the short term.
Mortgage REITs (mREITs) buy mortgage paper as an investment, or in order to re-securitize RMBSs and sell them. Agency mREITs, such as Annaly Capital Management, Inc. (NYSE:NLY), American Capital Agency Corp (NASDAQ:AGNC), Capstead Mortgage Corp (NYSE:CMO) and Hatteras Financial Corp (NYSE:HTS), exclusively buy and hold mortgage paper that is backed by federal agencies. Hybrid and/or non-agency mREITs, such Chimera (NYSE:CIM) and MFA Financial (NYSE:MFA) also hold mortgage paper that has no government agency backing. ETFs also exist for the industry, including the iShares Mortgage REIT ETF (NYSEARCA:REM). See the recent chart for REM, below:
Click to enlarge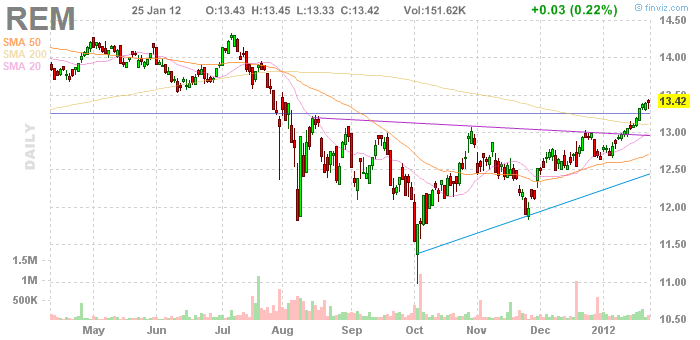 Click to enlarge
The lessened uncertainty that the Fed now eliminated is of special note to these mREITs as it is one of their greatest risks. This should also help mREITs maintain their spreads by securing short-term prices. Additionally, this makes the high yield aspect of these mREITs even more appealing, and the risk free rate will be under continued pressure going forward.
Most of these REITs achieve their double-digit yields through the implementation of significant leveraged spreads. This is especially the case for agency REITs, which usually have lower spreads than those holding higher yielding and often junk rated non-agency RMBSs. The above-mentioned agency REITs all have leverage rates from 5x to 10x when last reported, with possible increases in the prior quarter due to some secondary offerings and some expected prepayments. Most hybrid mREITs have leverage rates below five.
REITs must distribute at least 90% of their taxable income in order to eliminate the need to pay income tax at the corporate level. Under the current tax laws, mortgage REIT dividends are taxed as ordinary income, and not at the lower corporate dividend rate.
Disclaimer: This article is intended to be informative and should not be construed as personalized advice as it does not take into account your specific situation or objectives.