We decided to take a look at five companies reporting earnings on Friday to see if they have had any consistent trends during their January earnings releases over the past 10 years. The companies profiled in today's story include Chevron Corporation (NYSE:CVX), Procter & Gamble Company (NYSE:PG), Altria Group, Inc. (NYSE:MO), Ford Motor Co. (NYSE:F) and Honeywell International Inc. (NYSE:HON). We took a look at the movements for each of these companies made over the past 10 years during the day following earnings, the week following earnings, and the period between today's date and the previous 10 February options expirations dates.
Click to enlarge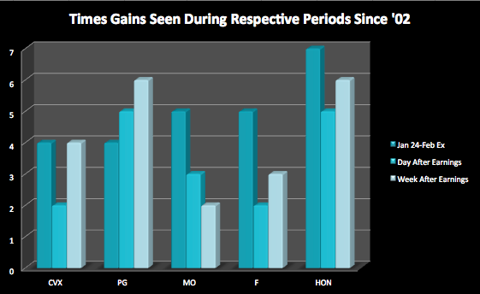 This first chart depicts the times each of the companies saw gains during each of the three periods described previously (this data spans over the past 10 years).
The most consistent company over these periods has been HON, showing gains at least 50% of the time over each of the periods and gains seven out of 10 times when approaching its February options expiration date.
The least consistent company during these periods is CVX, showing losses 80% of the time the day after reporting earnings, and gains only 10 out of the possible 30 periods.
The next chart gives a better understanding of how these companies are performing during these periods: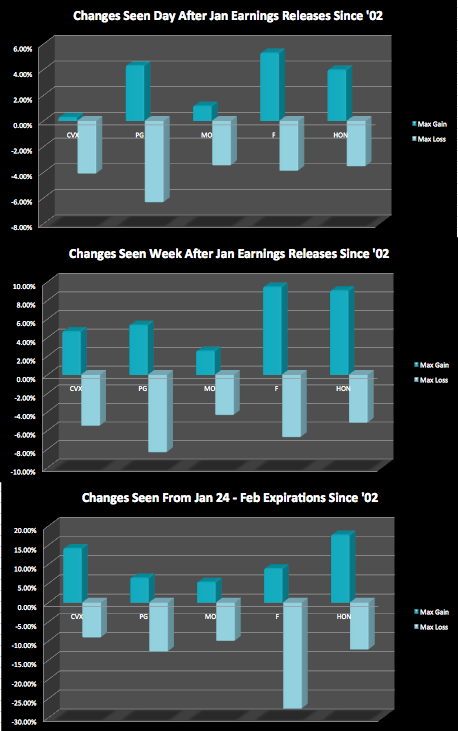 These charts each depict the maximum gains and losses seen during each of the periods over the past 10 years.
The only company to have greater maximum gains than losses over each of the periods is HON, showing gains up to 15%-plus the week after their earnings release.
The worst performing companies, showing greater maximum losses than gains over each period, are PG and MO.
The largest moving stock during the periods is F which has seen up to -28% losses the week after earnings in 2009 and 9% gains rallying into options expiration.
How can we trade this information?
HON has only dropped into February expirations three times, and its largest loss was January 2009 for -12%. Seeing this was its only large loss to the downside and it has a lot of support above $54.00, we would like to sell the Feb 18 $52.50 Puts. It would need to drop below both its 50 and 200 Day SMA and reach its 10 year max losses through earnings.
MO's largest gain into mid-February is 5.4% back in 2002, beyond that they have only seen 1-2% gains. To the downside, they have seen over 10%-plus losses into February expiration, and MO has just broken below its 50 Day SMA with little support below it. We would like to short MO and look for a conservative 2% gain for our first target toward $27.64, with a stop loss at $29.15.
Disclosure: I am long HON.
Additional disclosure: Short MO.