Many people have been considering gold miners as an investment. Gold has appreciated to a greater degree than have the gold miners, largely based upon a broad expectation that gold prices will not sustain this present price-range. Nonetheless, should gold prices not fall considerably, then this significant disconnect should narrow.
If rising gold prices occur, then the miners should eventually benefit more dramatically than those future gold increases. If they are now priced with the expectation that gold should fall, miners could soon begin to increase in price even if gold stays in its present range for the next year. With future increases, the game of catch-up could be significant, especially if fueled by any future quantitative easing announcements.
On Wednesday, January 25, 2012, Ben Bernanke added some greater certainty to U.S. interest rate policy. The fed commented that it would keep the Federal Funds Rate near zero through 2014, extending the low rate period from what was formerly stated to end in mid-2013. This should help lower interest rates, further pushing individuals to other assets in order to store and grow savings.
Below are seven large-cap gold miners traded in the United States: Barrick Gold (NYSE:ABX), Goldcrop. (NYSE:GG), Newmont (NYSE:NEM), Kinross (NYSE:KGC), AngloGold Ashanti (NYSE:AU), Yamana Gold (NYSE:AUY) and Agnico-Eagle Mines (NYSE:AEM). I have provided their present yields, as well as their 1-week, YTD, 3-month and 6-month performance rates. I have also provided the performance rates for the gold via the Gold ETF (NYSEARCA:GLD).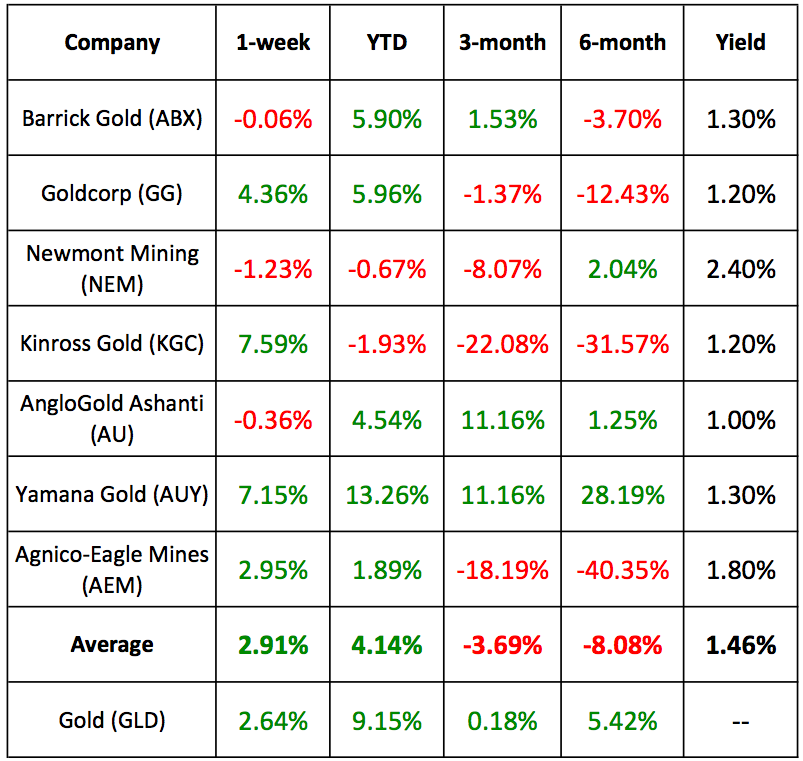 Click to enlarge
These mining companies may suffer risks that a pure commodity will not, such as political risks, mine productivity, distribution costs, management negligence and fraud. Recent miner performance has varied dramatically from company to company, with gold consistently beating the majority over the last 2 years.
Any further strength in gold should bode well for the profit margins of the gold miners, eventually increasing market valuations to reflect gold's continued appreciation. Still, the opposite can be said if gold depreciates or if oil were to spike, unduly increasing production and distribution costs, or other industry risks. Nonetheless, both miner equities and gold should benefit from any continued quantitative easing during this low interest period.
These large miners do provide a dividend that beats most savings acounts, but below many large and established dividend paying equities. Gold does not provide a yield and also often even requires allocators to pay storage costs that are akin to a management fee.
Disclosure: I have no positions in any stocks mentioned, and no plans to initiate any positions within the next 72 hours.
Disclaimer: This article is intended to be informative and should not be construed as personalized advice, as it does not take into account your specific situation or objectives.