Gold is currently climbing out of the eleventh 10% correction since 2003. Gold has always bounced back and soared higher each time. Gold has been up 10 out of the last 10 years. I was bullish on silver and gold, but with the latest Fed decision, I am extremely bullish. It's almost a no brainier. I believe gold and silver at their current levels provide an excellent buying opportunity. Several geopolitical and macroeconomic catalysts have ignited my interest in precious metals, specifically silver and gold. The time is now to buy silver and gold.
Gold and Silver's Recent Performance Overview
According to a recent Reuters report, Gold rallied 2% on Wednesday, rising above $1,700 an ounce for the first time since mid-December after the U.S. Federal Reserve said it will likely not raise rates for longer than previously expected due to a sluggish economic recovery. Please review the following excerpt:
Bullion sharply outperformed equities and industrial commodities after the Fed said it was unlikely to raise interest rates until at least late 2014. The central bank repeated its view that the U.S. economy faces "significant downside risks."

"From an equity standpoint, it's not a good story as the Fed was anticipating a much slower rate of growth than the market was," said Frank McGhee, head precious metals trader at Integrated Brokerage Services LLC.

"Gold was reacting to the Fed's guidance of historically low rates all the way until 2014, which suggests that there will be plenty of investment money around for an extended period of time," he said.

Gold received a boost after the central bank appeared more upbeat on the inflation outlook, suggesting prices were now rising at a pace consistent with policymakers' goals. Spot gold was up 1.7% at $1,693.90 an ounce, after climbing to a session high of $1,703.71, the highest since Dec. 12. U.S. February gold futures rose $35.60 to settle at $1,700.10 an ounce in decent trading volume. Gold is now up 9% for the year, after the metal briefly entered a bear market and fell 10% in December as the metal had appeared to lose its safe-haven status.

Silver rose 3.4% on the day to $33.09 an ounce. Platinum reversed earlier declines to rise 1.1% on the day to $1,561.74 an ounce, while palladium was up 1.1% at $684.72 an ounce.
Major Macro Catalysts For Precious Metals
Gold has been up 10 out of the last 10 years. As fiat currencies continue to devalue, gold will march higher in value. No fiat currency in history has survived to date.
Many hedge funds and major market participants have had to liquidate their gold positions recently due to the global liquidity crunch created by the eurozone debacle. Therefore, this is not an outright fundamental issue with gold but a temporary technical phenomenon that will soon dissipate.
Recently many central banks of emerging markets lowered their interest rates, consequently lowering the cost of borrowing. In most cases inflation will outstrip the yield on savings, creating negative real interest rates. Thus, investors will take flight to precious metals and protect their wealth from devaluation.
Gold is incredibly under-owned by institutions relative to historic levels and relative to differing asset classes.
The long-term trend of the U.S. dollar is lower. Conversely, the long term trend for gold is up. As the dollar's value continues to dwindle and worldwide economies recover, investor focus will swing from deflation to inflation which bodes well for gold.
The deviation between mining stocks and gold is huge by historical standards. In due course, this trend will reverse and the gap will return to normal levels. Miners burnt by recent earnings misses have curtailed their growth forecasts and earnings outlooks which will accelerate the pace of rebound as they exceed their lowered expectations.
As the middle classes of China and India emerge, their demand for gold will rise exponentially. Special occasion gifts are mostly conveyed in gold in these countries. India is the largest importer of gold peaking at nearly 850 tons per year.
Gold is currently trading above its 300 day moving average, which has held up for many years. This a good reference point to start layering into a new position based on strong historical resistance.
Seven Solid Silver And Gold Investment Vehicles To Consider
My precious metals stock picks are as follows: Market Vectors Gold Miners ETF (NYSEARCA:GDX), SPDR Gold Shares (NYSEARCA:GLD), iShares Silver Trust (NYSEARCA:SLV), Barrick Gold Corporation (NYSE:ABX), Newmont Mining Corp. (NYSE:NEM), Goldcorp Inc. (NYSE:GG) and Silver Wheaton Corp. (NYSE:SLW). Please review the following detailed descriptions of each company or ETF followed by a chart of the 52-week performance and fundamental statistics. These investment vehicles provide a diverse set of precious metal plays that are highly correlated to precious metal spot prices.
SPDR Gold Shares - The investment seeks to replicate the performance, net of expenses, of the price of gold bullion. The trust holds gold, and is expected to issue baskets in exchange for deposits of gold, and to distribute gold in connection with redemption of baskets. The gold held by the trust will only be sold on an as-needed basis to pay trust expenses, in the event the trust terminates and liquidates its assets, or as otherwise required by law or regulation.
Chart - Summary Statistics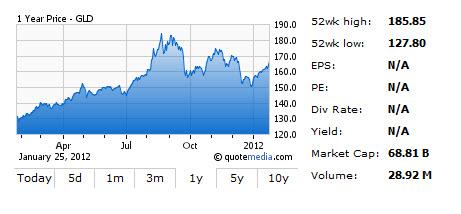 iShares Silver Trust - The investment seeks to reflect the price of silver owned by the trust less the trust expenses and liabilities. The fund is intended to constitute a simple and cost-effective means of making an investment similar to an investment in silver. Although the fund is not the exact equivalent of an investment in silver, it provides investors with an alternative that allows a level of participation in the silver market through the securities market.
Chart - Summary Statistics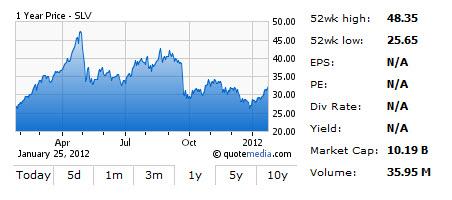 Market Vectors Gold Miners ETF - The investment seeks to replicate as closely as possible, before fees and expenses, the price and yield performance of the NYSE Arca Gold Miners Index. The fund generally normally invests at least 80% of its total assets in common stocks and American depositary receipts of companies involved in the gold mining industry. It is non-diversified.
Chart - Summary Statistics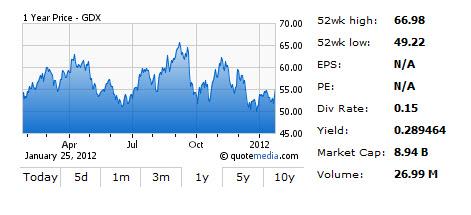 Barrick Gold Corporation engages in the production and sale of gold, as well as related activities, such as exploration and mine development. The company has a portfolio of 25 operating mines and a pipeline of projects located in North America, South America, the Australia Pacific region and Africa.
Chart - Summary Statistics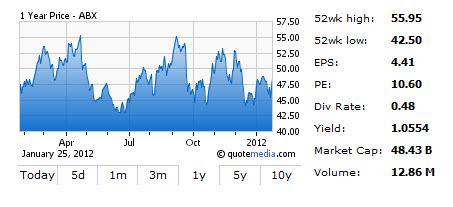 Newmont Mining Corporation, together with its subsidiaries, engages in the acquisition, exploration and production of gold and copper properties. The company's assets or operations are located in the United States, Australia, Peru, Indonesia, Ghana, Canada, New Zealand and Mexico. As of December 31, 2009, it had proven and probable gold reserves of approximately 93.5 million equity ounces and an aggregate land position of approximately 27,500 square miles. The company was founded in 1916 and is headquartered in Greenwood Village, Colorado.
Chart - Summary Statistics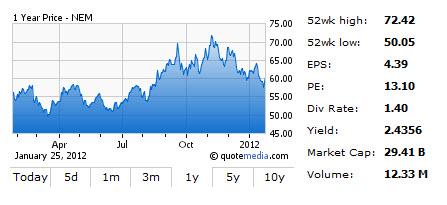 Goldcorp Inc. engages in the acquisition, exploration, development and operation of precious metal properties in Canada, the United States, Mexico and Central and South America.
Chart - Summary Statistics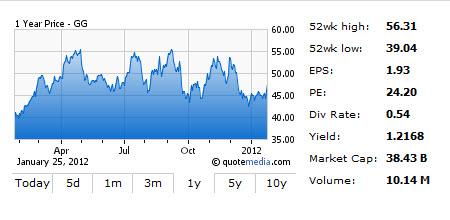 Silver Wheaton Corp., together with its subsidiaries, operates as a silver streaming company worldwide. The company has 14 long-term silver purchase agreements and two long-term precious metal purchase agreements whereby it acquires silver and gold production from counterparties located in Mexico, the United States, Canada, Greece, Sweden, Peru, Chile, Argentina and Portugal.
Chart - Summary Statistics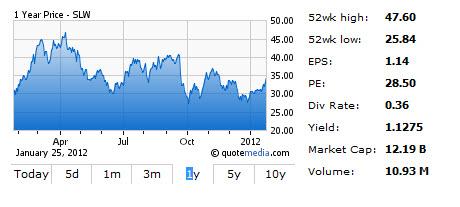 Conclusion
I believe these stocks present a buying opportunity. My price target for gold and silver in 2012 is $2,000 and $50, respectively. I am considering buying a basket of these stocks and layering into positions a quarter at a time over a month long period to reduce risk. Many spiked up today on the Fed news, I would wait a few days for the froth to subside as the short term traders take profits and move on.
Please use this information as a starting point for your own due diligence and research methods before determining whether or not to buy or sell a security.
Disclosure: I have no positions in any stocks mentioned, and no plans to initiate any positions within the next 72 hours.