On December 6, 2011, I published what might go down as one of my most well-received Seeking Alpha articles ever. In Apple Not A Buy-And-Hold Investment? That's News To Me, I took fellow SA contributor and Reuters blogger Felix Salmon to task for not only being wishy-washy about Apple (NASDAQ:AAPL), but for saying, in relation to the stock:
... you have a trading vehicle, rather than a long-term play. Buy now, and sell when it reaches X. But the problem here is that no one has a clue what X might be. And if Apple is fundamentally a stock for speculators, rather than a buy-and-hold investment, then at that point things like P/E ratios cease to matter: All anybody cares about is momentum, and whether it's going up or going down.
With all due respect, nearly two months gone by and that remains one of the craziest statements I have ever read in my life.
At the time, I retorted:
... Salmon employs the word "if" to suggest that "fundamentally," Apple might just be "a stock for speculators, rather than a buy-and-hold investment..."

After stopping short of taking a stand by wondering "if" indeed Apple is merely a trading vehicle, Salmon, sort of, takes on the question of an uncertain future ... he shifts his concerns over uncertainty from "what X might be" to the question of whether or not Apple can follow up iPhone and iPad's success with something equally as big, just as it did after iPod sales petered out ...

If Apple is not worthy of buy-and-hold status ... suggest some other places where investors can put their money to generate something even close to Apple-like returns over the next 5, 10, 15 or 20 years ... Uncertainty over the future trajectory of a company is not an Apple problem. Rather, it's as elementary as questioning our existence here on Earth. And, based on the abysmal competition Apple faces and its ubiquitous brand, its future looks a heck of a lot more certain than a majority of its counterparts, inside and outside of tech.
I made these assertions alongside a chart that showed AAPL crushing all of the major stock indices as well as relatively stable, dividend-paying stocks like McDonald's (NYSE:MCD) and Procter & Gamble (NYSE:PG). And the trend shown in that chart continues. AAPL closed trading on December 6, 2011, at $390.95. At that point, buy-and-hold investors who had purchased the stock just six months earlier, when it closed at $338.04, were sitting on impressive gains. Since December 6, 2011, AAPL has returned 14.2%, based on its January 25, 2012, closing price of $446.66. And I calculate that with the stock having given up some ground, naturally, intraday Wednesday.
Really, the only way you actually could have gone wrong with AAPL is buy trading it or holding it relatively short-term. Consider the stock's price history during the six-month period, June 6, 2011, to December 6, 2011.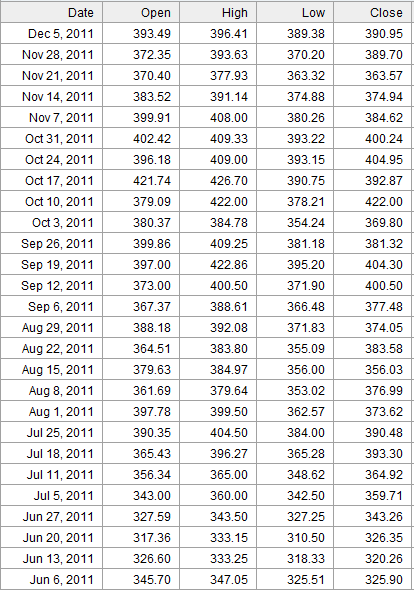 You would have had to be quite the nimble trader to navigate that mess with its surges, swoons, fits, starts and intraday volatility. But, if you bought and hold, you're looking good. You could have bought AAPL on June 6, 2011, sold it on December 6, 2011, and your 20% gain would have held up well against most other investments, particularly major indices. The Nasdaq 100 (NASDAQ:QQQ), for instance, returned 6% over those six months and I am rounding up generously in several places.
Slice it any which way you like, few stocks (or ETFs or mutual funds or cattle futures) serve as better buy-and-hold investments than AAPL. And that's because the company that drives the stock is, by leaps and bounds, the best America has to offer the world. By now, you've seen the numbers and you've heard that Apple is "examining all uses of (its) cash balance." The best part of that discussion, however, is when CFO Peter Oppenheimer said this:
And in the meantime, we're not letting it burn a hole in our pockets.
That statement, even if unintended, packs a powerful punch.
As a retail shareholder, you should have very little concern over whether or not Apple pays a dividend, buys back stock or sends you fifty bucks with your proxy statement. When a company generates the type of buy-and-hold results and delivers record and seemingly more-than-sustainable growth like Apple, none of that matters. What's an extra few hundred dollars a year on your meager lot of shares?
Let Apple continue along on the prudent and responsible path that deserves a lion's share of credit for getting it to the point it's at now. It makes me chuckle when I hear Sirius XM (NASDAQ:SIRI) executives talk about "returning capital to shareholders." They truly must be employing dry humor. That company has roughly $3 billion in debt (I don't care if they refinanced it out to 2050) and we'll round up really, really generously and call it a billion in cash. Apple has about $100 billion not burning a hole in its pocket alongside zero debt and it seems more reluctant to pay a dividend than you are to let your spouse drive your Mercedes.
Companies like Sirius XM have no business whatsoever "returning capital to shareholders." If I were long, I'd send it back in protest. While Apple could do it with no controversy, it has, thus far, chosen not to. I think the company has good reasons for that. Of course, we do not know what those reasons are, but they certainly will not make a decision on a dividend or buyback until they're about ready to let us all find out.
Apple does not need to take concerted action to pump up its stock price. It does not have to soothe pesky and annoying shareholders frustrated with lackluster returns. All Apple needs to do is keep rewarding buy-and-hold investors with business results that no other company can even dream of coming close to.
Disclosure: I have no positions in any stocks mentioned, and no plans to initiate any positions within the next 72 hours.