Xerox (NYSE:XRX) reported fourth-quarter results Wednesday that showed strong earnings growth but flat revenue performance. We continue to believe the shares look undervalued. In the spirit of transparency, we make available our DCF model template here.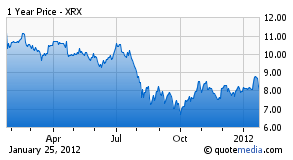 Revenue growth from the company's services businesses advanced 6% in the quarter, but such growth was offset by a 5% decline in revenue from its technology businesses. Strength in the firm's services businesses was driven by an increase in both business process outsourcing and document outsourcing, while its technology business saw weakness in the sale of document systems and supplies. Management blamed the poor economic environment in Europe for its subpar revenue performance.
We continue to like Xerox's services portfolio and believe that it has a competitive advantage in providing its clients cost-efficient ways to more productively run their enterprises. However, the increased services signings continue to pressure gross margins due to the large upfront costs to initiate such contracts. The firm's fourth-quarter gross margin fell to 32.2% from 33.6%, a decline of 140 basis points. The firm's operating margin also fell 40 basis points, to 10%, as lower research & development and overhead costs failed to mitigate the gross-margin weakness. On an adjusted basis, the firm earned $0.33 per share, up 14% from the same period a year ago and matching consensus expectations. Xerox continues to be a cash cow, hauling in over $1.6 billion in free cash flow during 2011.
Looking ahead, the company expects first-quarter 2012 adjusted earnings per share in the range of $0.21 to $0.24 (consensus was at $0.24), while full-year 2012 adjusted earnings per share are expected to grow about 9% on the high end of its guided range of $1.12 to $1.18 (consensus was at $1.16), including restructuring. The firm's cash-flow outlook was particularly impressive, with the firm anticipating nearly $2.3 billion in cash flow from operations in 2012; this compares to $1.96 billion in cash flow from operations in 2011.
Overall, we're still cautious on Xerox. For one, we'd like to see more sustainable revenue expansion, and we're not yet sure how results will shape up after the annual lapping of its defined-benefit pension plans freeze and its multi-thousand worker layoff. Plus, Xerox's massive debt load will continue to inhibit restructuring efforts and strategic initiatives. That said, we'd be looking to add the firm to the portfolio of our Best Ideas Newsletter on any substantial weakness in the shares and the announcement of more devoted efforts by management to reduce its debt load.
<< Our 16-page Report on Xerox (XRX)
Disclosure: I have no positions in any stocks mentioned, and no plans to initiate any positions within the next 72 hours.