Barron's had an article this week highlighting the "Lucky 13" portfolio of the Investment Quality Trends ("IQT") newsletter, which is published by managing editor, Kelley Wright. IQT is a 46-year-old publication with an investment strategy focused on dividends and dividend yield and it is consistently highly rated among investment newsletters.
From the article:
Writing in IQT's mid-January edition, Wright observes that while stocks are entering 2012 on the rise, unresolved euro-zone problems probably will spawn "some white-knuckle moments in the first half of the year." But, he adds, that "will provide an opportunity to acquire some of the great cyclical and industrial companies at prices and yields that will not be revisited for a considerable period of time."

Unfortunately, as occurred in 1975 through 1982, much of the public will miss this opportunity, he opines, by being out of the market. However, this time around, stocks won't "languish in purgatory for seven years. Redemption and resurrection will come sooner, much sooner." In fact, he continues, "I believe we will see another Golden Era for select blue chips."
We agree with Mr. Wright that 2012 could end up being a volatile year for stocks and that patient investors will be rewarded handsomely.
The U.S. economy continues to have significant headwinds (e.g., high unemployment, European credit contagion, weak housing market, high debt levels, etc.) and the current "relief rally" is likely to be short-lived.
In fact, the Fed announced yesterday that it would keep interest rates near zero until at least the end of 2014 due to unfavorable economic conditions.
While this ultra low interest rate environment is not ideal for retirees and other income investors, it's still possible to find good risk-adjusted yield in high-quality dividend stocks.
That said, it is important for income investors to choose their dividend stocks wisely as they are putting new money to work. As volatility increases (especially downside volatility), income investors should add some low beta stocks to their holdings to help dampen portfolio volatility. In general, companies with low betas will tend to be less volatile than the general market.
The "Lucky 13"
The Lucky 13 portfolio, which has an average annual return of 11% since its January 2000 inception, is made up of 13 stocks that IQT recommends buying at the end of December each year and holding until the following December. The Lucky 13 portfolio posted an 11.5% return in 2011 and produced the 10th year of positive total returns in the portfolio's 12-year history.
Below are the 13 picks for 2012...drumroll please!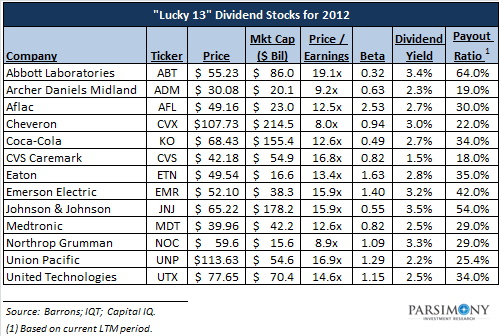 On average, the Lucky 13 portfolio has a dividend yield of 2.7% and a beta of 1.16. In addition, the portfolio has a very low payout ratio of 33.5%, so there is definitely room for dividend growth in the future with these stocks.
We admit that we only currently own 2 of the Lucky 13 - Abbott Laboratories (NYSE:ABT) and Johnson & Johnson (NYSE:JNJ). However, several others are on our short watchlist including Cheveron (NYSE:CVX), Coca-Cola (NYSE:KO), and Archer Daniels Midland (NYSE:ADM).
As we have discussed in past articles, we prefer stocks with low betas because they tend to be less volatile in a market downturn. That said, we would probably stay away from the higher beta stocks on the list such as Aflac (NYSE:AFL), Eaton (NYSE:ETN), Emerson Electric (NYSE:EMR) and Union Pacific (NYSE:UNP).
Investors should use this list as a starting point for their own analysis. Feel free to respond in the comments below if you hold some of these stocks and want to share any insight with other readers.