In each of the past two years, Collectors Universe (NASDAQ:CLCT) has declared its dividend for the third quarter on the morning of January 25th. That date has now come and gone and this dividend announcement should be imminent.
Any time that a company cuts its dividend the share price is likely to take a major hit and I believe this effect would be especially true for Collectors Universe. Take a look at the 1-year chart below with ex-dividend dates listed with the "D" and how easy it is to see that the stock slumps in between payouts: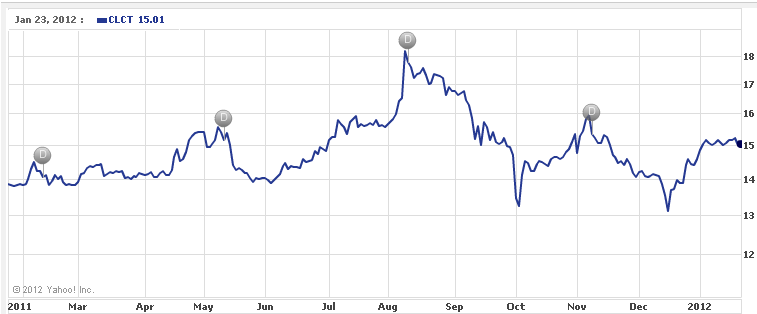 click to enlarge
Because of how dependent the stock clearly is on this dividend, it is crucial for investors to watch for the dividend announcement carefully. As I have stated in previous articles, this may not be the most stable dividend on the planet but I do not believe it is in question, at least not at this point in time. In this article I look at some basic scenarios of how the share price might be affected by a dividend cut. I've included some of that analysis here but please see that article for more information.
Let's take a look at what a dividend cut would do to the price if shares still yield 8.5%. If the dividend were cut by 10% it would yield $1.17 annually and, at our assumed 8.5%, shares would trade at $13.75. If the dividend were cut by 25% to $.975 annually, with our assumed 8.5% yield it would trade at $11.47. If the dividend were cut by 50% to only $.65 annually, our assumed 8.5% yield would have shares trading at around $7.65.

The question becomes...do you think this dividend is in question? And if so, by how much? If the company paid out in dividend everything it made in earnings over the past 4 quarters (Q2, Q3, Q4 FY2011 & Q1 FY2012*) the dividend would be $6.24M as opposed to the current $10.4M, which works out to about $.78 per share annually. Based on our 8.5% assumed yield, CLCT would trade at around $9.20.

*For the purposes of this example I am adding back in the $1.4M impairment charge from FY11 Q4 that would have otherwise been operating income. I am using the most recent number of shares outstanding, 8,085,676.
Some point to a high Price-to-Earnings (P/E) multiple to make the case that the shares are overvalued (currently almost 22x). While this may be true, I also think that the P/E ignores the $1.4M impairment/write-down that so drastically affected the FY11 Q4 earnings. Others have suggested that earnings are too low to support the dividend.
| | | |
| --- | --- | --- |
| Quarter | EPS | Dividend Per Share |
| FY12 Q1 | .19 | .325 |
| FY11 Q4 | .14* | .325 |
| FY11 Q3 | .25 | .325 |
| FY11 Q2 | .12 | .325 |
| FY11 Q1 | .14 | .30 |
* Without an impairment charge/write down in the value of its Expos brand, the FY11 Q4 EPS would have been .30.
To say that the company's earnings are too low to support the dividend is to point out the obvious. However, the Board still approved an increase in the dividend in October 2010 when it had $20.3 million in cash. With $20.6 million in cash remaining on the balance sheet and earnings growth present, I don't see any reason why they would diverge from their current dividend policy. Plus, with recent growth in world coins and an expansion into the Asian market, this company appears to be trying to grow into its dividend and almost did earn it in the 4th quarter of FY11 (assuming you're as willing as I am to look past the $1.4M write-down it took for one of its businesses). This is a company with very high insider ownership, over 32% of shares outstanding. I wrote an entire article on insider ownership and why recent insider selling doesn't concern me.
The bottom line...
Be on the lookout for dividend news today or later this week. If it isn't $0.325 per share (or more) I am headed for higher ground. But I wouldn't be holding the positions that I'm holding if I thought this dividend was in question. For what it's worth, if there is a dividend cut announced there would be two full trading days before any of the insider-owned shares would even be eligible for sale because of the insider trading windows.
Disclosure: I am long CLCT.
Additional disclosure: I may close some or all my positions in CLCT based on the dividend announcement.